I just realized I never finished posting the yurt raising pictures. Here is the last page, plus a bonus page of yurt interior shots, from that day.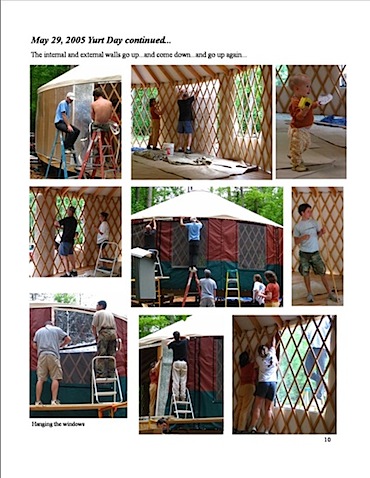 This picture shows the last part, installing the walls. The interior panels have canvas on one side and insulation (the silver stuff) on the other side–you can see those going up on the upper left. Over that layer goes the super tough exterior fabric, that's the brown/green panels. The windows are clear vinyl. In the bottom center shot you can see that when we started putting up the walls, we were putting them on inside out! Ooops. Re-do. We were the blind leading the blind.
But at the end of the day, it was accomplished.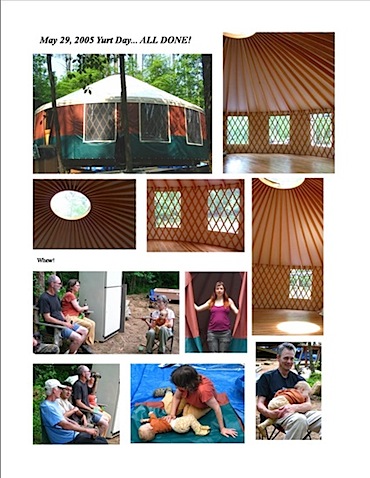 Look at everyone, collapsed and drinking beer. Good work! I can't believe Sophie was ever that small. You can see me, the preggo lady with the camera, in the center, looking out of the door that hasn't had the fabric tucked in and screwed down yet. At the beginning of the day, there had been a platform, and at the end of the day there was a 700 square foot structure, ready for the next phase of turning it into a home.
And what was the next phase? Electrical, plumbing, cabinets and appliances for the kitchen, the giant bookcase/room divider and closets, the chimney for the propane heater. Etc. Despite Paul busting his bum to get it ready to move in to before Luc was born, we didn't quite make it, by about three weeks. He was born in late October, and we got our certificate of occupancy mid-November. Whew. By Thanksgiving, we were living in our yurt, heads spinning from all the change in our lives.
But on this day in late May, the yurt was up. Pow. An old fashioned barn raising. I can never thank our family and friends enough for coming out that day!
And that's how you build a yurt.