Long time readers will recall that our "house" is really more of a compound of small buildings, clustered around the yurt.  It's bizarre, really, a strange way to build a house, but what are you going to do.  We've bootstrapped this thing and our mortgage is tiny, so there is that.  Unfortunately, this method of building is also long and drawn out and our primary builder has had to slow down over the years due to such setbacks as gradschool, old-freaking-age, and just being sick to death of building preferring to "sit in my leather club chair and watch tv for godsakes." (He's not that old, I jest.)(He is old-er, though. Forties is definitely not early thirties.)
Nevertheless, Supercoolhusband had a break from grad school a few weeks ago and got some work in on the bedroom.  Yay!  And I've got to say, it is looking so good!  It's very close, now completely closed in, waiting only on the closet, the heater getting finished up, and a tiny bit of trim.  But look at that beautiful picture up there!  The front door is in!
And it's a seriously amazing door, five feet across, stained glass, pretty damn cool.  He got it for nothing—he can't remember, guesses $20 bucks—used, of course, and so cheap on account of a couple of cracks we can fix with freaking duct tape if necessary, because dude!  Door!  Someone threw it out rather than fix it!  He's a master of the salvaged treasure, if you ask me.
He's also a master of beautiful trim work.  Look what he did around the casement windows (also used, for cheap):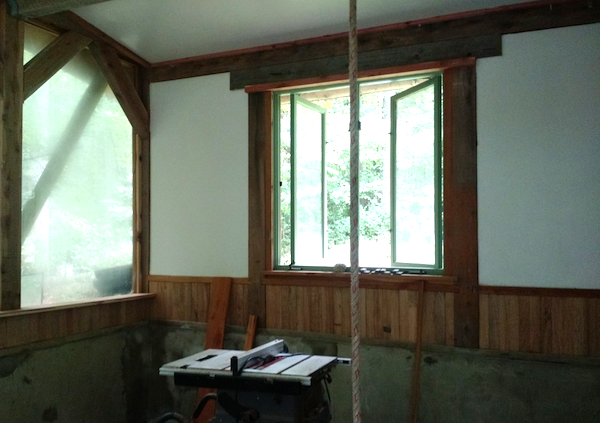 I suggested bead board for that section below the window, he went with a similar effect with cedar wood.  So pretty.
And look at this beautiful piece he did over the door.  Another used leaded glass window (with cute diamonds!) that was given to us when a friend was cleaning out his basement: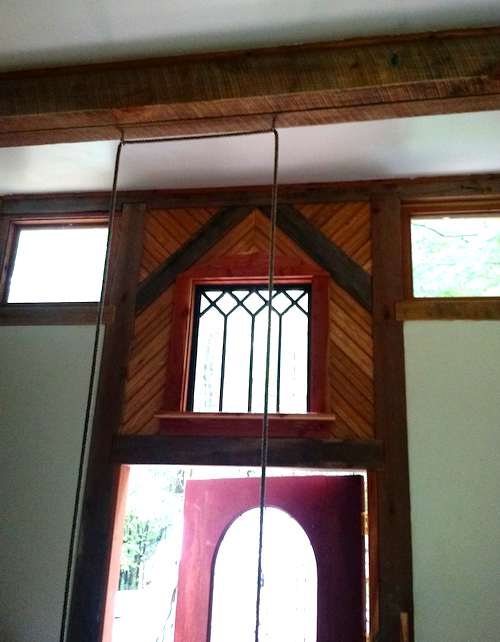 Here's what it's like when the door is closed: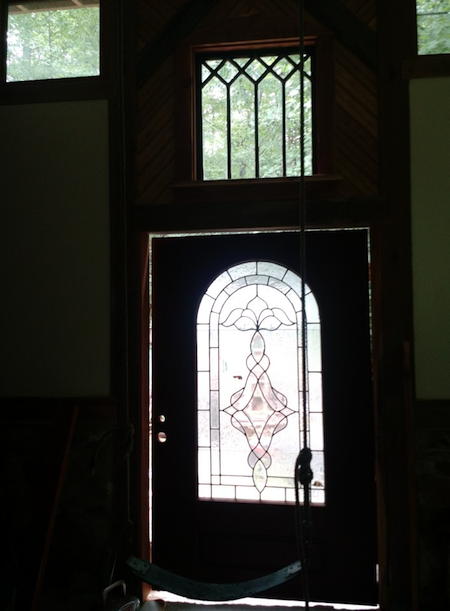 It's still a construction site, as you can see in this corner where the rocket mass heater isn't quite done.
But it won't be long now.  Something on the floor, rugs, sisal mats, something like that.  I'd love wood, but we can't afford it right now.  Maybe later (which probably means never, haha, once the bed gets moved in, it's all over).  It's been a long time coming (first post where I mentioned it in 2012 in post on rocket heaters, but he had already been working on it for a year or two by then).  I'm kind of nervous about moving in.  What if I can't sleep in it?  I've gotten used to the yurt!
Just kidding.
But look, here's a couple of shots of one of sthe last swim of the season (probably, unless there's a heat wave) just because they are awesome and because I am total denial that summer is actually over.  Where the heck did August go?? I mean, what the heck?!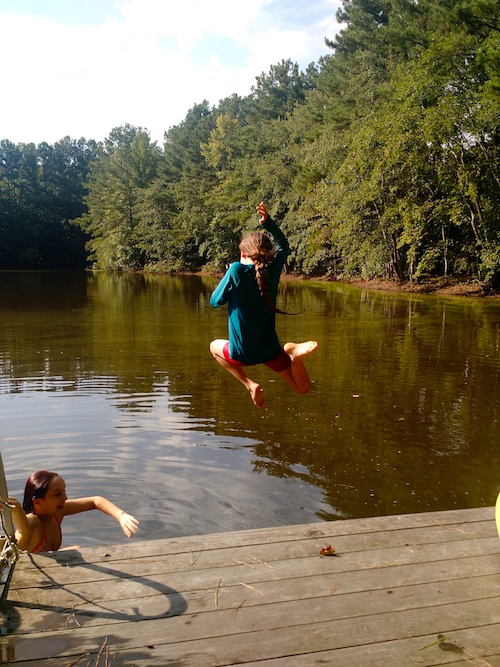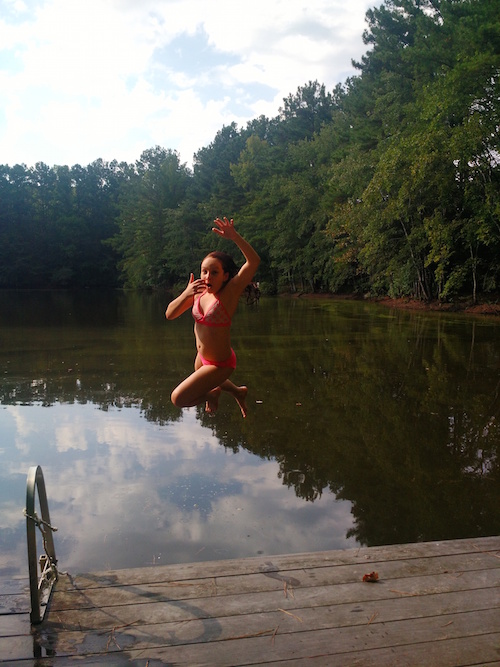 They're such a couple of goof balls.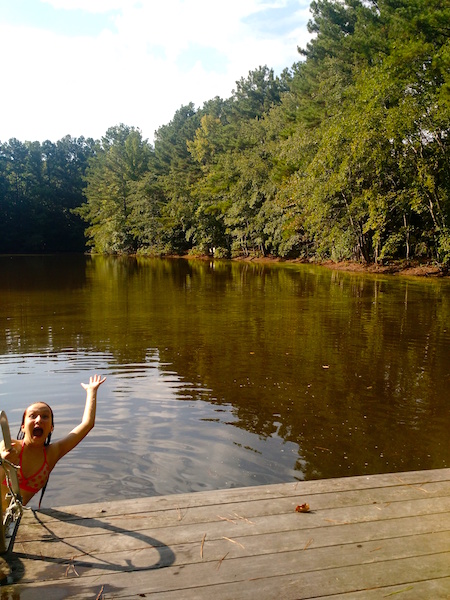 Bye!