Look what my wonderful husband made for me…a writing room!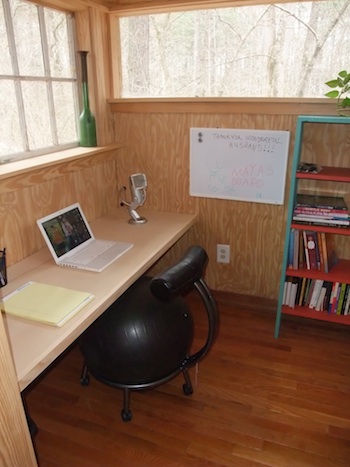 Well, we already had the little room over on the side of the Noah House, but it wasn't being used for much.  We had thought it would be a fun, tiny, room for Luc, but he declared it too small.  I waited a while to be sure he wouldn't change his mind…he did have dibs after all.  But nope, he's holding out for something bigger.  So, yesterday I asked him if I could use it for a writing room and he thought about it and said "Yes, as long as I can play in it, too."  Deal!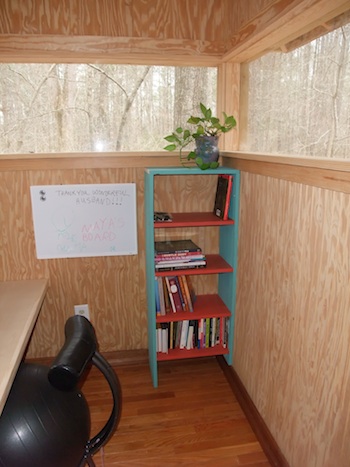 Isn't the forest view lovely?  Paul put in a desk for me and a shelf today.  Instant manifestation.  Actually, I asked him to "saw a board in half for me, so I can plunk it down on some cinder blocks or something," for a desk, but Paul harumphed this and made me a built in desk, just my height, instead.  What a sweetie!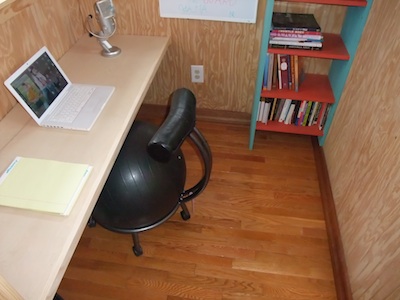 Then I said, "can you cut this shelf in half so it won't block the windows?" and he looked suspiciously at the shelf and, instead, took it all apart, rebuilt it for strength, and installed it.  "I didn't like the shelf spacing," he said.  The curse of the perfectionist.
For my part, I installed twenty bucks worth of office-y things, a dry erase board, legal tablets, trash can, etc.  And a plant.
Boom!  My very own room!  And can you see that funny metal thing in the top left corner?  A mic.  That's right, I think I'm going to go for it with the podcast-my-novel idea.  And now I have a room to do it in.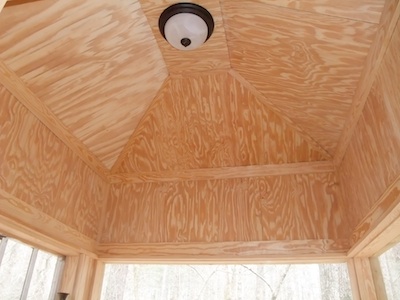 Isn't the ceiling cool?  Let me tell you, for someone who has been living in one room with three other people, having my own room, however tiny, is a MIRACLE!  My VERY OWN ROOM.  For writing!!!
Action shot: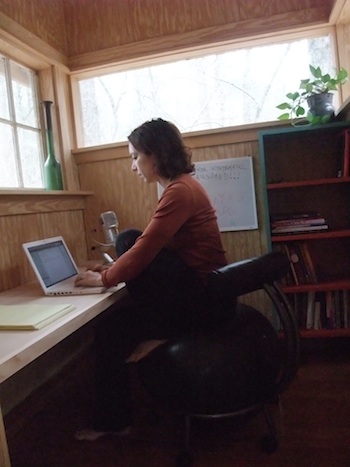 It works!
Hooray!  Thank you, Paul!