Stress is the new smoking.  Or maybe sitting is the new smoking.  Or sugar.  Or, like, murderous rage. That's probably it.  Anyway, we all feel stressed out in these stressful-as-fuck times, I know I do.  And there is nothing like twisting strands of sheep-fibers around sticks to really decompress, you know?  Therefore, I thought I would—and this is a bit confessional, like showing you my pile of chewed off fingernails, or my kitchen cabinets with all the labels face out, all 3/8″ from the shelf edge, in alphabetical order, no, actually I would never do that—I thought I would reveal my completed knitting pile for this last, very stressful, year.  Don't judge me.
You might recall that I rediscovered knitting back in January 2016. It turned out that knitting was just the mind numbing relaxing hobby I needed to get through the next 365 days.  I vowed in that post to finish all the abandoned knitting projects in Ye Old Knitting Basket by year's end or die trying, and well, I did some of that. Cough. In addition to the Lopi sweater of that post, I did, indeed, finish the green sweater that only needed a sleeve: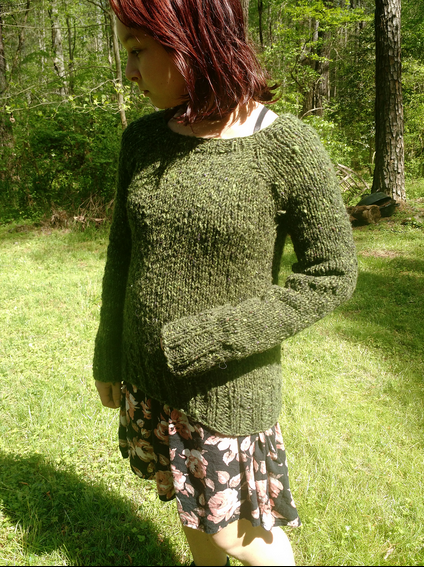 modeled here by the lovely Sophie.  And I finished the Koigu merino socks I'd left languishing on their needles: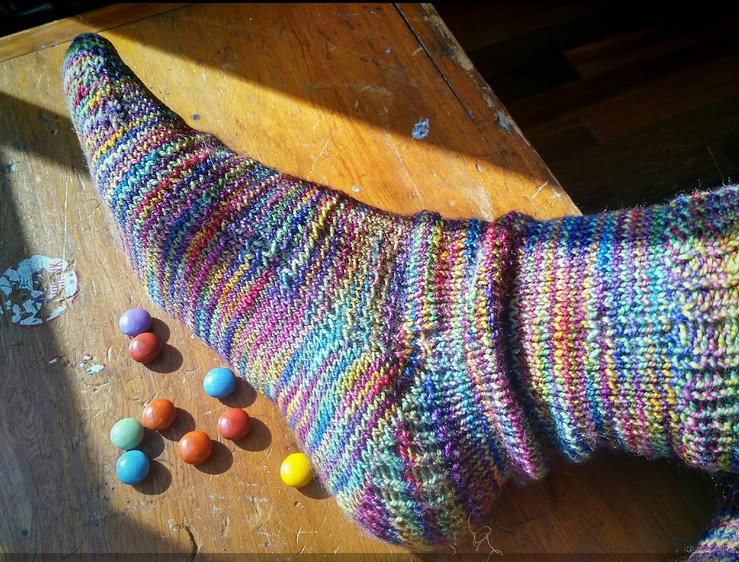 so sweet and colorful, I had to add some candy to the photo.
But then…honestly, I wandered off into new yarn territories, tripping starry eyed through mountains of color and fields of fiber, grabbing the stuff up, drunk on it, rolling around naked on it when no one was looking–wait, did I say that out loud?
But seriously, knitting whilst listening to an audiobook, or watching tv, or waiting for the kids to get out of aikido—it does help calm the mind.  My stitches, at least, they will obey me.  I can exert some small control over this tiny portion of the world, just by playing with string.  Which is kind of amazing, really.  And weird.  Mental health is an uphill battle sometimes….
Anyway, next I knitted some bunnies for Sophie: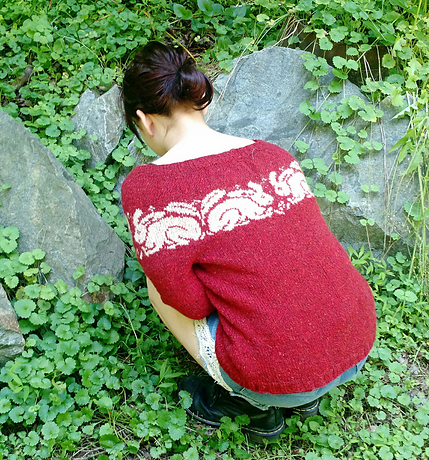 and some birds for Luc: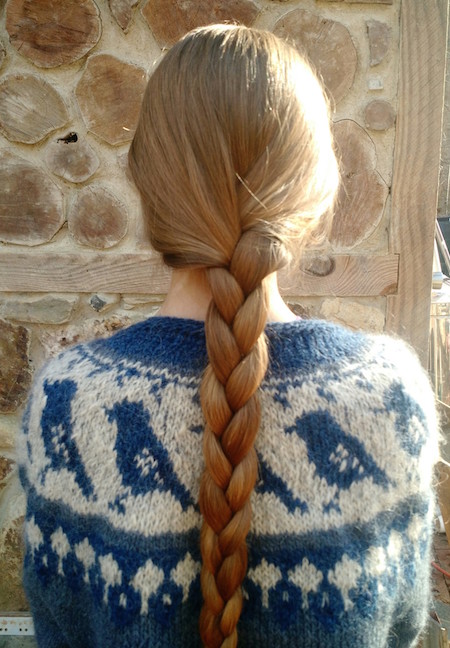 (forget the sweater, his braid is a freaking work of art, isn't it?)
and a honeycomb thingy for me: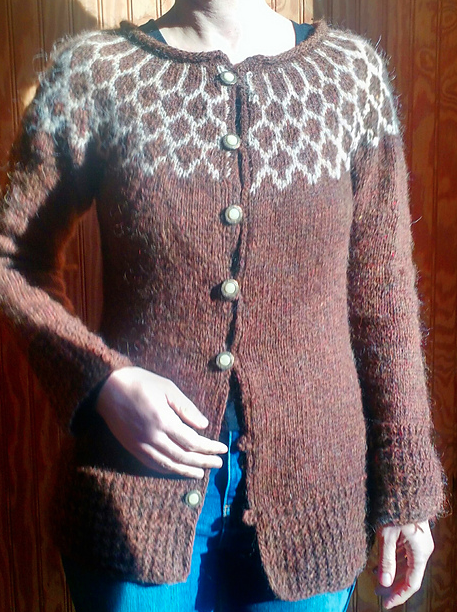 (what the heck am I doing with my hand there?)
and a manly, traditional Icelandic yoke for supercoolhusband: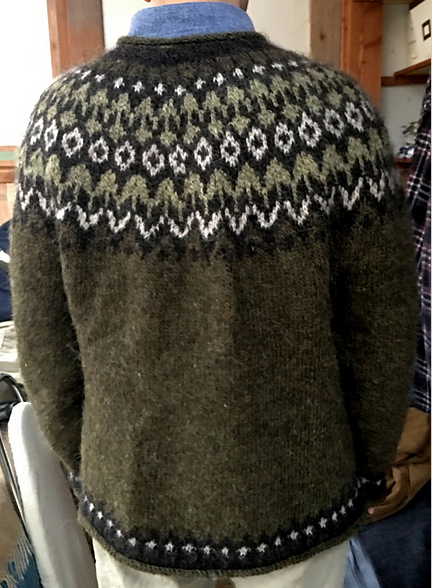 such broad shoulders, oh my….
Oh, and one more pair of socks, as a kind of stripey chaser: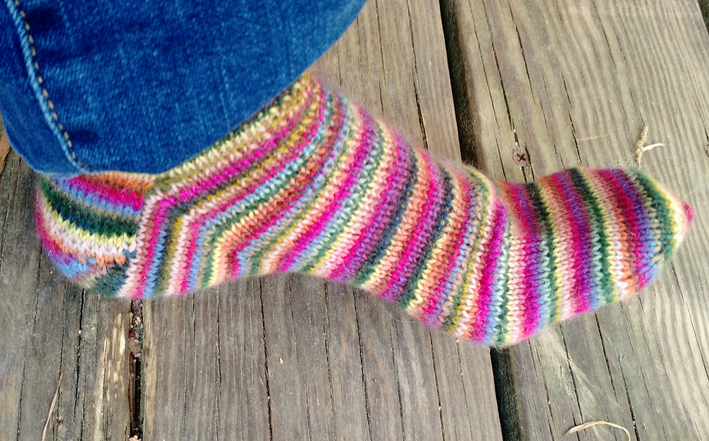 Oh, my pretties, my precious, so much yarn so little time….
Now listen, knitting is just following instructions, really.  The people with the talent are the designers who come up with all these detailed, mathematical, structurally engineered knitting patterns for twisting yarn into these specific body-hugging shapes with these pretty decorations and colors.  I don't deserve any kudos except for following instructions.  Well, maybe a bit for actually finishing projects (because that can be hard, when there is so much delicious yarn out there, calling one's name and one's wallet…).
Knitters get a fair amount of shit, knitting often portrayed as the boring past-time of old biddies, etc. But I think we should focus on the acts of violence NOT being perpetrated by angry older broads due to the fact that they had the courtesy of turning all that rage-at-life into a productive, warmth-preserving, hobby.  Be grateful we knit!  It's for your own good!
But beyond its inner-calming properties, knitting can also be a powerful act of generosity and kindness!  Like these woman who knit massive sweaters for elephants at an abused elephant sanctuary that has cold winters.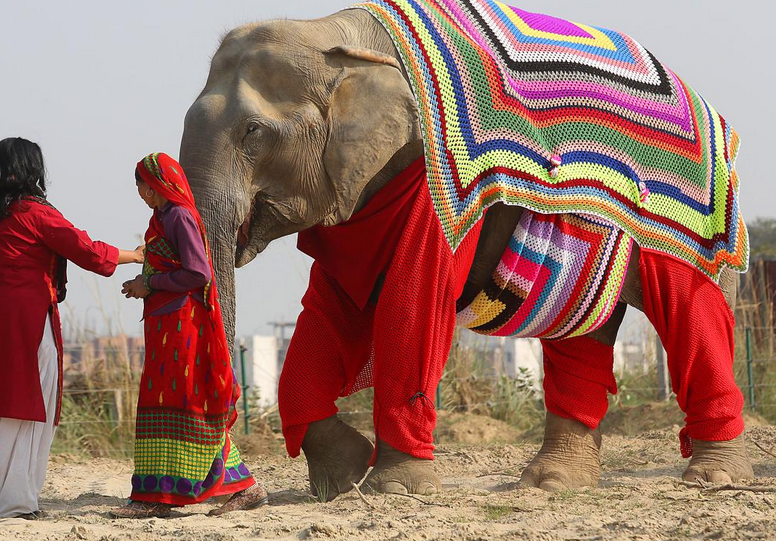 How amazing is that???  They knit sweaters for elephants!!!  I can't get over this, it is so wonderful.
And of course, knitting can be political.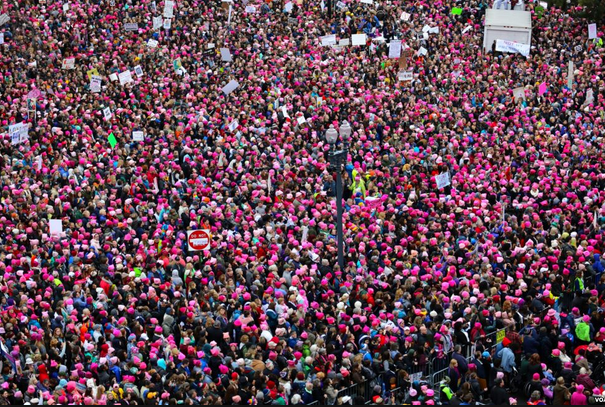 Every one of those pink pussyhats was hand made by a knitter who gives a shit.  Three of them were knitted by me.  That is, after an exhaustive search for pink yarn which, by the time I started my quest, was sold out EVERYWHERE. I lucked into the last skein in the back closet of a Hobby Lobby, I was so pleased to find it.  Tenacity!  Nevertheless, she persisted!
Knitters of the world, uniting for world peace!
I am continuing on with my knitting in 2017.  I've mostly finished a muted grey and bronze sweater for myself and am already eyeing the sweater porn online for ideas for the next one.  I just love this Lettlopi, the lighter version of the Lopi I started this story with.  Icelandic yarn that is tough and also beautiful, made from Icelandic sheep that are the same sheep they've had there for a thousand years!  I just love the yoke sweaters that are done all in one piece and last for decades.  So, I sort of followed through on my knitterly promises of last January by finishing a couple of projects from the basket, but I did move on to new things…with the injunction that I must FINISH WHAT I START.  So far so good.
If I become a really peaceful, well-balanced human I may not need to knit anymore.  Until then, lettlopi and addi turbos are my medicine.