I'm still playing my little parlor guitar most evenings, sometimes just for a few minutes, but enough anyway so that my callouses don't disappear. I think it is so amazing (and ironic) how playing the blues can make me so happy. It totally has this power.
Here is a wonderful video of Stefan Grossman, my teacher—I think of him that way, I hope he doesn't mind, because I have SO enjoyed his many teaching videos—playing some terrific blues thirty years ago and cracking jokes while he does so. Maybe the blues makes him happy, too:
Here he is again, talking about how he started playing guitar as a kid, taking lessons at 5 bucks a pop from the legendary Rev. Gary Davis over in a shack in Brooklyn (wow!), plus some fancy picking of Mr. Davis's song, "Twelve Sticks."
And one more vid, to bring it all up to the present, here he is playing in 2010 with blues master Keb Mo at the Crossroads Festival in Chicago. This whole video is terrific but if you want to see some awesome double slide guitar, go to the 5 minute mark, you won't regret it:
It's been delightful this last year and a half, leisurely working my way through a stack of Mr. Grossman's lessons, learning country style fingerpicking and old style blues. I'm learning Shake Sugaree by Elizabeth Cotton right now, a sweet little song, from this set of lessons.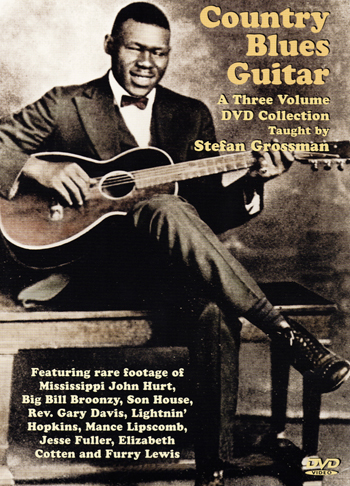 I've also worked through this one, this one, and dabbled in this one. I don't know if I'll ever be any good (lord knows I'm terrible now), but my enjoyment is the main thing. In my opinion, everybody ought to have some hobby they enjoy for no good reason, to achieve nothing, just because it's fun. What's yours?