We do a lot of activities for our extrovert, Sophie, which means our introvert, Luc, sometimes gets dragged around to aikido or horseback riding or playdates when he would rather stay home.  To balance things out, we have regular Luc Choose Days.  Often on Luc Choose Day, he says, "Stay home," and we play legos or watch movies or build sand castles and he's happy as a clam, doing his little Luc things.
But last week, when we declared a Luc Choose Day, he surprised us by saying, "Candy Store."
Good choice!
The candy store we go to is actually this huge gourmet food store, with kitchen stuff, cookbooks, coffees, wines, and I don't know what all.  But forget all that stuff—the important part to us is the tower of chocolate bars, the fancy Italian truffles for $5 a pop, the novelty candy aisle, the glass jars full of interesting bulk items, plus gummi bugs, marzipan fruit, lollipops as big as your head, and on and on and on…   Anyway, I had forgotten about upcoming Easter, so imagine our surprise when we got there and found…
Jellybean Road!
That is, the Easter Bunny had put jellybean decals on the floor in a winding dotted line up one aisle and down another, through the store to an unknown destination. Delighted, we started following the trail, singing, "Follow the jellybean road…follow the jellybean road…"  Because everyone knows all good adventures have to start with a song.
Well, after a long journey full of many daring escapes and close calls, we finally found ourselves face to face with [cue sacred music] the Wall! O! Jellybeans!  That's right, a twenty foot long, ten foot high wall of jellybeans, I mean, there must be every flavor known to human, including weird ones like popcorn, jalapeno, and birthday cake.  It's mind boggling.  And not only that?  Apparently, it was all on sale.
Score!
We handed out the plastic bags and started loading up.  Some of this, some of that, some of that other one over there, no the purple one!—there must be fifty kinds of jellybeans, plus another fifty kinds of weird candy on that one wall.  What you do is you put your bag up under a given spout, pull down a lever and the candy starts pouring out.  It's Willy Wonka's chocolate waterfall!  Except with jellybeans!
At one point in the mayhem, I actually incurred a jellybean related injury.  The Very Cherry jellybean lever was stuck so I gave it a tug and woosh, a torrent of Very Cherry started streaming out like lava.  I slammed the lever back in a panic—and caught my thumb in the lever.
Ouch!
But no matter.  It was only a flesh wound.  Our bags full, we wandered over to the glassed in section to admire the many gorgeous truffles in the shapes of small animals.  A mouse!  A chick!  A cow!  Okay, some not so small.  But there we met Miss Stacey from the chocolate egg department who seemed half asleep until suddenly, her eyes bulged out of her head and she said, "I declare!" and pointed at my thumb.  Yes, she really said that.  This is the South, after all.  Anyway, it turns out, in all the excitement, I hadn't realized my thumb was dripping blood.
Ewwww!
While Miss Stacey hurried off to cookbooks to get me a band-aid (because apparently, that's where they keep them), we added some hazelnut truffle eggs and malt eggs to our haul.  Because we could.  Then we checked out—the whole stash only cost 11 bucks, wow.  And a complimentary band-aid from Miss Stacey who found us in the check out aisle.  Honestly, from the look on her face, I'm surprised she didn't yell "Universal Precautions!" and send a swarm of Haz-Mat suits to pin me to the floor.  But all was well, my blood was contained.  And it was worth it.
The car was quiet on the way home, unless you count the sound of chewing, "mmmm!", and "This one is [insert weird flavor here]!" and "Here, try this one!" They made a dent but there was still a respectable pile of goodies by the time we got home.
These were Sophie's favorite, rock candy, that is, candy that looks like rocks: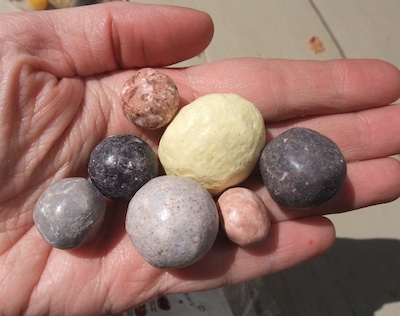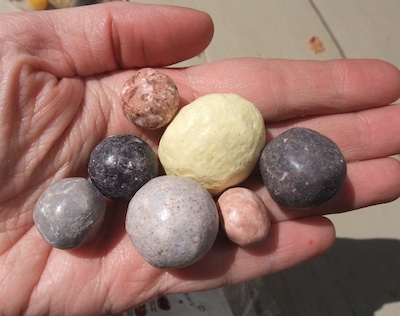 It's chocolate inside, with fruity cordials in different flavors.  The kids thought it was hilarious to say (over and over and over), "I went to the Candy Store on Luc Choose Day and all I got was a bunch of rocks." Giggle, giggle.  Nom, nom.  Giggle.
Candy is pretty close to magic to small people.  I say, the more magic, the better.