Conjuring Raine  free for a limited time!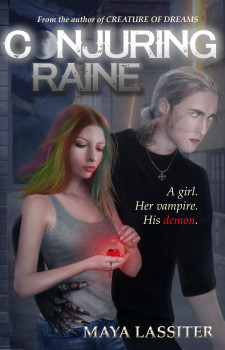 A girl.  Her vampire.  His demon.
Raine Black has loved Joshua since she was five—although she's only seen him occasionally, usually when he swoops in to get her out of trouble. How does he always know, anyway?
 Now it's been five years since he last appeared, but this time Joshua is the one who needs help. And, for the first time, Raine begins to wonder why he still looks exactly the way he did when she was little. http://mayalassiter.com/freebook/ Except for that old black scar on his hand.  Now it reaches up his arm and is spreading across his face….


"This is an introspective and surprisingly intimate vampire tale with original plot twists and nuanced detail…"  –Amazon reviewer
"Excellent dialogue, superb narration and character development. I would recommend this book to anyone who likes a good vampire story out of the norm for this genre…" –Podio reviewer