For various reasons I ended up taking a few months off of yoga this fall.  I never quit entirely–a practice a week or every other week.  I watched my backbend go, then my lotus, then my forward bend.  Pretty scary how fast it happened.
I came back with just surys, gave myself permission to quit at any time once I'd done those, started adding standing.  I'm doing about 4ish half-primaries a week now, so I'm back.  It's hard, even after a short break, when you are 44!  More reason never to take breaks, I guess.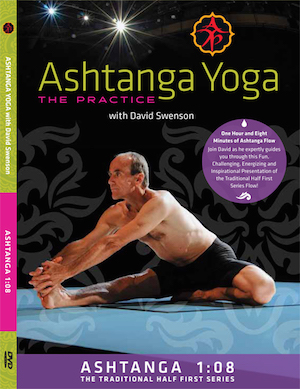 But thinking I could use a boost, I started poking around a was stoked to discover that David Swenson, one of the old school Ashtangis, has put out two new dvds!  One is a full primary, the other a 1:08 (108 being an auspicious number in yoga, the number of beads on a mala, among other things), that is 1 hour 8 minute HALF PRIMARY.  Oh, hell yeah!  Here, take my money, David!
David's older Primary dvd (the one with the crazy purple tank and the mood furniture) was one I cut my teeth on six years ago as a baby ashtangi (along with his book) for one, beautiful reason: VARIATIONS.  He's so supportive and friendly, do what you can do today, try these variations and find one that works for you right now, no worries, enjoy your practice.  No judgment, no competition, no stinginess, just do what you can do today.  He's the best.
I actually made a slide show on my ipod, back in the day, from pics I took of the variation I needed for each primary series asana, from the photos in David's book.  I used that back when I was brand new and needed a cheat sheet to help me remember what to do next. And his dvd was great, full of options that let me get through a practice when so much of it seemed impossible.  I feel I owe him a lot.
His new dvds have plenty more of this generosity!  Only now with inset vids for variations, and a separate variation section for more detailed explanations.  They also have a streamlined aesthetic (black on white), high production quality, multiple camera angles, and David's clean, effortless-looking practice.  There isn't a count, but he talks you into each pose, easily giving a few bits of info about each asana, while still leaving some silence and space.  His personality comes through the most in the variations section (especially the vinyasa section with a half-dozen options to choose from, a great section), funny and warm.  He has such a great sense of humor and you don't get that in the clean main practice section, so I was glad to see it show up somewhere.
He also has a little "five elements" sections talking about vinyasa, gaze, breath, etc.  Actually, breath is a huge theme he returns to repeatedly, not alignment (he does some of that), not perfection in poses, but breath.  "Think of your practice as one big breathing exercise."  He talks about the "inner practice" (breath, your mind, bandhas, the invisible things) being where the goodies are, not the outer-practice of asana.  It all feels very grounded and doable, without a bunch of ego.
I highly recommend these videos to anyone who wants to learn the practice, or who, like me, would like a led practice every now and then, with not-too-much talking.  Excellent videos, really good.  Don't hesitate.
Oh, but here's one nitpick: I couldn't decide between the two, so when I saw that there was a discount if you got both, I did that.  I was disappointed, however, when I realized the 1:08 vid is exactly the same as the full primary, minus the second half of seated and the applicable variations.  Said another way, getting the Full Primary disk gives you all the content and you can just fast forward from navasana to backbending. The 1:08 is a repeat.
On the other hand, if you want to be able to just ride through without fiddling with fast-forward, the 1:08 vid is great.  It's the one I'm using right now (actually I ripped it and put it on my ipad, but same thing).  I just would have liked to have known more clearly that they were the same.
On the OTHER, other hand, is the second half of seated (and its variations) worth an extra $14 bucks?  Well, absolutely.  David is a master and this is a top-notch production.  So yeah.  Get'em both.  Get the Primary because, duh. And get the 1:08 if you like half primaries sometimes (or haven't worked up to the full primary yet) and for the convenience.
Thank you, David Swenson!
And here is one my favorite videos of David demoing Intermediate series as performance art, or possibly stand-up comedy.  If you ever come to North Carolina again, David, I'm there.