Sophie has been in her Rigo Cheneau scoliosis brace now for nearly nine months (see this post for some of that story).  So, she's an expert, if anyone is, on living with these strange, medical devices, the good, the bad, and the ugly.  We've had so many conversations about it, problem solving strategy sessions, venting, jokes—I mean, really, you have to joke about something as ridiculous as wearing a plastic box.  Over time we realized we had developed a list of #bracelife thoughts and…well, it's time to share them with the world.  This is a co-post, created by the two of us, for anyone else who is going through this, or is about to go through it.  Kudos to Sophie who's sense of humor, and voice, is at this post's beating heart.
#bracelife
1- Life in a box.  There is a certain distance from life that comes with wearing a brace.  You can't feel things, you're wearing armor, hugs don't work anymore.  You don't know exactly where your body is in space because of the parts of the brace that stick out.  Walking through doors you might catch on a door handle and get jerked back, causing disorientation. You get the sense that if you were in a car accident and slammed forward suddenly, your legs might be guillotined off at the brace's lower edge. I'm sorry, no more legs for you.  On the up side, if your brother punches you, he hurts his hand.  That never gets old.
.
2- Sleeping in the brace.
Staying still is better.  Don't try to move around too much, you'll hurt yourself. Forget about rolling up into a ball.  Flat on your back is best.  Also, moving to sit up takes a crane, so go slow.  The good part: once you're asleep, the brace can't bother you (until morning), so crank up the tightness and get the most therapeutic punch for your buck for those sleeping hours.
.
3- Clothing.  Look, this is doable. The brace is a bit like a misshapen corset. Yes, there will be some strangeness to your shape, but most people don't know what they are looking at and won't notice a thing.  Layers, hoods that fall across your back, little details, especially around your face, shoes that draw attention to themselves.  These things help.  Some examples: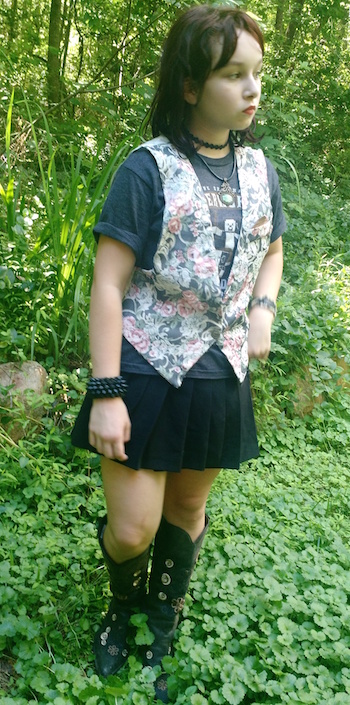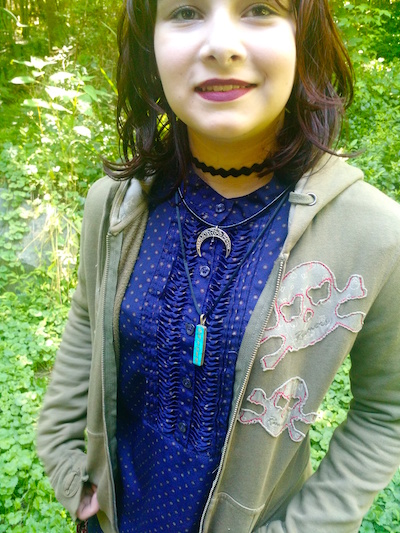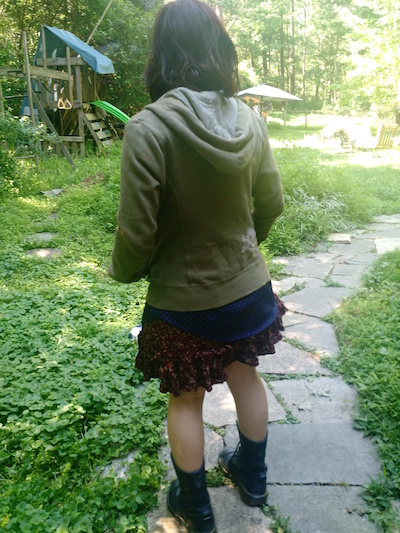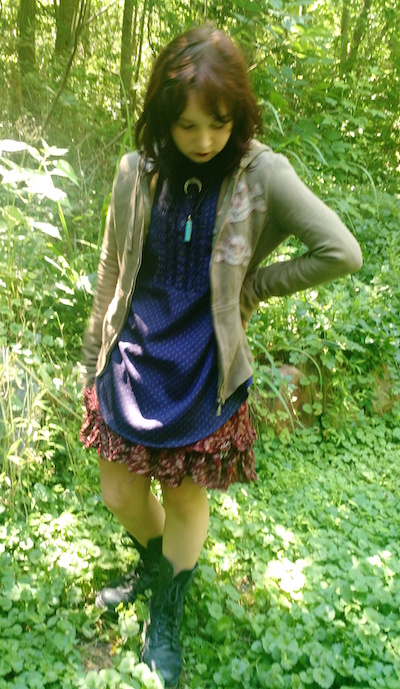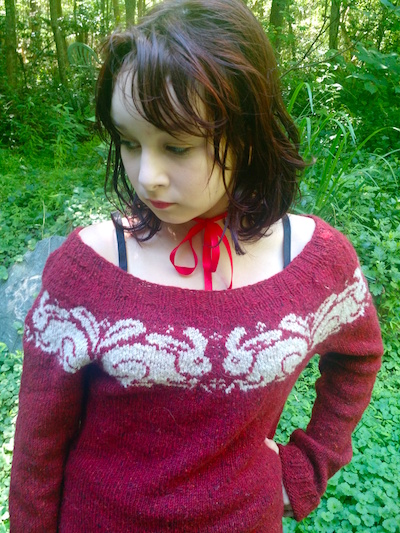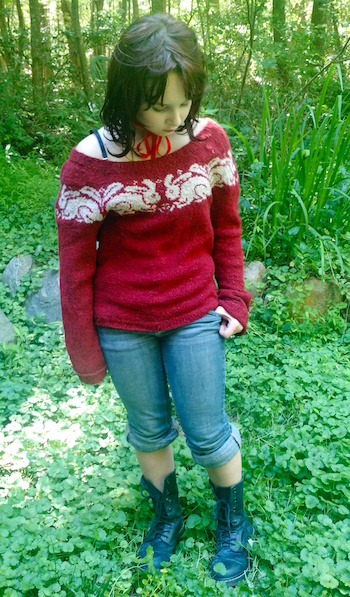 You can barely tell, right?  (PS Maya says: I knitted that bunny sweater, isn't it AMAZING? I'm so proud.)  Necklaces, hoods, crazy cowboy boots with flowers on them.  Few will notice that one shoulder is higher in the brace, or that ridge along the back at its top edge, or the lumpy shape on one side.  Confidence is everything in fashion.  Pay no attention to the man behind the curtain.
.
Some stuff to watch out for: getting stuck to yourself via the brace's velcro straps.  Avoid loose sleeves that want to stick, or you'll rip. Put your shoes on first because you can't bend over once the brace is on.  And your arms probably lose range of motion when you're in the brace, so jackets are hard to get on.  Go slow so you don't hurt your shoulder blades, but, hey, it's inevitable. Buttons or studs on your pants get pressed in and leave a painful mark that lasts for hours. So tucking your shirt in between pants and skin can help with that. The $2 tank tops at Walmart are better, imo, than the $30 ones that are made for braces, unless you want the armpit flap thingie, but I hate the flap thingie, so $2 tanks for me. Plus they come in a bunch of colors.  You will get a stretched out section in the same place on all your clothes wherever your brace sticks out, maybe the ridge along the back.  Sigh and bear it.  You'll grow out of these clothes anyway (probably), just buy new ones. Thrift stores are your friends—they make clothes so cheap as to be nearly disposable. Bottom line: wearing give-up-on-life sweatpants every day is, well, giving up. You don't have to give up.  There are plenty of ways to look good and also wear a brace.
.
4- Let's talk about boobs. When I said the brace is like a corset, I mean the most push-up, +3 cup sizes sort of corset there is.  Say hello to your new cleavage. Like those "sexy pirate" costumes that lift everything up for display over a cinched waist.  You can make this work for you.  Or, alternately, you may be mashed inside the brace, ugh. Personally, I think lifted is better than mashed, but either way, you're getting squished. Which hurts.  And probably not symmetrically, because nothing about scoliosis is symmetrical.  So now you've got a mismatched pair, maybe bulge over the top, or out the side, or both, but definitely one bulge is bigger than the other.  Bra cups will bulge too, especially the foam ones—creating an odd look.  But hey, an extra layer of foam between your boobs and the top ridge of that brace is priceless, so don't skimp on the bras.  Get the memory foam ones.  Worth the money.  Or, even better, get a pair of those silicone go-up-a-cup size "breast enhancers." I'm not kidding!  It's not because you want more, um, glory.  Rather, it's because these squishy silicone wedges/crescents/circles (you pick!) either lift your girls right out of the slicing brace-edge, pillowing them on cushy silicone and taking the hit of that hard plastic edge, or, they sort of cover everything with a pad of silicone, giving you a firm, but squishy layer between you and the brace-edge that is a MIRACLE of Not Hurting. Seriously, these things have been a boob saver for me.  I cannot overstate the relief these offer—I wish I'd figured this out sooner.
.
Of course, breasts don't always stay the same size throughout the month, so you're probably going to get a different level of mashing and push-up over time that you'll need to work with. Don't settle into anything, it's going to change anyway, is what I'm saying.  Work with the boobs you have that day.  And be careful when bending over—with all this push-up action bending over means you've just completely shown everyone in the room…everything.  Oh.  Oops.  Embarrassing.  But you can't be embarrassed by these things because they're just going to happen, over and over.  Roll with it.  You'll feel much better if you think it's funny.  Oh, and when you eat, crumbs get all down in there (because your chest is like a table under your chin now) and then you can't get the itchy crumbs out again because you can't get your hand down your front without taking the whole brace off or looking like a complete dingus … watch them crumbs.
.
5- Taking the brace off is like being those biscuits in a tube. You pop the paper and BOOM you explode out.  Sometimes there might be a little headrush or even a moment of nausea, but then comes a feeling of lightness, of walking on clouds, of nothing can go wrong!   Maybe it's the sudden ability to breath deeply and the flood of resulting oxygen.  Because just like those corset-wearers of old, taking a deep breath in the brace is iffy at best, which makes being out of the brace like the dark skies parting.  You can breathe and move and be free!  Like chewing mint gum, but better.  It's a truism that we appreciate more that which we don't have for a while.
.
6- Food.  A weird thing about the brace: it constricts the stomach which also seems to put off hunger.  Until you take it off, then OH MY GOD I'M STARVING.  Also, you can feel food going down.  Which is…different?
.
7-  Lol bathrooms. Nope.  Bathrooms are hard, because you either have to take the brace all the way off—which is tricky with some pants—or you don't go.  You become a master at holding your pee, probably much longer than is good for you, but oh well.  Unless you wear Hulk's purple stretchy pants, you have to peel down enough to get the brace off to get your pants down.  At home it's not a much of an issue—just wear the purple pants—but public bathrooms are harder, though most of them have a good hook you can hang the brace from.  I mean, I don't want to set the thing on the floor and then put it back on…ew, gross. In the end, not going is usually so much easier.
(Note: that top picture is my brace hanging on the back of a bathroom stall at the Whole Foods. This crazy god-light caught it, like it should have freaking theme-music.  We can not stop cracking up about that photo.)
.
8-  Not going to lie.  The brace is wearable, but it is not comfortable.  Luke, who makes my braces, is great with making changes, but it's inevitable.  Pushing bones around is a big deal. Squeezed soft tissue, pinched skin, aching, head-rushes. If you sit in a certain position for a while, parts go numb wherever you were unconsciously leaning on edges of the brace.  You get used to it.  Even depending on it for a sense of normal.  There is a strange protective quality that can come from wearing a shell, like being a turtle. But that doesn't mean it's comfortable. Of course, high heels aren't comfortable either, and lots of people wear those, for much less important reasons. Turtles are also slow and can hardly move their arms and legs, which fits, actually.  Turtles might be the mascot of brace-wearing peoples everywhere.
.
9- Temperature.  Along with general discomfort, I have to mention heat.  The brace is hot.  This is fine in the winter, but summers are…less than fine.  You're always hot.  It's miserable.  Swimming often can save your sanity. Also, keeping a cooler in the car with ice packs in it to store the brace in when you leave the brace in the car for a couple of hours for something that you do outside the brace—that can help a lot.  You get back to the boiling hot car, but yay, the brace is cool!  Or at least it's not a roasting piece of plastic you're strapping onto your body.
.
10- Daily life.  Yes, it may be true that putting on the brace while lying down and cinching up with attention to detail is the recommend way, but let's be honest.  The reality is that you're going to be putting it on and taking it off in the weirdest places.  In the car.  In parking lots.  In public restroom stalls.  Think of triathlons, where the athletes go from the swim to the bike portions, or the bike to the run, and they must switch all their gear including being stripped out of wetsuits and doing flying leaps onto their bikes where their cycling shoes are already snapped into the cleats, and they must do it in seconds.  Life in the brace can be like that.  You wear the brace during the movie, but you've got three minutes to pee before the movie starts, so you peel and unvelcro and shove yourself in and out as quickly as you can, adjusting your clothes as you're coming out of the stall. Fast. It becomes a way of life.  Little kids who catch you in the act will stare, weirded out.  That's really fun.  You just have to ignore the way people look at it if you're carrying it somewhere. Just pretend you're holding a suitcase.  If you're wearing it and it isn't completely covered up by your clothes (maybe you got hot and just couldn't bear the hoodie you started out your day with so you unzip it), don't try to hide it.  That just draws more attention to it.  Yes, it's awkward when people notice it, so tell people you broke your back parasailing, or climbing mountains, and you're still healing. Meet people's eyes like they're the weird ones for staring.  What doesn't kill you makes you stronger, right?
.
I remember walking out of the clinic wearing the first brace and, up to then, I'd just been rolling with this whole thing.  But here I was, wearing this brace, and I remember realizing, wow.  This is life now.  This hurts.  This sucks.  Oh shit.  But…oh well?  I'll get through it?  That was a hard moment.  It comes in waves.  Sometimes it's fine.  Other times, I hate it.  That's daily life in a brace.
.
But here's the thing: all in or not in at all.  I try to remember that this is temporary.  I'm getting out of this box.  Some people lose their legs and are going to be in that wheelchair or on those prosthetics permanently.  The brace, however, will pass. Lots of TV and novels and movies in cold air-conditioning help. The main thing about the brace is that it's not surgery which would have its own horrible side effects and issues. And a brace is not cancer or some other horrible disease.  I'm not dying; I'm not even sick, really.  This is going to be over. Until then, I'm on this path, I've gotten this brace to deal with my whacky, confused spine.  There is no point in wearing it some, suffering for that time, but not wearing it enough for it to work.  Go all in.  All in or not in at all.  I'm doing this, so there is no point in thinking about it too much if that thinking upsets me, just work through each day and…have as much fun in life as you can, right?  Don't let living in a plastic box define you.
.
A few surprising good things about the brace:  You can lean against it and if you can find a good place, it holds you up.  Hanging yourself on a hook to watch tv can be amusing. You can make aggressive body percussion music.  You can stick things in it, like your phone.  Finally, it can be fun to hate the brace and be annoyed by it.  Negativity, and the sympathy you can get by playing up your situation does have its upside.  ("Mother, get me the OJ.  Can't move, I'm in brace…")  Although, there's no point in wallowing.  Freak out, then move on.
.
Bottom line: #bracelife is helping you.  It has a purpose.  Stay on target.