We just bought a school bus!  A turquoise 1968 Chevy Short Bus, to be exact.  What the–?
Here it is at its old home.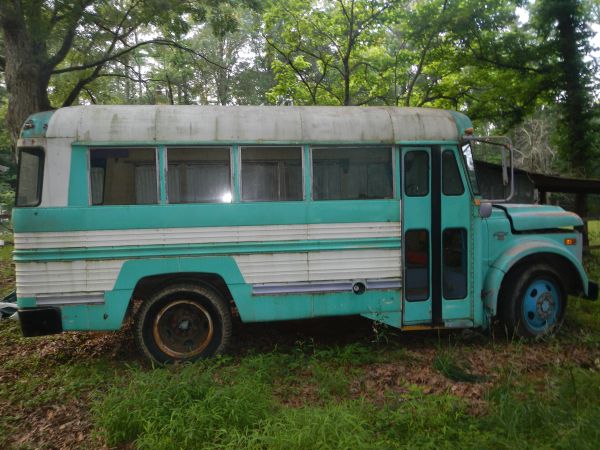 It still drives!  Sort of.  But for a few hundred dollars, we get a whole room to add to our compound of tiny buildings.  A room on wheels. It's so cool!  And hey, it goes right along with the yurt, the recycled tiny house, and the timber-frame, straw/clay wall bedroom.  In other words, our patchwork, by-the-bootstraps, "house" where none of the rooms touch.  It's weird, I know!
So yeah, a school bus.  The interior is 7.5″ x 12″ which is about 90 square feet (not including the driver's area or the steps up from the swing door).  Ninety square feet may seem small for a room, but look at this, a 90 square feet house built by the founder of Tumbleweed Tiny House Design, Jay Shafer: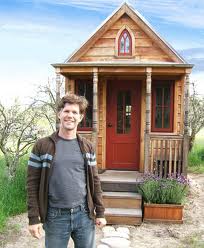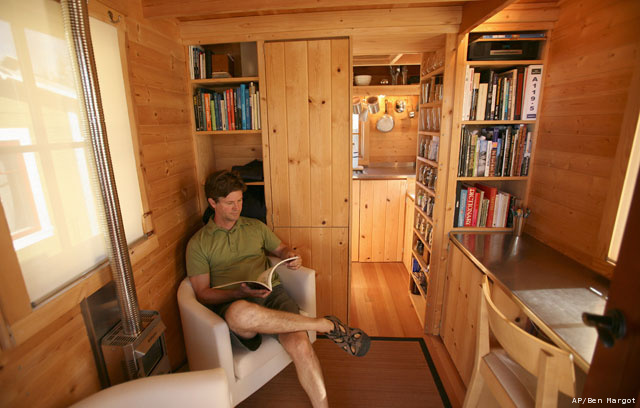 He's got a bathroom, a kitchen, storage, a sleeping loft, the works.  And it's on wheels, which keeps it out of the jurisdiction of zoning and codes that have minimums for house size.  Wheels like our new bus!
Of course, we don't have plans to turn the bus into a full house/rv sort of thing.  More a cool, tricked out bedroom for one of the kids, probably.  And, of course, it has to fall in line, priority-wise, behind the timberframe bedroom, so it will be a not-very-tricked-out playroom for the time being.  Either way, the kids are super excited.
Speaking of RVs thought, that reminds me of another branch of the Tiny House Tree, that of the recreational park trailer.  When we were down at the beach last month we went by the old RV parking ground that has been there for thirty years—and some of those rvs have been there about that long, too.  They have grown with skinny screen porches built on, tiny cute yards, decks, etc.  Then we saw some new fancy rvs that had taken this trend of making a vehicle a home a step farther (or maybe it's more a bridging of the gap between trailers and rvs?) by making rvs that look like tiny, adorable cottages.  The lines are all blurred, aren't they?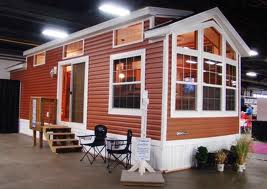 This little thing is ten feet wide and has wheels under that white skirt.  It uses RV hook ups and can be parked in any RV lot.  Ha!
Paul lived in a bus in his twenties, a time for which he has many fond memories that may have colored his view of the bus at hand.  Personally, I was dead set against any expense of this size at this time, no matter how cute it was—what, was he crazy?  Until I saw the powerpoint presentation Paul and Sophie put together after going to see the bus ("Do not buy that bus!" "We're just going to look at it!").  That's right, they made me a powerpoint with graphs, photos highlighting the bus's many features, and quotes from influential town members extolling the virtues of bus living.  Those may have been made up.  But Paul promised to work faster on the bedroom and Sophie gave me her cute face.  Under pressure like this, it was inevitable that my resolve would crumble.
Paul is talking about putting down bamboo flooring in it—you can get recycled batches of less that 100 square feet for pretty cheap, leftovers from big multi-thousand square foot jobs that otherwise would just be thrown away.  Another advantage of tiny spaces—other builder's scrap is your bonanza.  The bus came with some cedar paneling the previous owners had put in and then taken out, so that might go back up, depending on its current state.  A futon bed and some shelves have been mentioned….
I absolutely know Paul has the talent, vision, and skills to make it an exquisitely cute, craftsman space.  I just wonder how many years it might be before he has the time. But, as a knitter, I understand having a stash.  While my stash is skeins of merino and silk, his stash is…building projects.  Bathtubs.  Casement windows.  Bundles of flooring.  Cinderblocks.  And now, a school bus.
Yarn is so much more portable!
But it is done, and I'm pretty excited, too, now that I'm on board, I'll admit it.  The bus comes today.  I'll post more pictures once it is settled in its new home.