You might think that post-title is odd, but seriously, we only get snow every few years here, and an actual storm comes once a decade or something.  Plus, I've lived hear twenty-five years and it has never been this cold.  I asked my great aunt if she ever remembered a winter like this and she said, "Yep! In 1976." So, there you go.  I'll be a great aunt one day and my nephew's kids will ask me about some crazy ass weather we'll be having and I'll say, "yep, we had some snow like this once, Back in 2014."
It all started last Wednesday when the kids were out at a park, playing with aforementioned great aunt, when the first flakes started coming down.  I gave her a call, all low-key, "Hey, I should probably come get the kids now."  "Okay, sure, see you in a bit…" The picture of nonchalance.  Because hey, when it snows here it almost never sticks and when it does, takes at least an overnight to amount to anything.  Plenty of time, no sweat.  I did up a mug of hot tea, found my wallet, and headed for the car.
By the time I was on the road, it was already slippery.  Fifteen minutes later the roads were covered.  Meeting up we were all, "Shit, shit, we made a mistake!"  The normally fifteen minute ride home took me an HOUR, my hands white-knuckled on the steering wheel. We passed NINE cars in ditches in that ten mile drive, people out standing by their hopelessly stuck cars, waiting on help.  Terrifying to this Southern Girl, let me tell you.  I had to bold that mofo sentence just to convey the horror.  I mean, only a half hour earlier it had been black asphalt!  What the hell, Weather?
But we made it.  I was SHAKING by the time we pulled into our driveway.  Seriously, I turned off the car and my hands were flapping so hard I couldn't get the key out of the ignition.  Look, 1) no one in North Carolina—at least not the natives—knows how to drive in this stuff, 2) there's like, one plow for the entire county, and 3) no one has snow tires of any kind.  I don't even know what snow tires are.  They're bigger or something, right?  See, we're hopless.  And then comes some obnoxious Yankee transplant, driving along in his four wheel drive, actually passing me as I inched along the roads with my kids in the back seat and my slow deep breathing to keep myself from a full-blown panic attack….I've never been so glad to park my car in my LIFE.
Of course, once we were home, it was soooo pretty, just a big adventure, whoopee!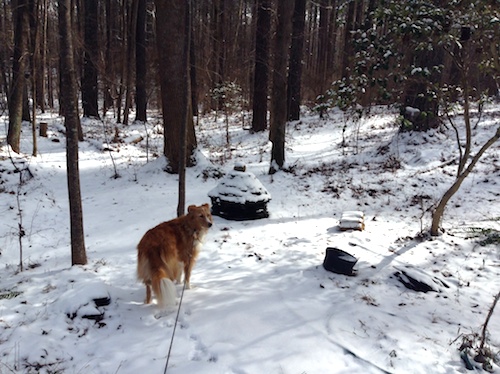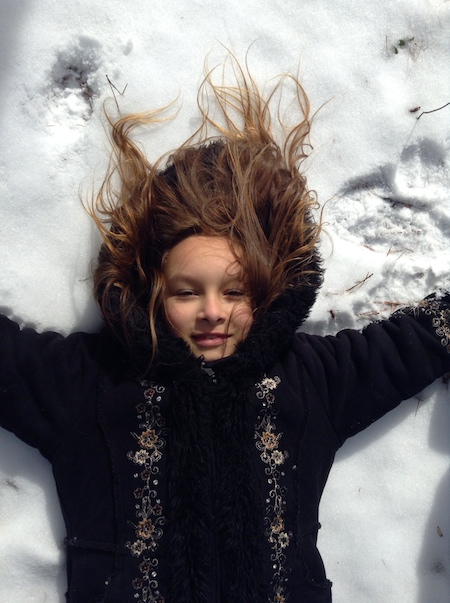 Our big creek looked gorgeous!  And note the plastic bags on the sneakers, because we have no snow gear.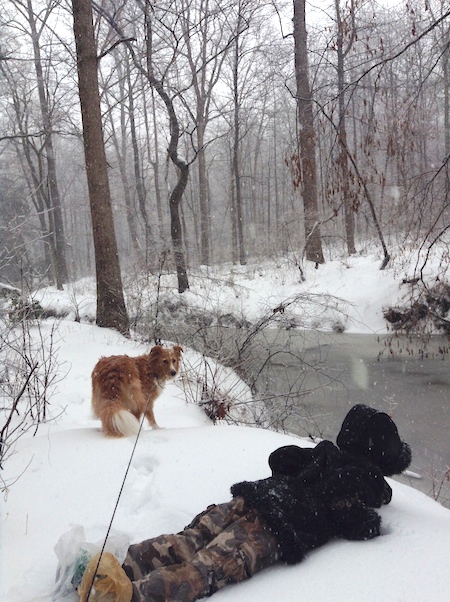 More and more came down, giant flakes.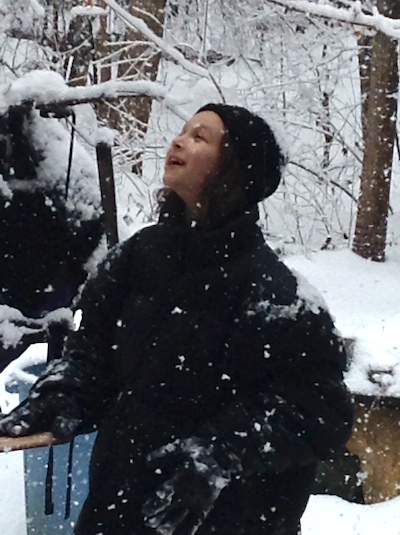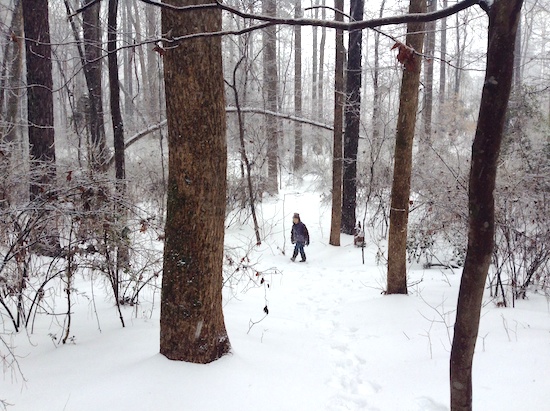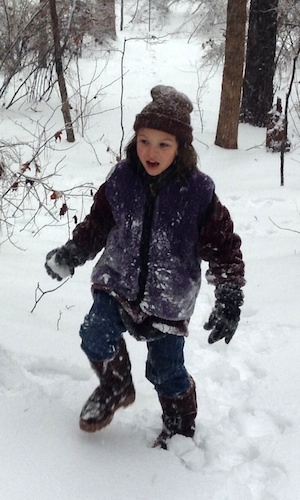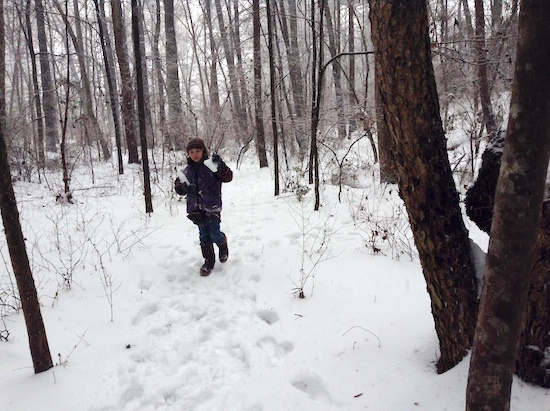 By the end of the day, the kids were breaking weapons off the yurt….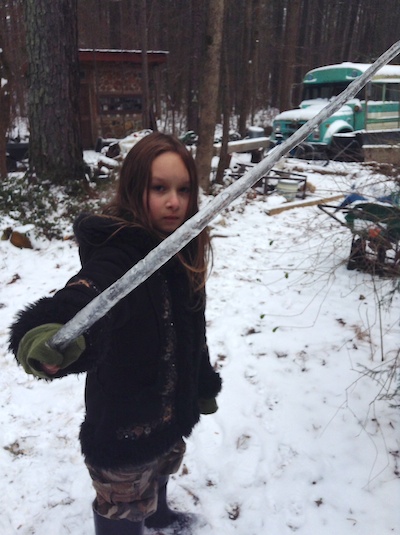 The next day it looked like this: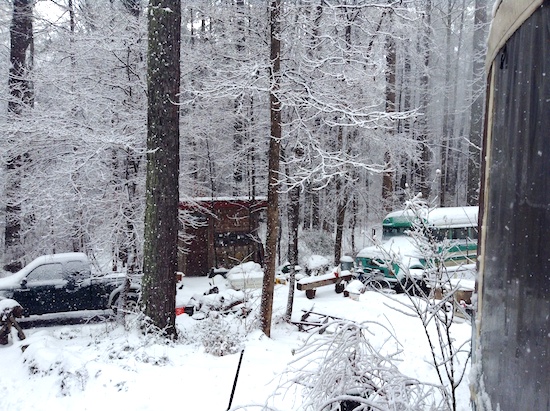 You know what came next.  Snow ball fights.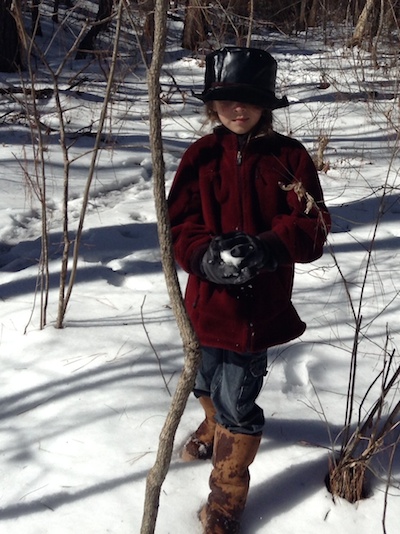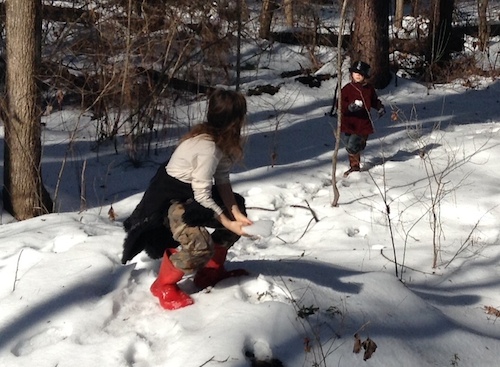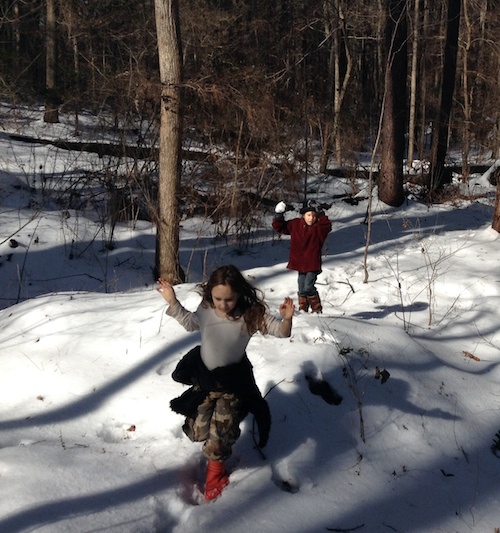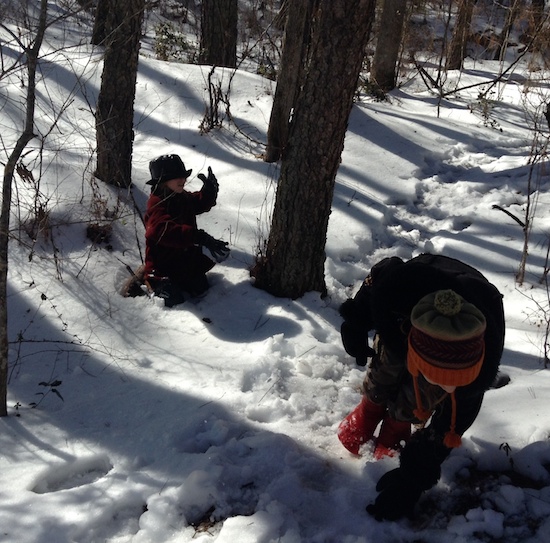 Leading to an arms race…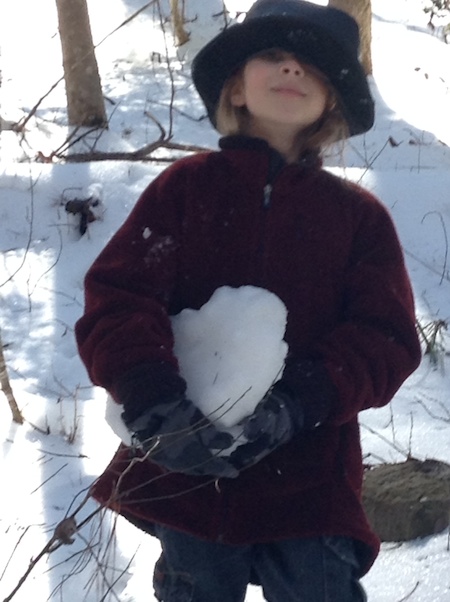 An army of creepers was raised…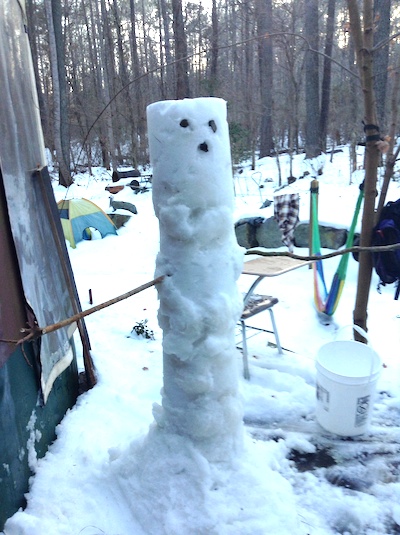 Plus some snow usagi folk…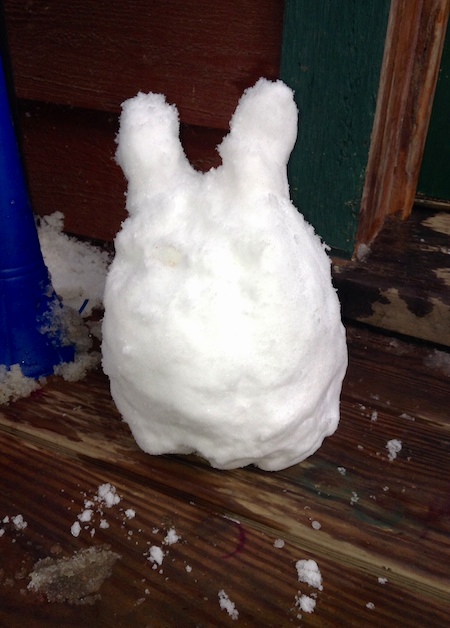 Good times!  Plus, we were super lucky that our power didn't go out.  Being snowed in is lots more fun with hot water and wifi.
But check this:   today, only five days later, it's 65 degrees out!  The kids are out playing in the remaining snow in short sleeves!  Freaking daffodils are coming up.  I'm so confused.

It's weird, I tell you.  Weird.
Of course, I was talking to my good friend in upstate New York yesterday and she said, "Oh, yeah, it's been crazy. We got 23 inches of snow just yesterday." TWENTY-THREE INCHES.
Forget that.  Snow is pretty, but I prefer it to be an amusing couple-of-days house guest, one that knows when it's time to leave.  Snow should not be a way of life, thank you very much.
Is this the back side of global warming?