I am on a reading BINGE.  Picture a bull dozer just loading up mountains of books and then dumping them into my eyeballs.  It's all manga of course because something is wrong with my brain and I can't seem to pay attention to novels these days.  I need pictures!  Which is ridiculous given that I AM A NOVELIST.  What is wrong with me?  I start reading a novel and I glaze out after half a page.  Wait, actually I have read several novels in the past couple of weeks, stories written for critique exchanges with writers I know.  So it IS possible, it's just kind of…painful.  In contrast, I have to set timers to keep myself from reading manga too long, and I've been regularly staying up way too late reading while everyone else has dropped off.  I wonder what my deal is?
Anyway, ready for a rundown of some of the best of my recent binging?  Remember, I don't review the shite, only the goodies, and believe me, you can figure a half-dozen, a dozen, maybe more, titles have been read and enjoyed somewhat, or read for a bit but ultimately discarded, for every one title I mention here on the blog.  Oh and it's mostly relationship stuff lately.  No mecha-robots or apocalypse zombies or multi-generational fairy wars this time.  Sorry!  Next time.
And don't forget the great titles on the previous couple of blog posts!  Because apparently, this blog is all about the manga this week.
So.  Today I offer you three high-school girl shojo stories because (1) they are ubiquitous, and if you can't beat 'em, join 'em, plus (2) they are funny romantic-comedy stories, which I love on rainy days, while eating chocolate, which is what today is all about.  I also have, for another post, three great yaoi stories, and a couple of weird what-is-this stories…I always love to find those.  But this post is going to be long enough as it is!  More reviews will have to wait until later.
Okay!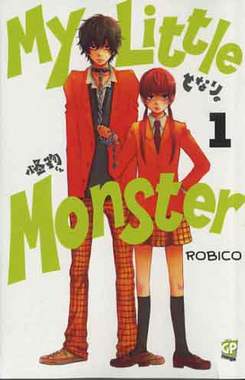 My Little Monster rises above the masses because it has hilarious, interesting, well-written characters, something I always fall for.  Shizuku, a super straight-laced study-bug gets entangled with Haru, a crazy, super-smart but severely ADD (or something like that?) guy with a rich family that he is avoiding and a tendency to beat people up when he doesn't understand the social dynamics in a given interaction.  Which is all the time.
If this doesn't sound funny, trust me, it is.  Missed signals, impulse control, exasperation, test-score competitiveness (one-sided on Shizuku's side, Haru could care less that he gets the highest scores), plus a cast of funny, sweet characters.  Rom-com at it's best.  Seriously, I just love watching these characters get so befuddled about each other and about their own feelings for one another.  Really fun.
My Little Monster is on-going, so I can't comment on the whole story, bummer.  I HATE WAITING.  And yet, I must.
Next!
Missions of Love, has, I think, a terrible title obscurring a very enjoyable story.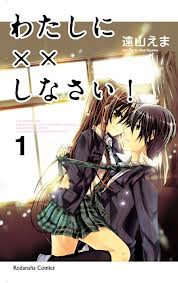 I'm almost too embarrassed to put the cover up here with that stupid title.  Oh, you know what?  I'm going to put the Japanese version here to obscure my shame. Okay.  This one is about a Yukina, a writer, actually a high-school girl who is a secret (but very dedicated) writer, who uses the people and interactions around her as a base for her stories.  When she realizes she knows nothing about romance, she decides to do some research.  Classic romantic comedy set-up!  She sets her sights on Shugire, a popular guy who dates everyone—and finds out some dirt on him which she then uses to blackmail him into doing her "research" with her.  Thus begins a strange adversarial relationship where they each keep trying to manipulate the other one, all while doing her "missions" that start with "holding hands" and work up from there in a pretty steady arc.
I've got to say, I've seen and read full-frontal sex scenes that don't have nearly the juice that Missions gets out of hand holding.  I am dead serious about this.  The missions are simultaneously chaste and hot.  They haven't even kissed yet but it's all about lust and who one is willing to feel it with and why.  It's pretty great.  Yukina has a child-hood friend who is in love with her and would gladly do her "research" with her, but she doesn't feel it with him.  High concept rom-com love triangles for the win!  A great, fun read with great characters, which is all I usually ask for, really.  Once again, this title is on-going, so I don't know the ending GAH.  Waiting is THE WORST part about reading manga.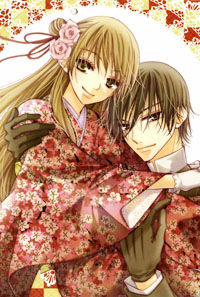 Next!  Hana to Akuma (Flower and the Devil) got off on a weird foot with me because the premise just sounds so wrong, and yet I found I kept reading.  A dashing, top-hat wearing demon named Vivi comes to Earth for some reason (we find out later) and sets up an English-style mansion in Japan where he lives, bored, until he happes upon a baby girl, left outside his front gate.  He takes in the baby, on a lark, and, with the help of his demonic butler, raises her.  The story starts when she is fifteen and a romance is starting to bud between the two.
Now doesn't that sound weird?  Wait, isn't he her guardian father-type?  What's up with this?  I don't know, I can't explain why it worked for me because usually anything that smacks of kid/parent incest is a deal-breaker for me.  I'm not interested.  But this…the girl is named Hana, which means flower.  Demons can't touch flowers without them withering at once, and yet Hana gives Vivi a flower every day because they are pretty and she wants to make him smile.  He can't understand it.  The whole story, really, is about him coming to understand this one thing.  It's so….sweet.
The relationship develops very, very slowly.  Hana is ridiculously sheltered and talks about herself in the third person like a little child, which weirded me out even more, but her innocence is part of the whole deal.  And here is the thing:
THE ENDING IS ONE OF THE BEST PAY-OFFS THAT WASN'T THE PAY-OFF YOU THOUGHT YOU WANTED BUT WAS WAY BETTER, EVAR.  I'm serious.  I was weeping, I mean, ugly crying, and it isn't a sad ending, because you know I hate those.
Seriously, I usually go for dark, complicated, fucked-up relationships and this one is so…not that.  I can't even type out words like "pure" with a straight face and yet this book wants me to.
Just goes to show that I really will read anything. 
Hana is complete, at least, so no waiting for the pay off I promise is coming.  Hang in there until the end!
Anyway.  So there you have it, today's offerings, three sweet, funny romances about teen-aged girls.  Maybe I'll do guys in love next, or cross-dressing fashion lines, that one is awesome. Or the one about apprenticing with a space-time witch? Or maybe I'll read something terrific tonight!  Did you know you can buy emanga for cheap and read it on a kindle or an ipad right then, one click instant gratification????  This is probably not a good thing.
And really, what IS with this binging?  I'm not avoiding my own novel—which, it would seem I can still work on, thank goodness.  I'm about 70% through the revisions and it's going well, whew.
Dunno.  Phase of the moon maybe.  But I say, LET THE BINGING CONTINUE!
Buy my books!

Children of the Fallen, now available on Amazon.


The haunted and talented children of the glorious and terrifying...

Toby Streams the Universe at amazon.

A psychic in the big city, trying to stay sane....

The Violin Maker's Wife at amazon.

Enchanted violins can be deadly....

Conjuring Raine, now available on amazon, B&N, and at Smashwords.

A girl, her vampire, his demon...

You can also listen to the Conjuring Raine free podcast. Enjoy!

coming next: The Lucidity Effect

Lucidity is now with the editor, woo hoo!

upcoming book releases

"Dusi's Wings" April, 2003. . . . "One thing fantasy can do for us is to give shape to the mysterious in the world; another is to make emotional yearning concrete. The early sections of "Dusi's Wings" do just that...there was a strong grasping towards the spiritual in fantasy here that was very promising, and I look forward to reading more by Lassiter." --review, Tangent Online.