Sandra Tayler is an amazing example of a mother/artist/business woman managing to keep a dozen plates spinning in the air with grace and creativity. She's the publisher and editor of the hugely popular, Hugo-nominated comic Schlock Mercenary, created by her husband, Howard Tayler—and yeah, that means she's managing to be both wife and business partner, a situation that has felled many a fine marriage and/or business. Plus, she's the mother of FOUR kids. And she writes children's books. And essays. She is super nice, and oh, and there's that award winning blog…. Sheesh, there is just more and more to add to this list.
Basically, she's up there with other mother/writers I know who seem to do the impossible, women like Martine Leavitt—SEVEN kids! nine award winning novels!—or Donna Jo Napoli—five kids, over fifty novels and picture books….plus she's a freaking linguist!  I heard Ms. Napoli speak once and she had this great bit where she was introducing herself, listing out everything she does, each accomplishment more impressive as they piled up, and then she finished up with, "And you can eat off my kitchen floor……for a week.  And not go hungry."
Yeah, I know the feeling.
But seriously, I'm so impressed with these gals.  I aspire to be like them when I grow up!  Although, realistically, I struggle with getting out of my pjs a lot of the time….
So, without further ado, let me welcome Sandra, who is ready to give us the secret to her super busy life.  How DOES she do it??
Hi Sandra!  I am so impressed with the fact that you are this full-on business woman, plus mother of four, plus having your own creative projects like the Kickstarter you are currently running to fund your next picture book.  Can you say anything about how you do it all?
The quick answer is "practice" I've been parenting for 18 years and running a business for 10, but that answer doesn't help anyone who is on the front end of trying to figure out how to fit all the things into one life. I've actually given presentations and written about it.
The solutions will be different for each person and the solutions will change over time. For example, when my kids were little, it was critical for me to keep all the business work in our house as much as possible so that I could be with the kids while working. Now I find that separating out business tasks from family things is the best way to keep sane. I use the school schedules to give structure to my days, much in the way that I used to use nap time.
Also there are lots of things I don't do. My kids don't have many activities outside of school and church. We eat far too much frozen pizza. And my house cleaning would not stand up to inspection.  Also I live in fear that I'm going to fail at all of it, particularly the parenting. I'm always second guessing my priorities and wondering if I should be doing something different.
Oh, yeah, I know that fear.  I bathe in it regularly.  How do you try to balance your personal creative life  with running a full-on business?
One trick is to give the two things different physical spaces in my life. My accounting and design work happens at a desktop machine in my office. My own writing happens upstairs on my laptop computer. The shipping and convention work happens over at the warehouse. The parenting happens everywhere, because parenting is sloppy like that. This way when I sit down with my laptop I can easily access that portion of my brain that has been storing writing thoughts. When I close the laptop, I fold away the writing thoughts so that I can focus on something else.
That's interesting, using structure, both time and physical space, to draw boundaries around the different tasks.  I'm terrible with this, the kids and I have these totally UNstructured lives which somehow make it super hard to feel like I'm getting anything done.  I can see how structure might help keep everything running.
But I'm often jealous of your unstructured life, Maya. Some of it is the natural effect of parenting younger kids, but your unschooling approach to parenting is fascinating and alluring.
Daww.  Well, I suppose there are pros and cons to every lifestyle….
Okay, so with Howard putting out a daily comic and you running both the business and the household, tell me how do you wedge your own creative life into that already bursting picture? What's it like to live in a home with two writer/storytellers?
Interesting, fun, and challenging. Because Howard and I are both creative, we understand the needs of creative processes. If I peek into his office and I see that he is writing, I know to shut the door and come back later. If he is drawing, I can walk in and talk. Similarly, he respects my need for creative time.
The challenge comes because any creative career requires a support structure to form the business side of the equation. Somebody has to keep the books and make sure that there are groceries in the fridge. I end up doing lots of these support things. In part this is because I am more temperamentally suited to them, but also in part because his creative work pays our bills. We can afford to have my writing time interrupted, we can't afford it if Howard's is. We are very conscious of the imbalance in creative time and do our best to address it. Sometimes we succeed, others we don't. I sabotage myself more often than not.
There is that classic image of being the woman behind the more famous husband/artist, the un-sung (or less sung) power behind the throne sort of thing.  The wife/artist trying to do her own thing but it gets pushed aside for practical reasons, mothering, husband's work etc….can you say anything more about finding yourself in that role, good or bad?
It bothers me sometimes to be the wife/supporter of a more famous husband. I don't like being so cliche. On the other hand, Howard's work is brilliant and worthy of support, so I'm not going to abandon it out of my desire to avoid being ordinary.
Also the supportive work I do is why Howard's creation is able to support us. Without my support, it would fall apart because Howard doesn't have the time to do all the business things and still create.
Howard and I talk about the creative balance in our marriage and we're always consciously aware of the times when something of mine gets put on hold. We maneuver and create space for my projects, even when it makes far more financial sense to focus our efforts on the proven intellectual property. Sometimes the kids sacrifice for my projects too. The point of a family is to provide a growth space for all of the people in it. This includes the mother, even though the common narrative about mothers is that they are static, nurturers who just support everyone else.
So you're on your own on your laptop, getting some of your own work done…can you describe your writing process?  Tell us something about how you write.
It depends greatly on which sort of writing I'm doing.
I guess my process for blogging is to observe my life as I live it and then to think about it out loud and try to frame it in a way that will be useful or interesting to others. I've been blogging almost daily for ten years, so the process has become something that I don't have to think about much. I just do it.
My fiction writing process is somewhat fractured because it is constantly shoved aside for all the other things in my life. I know that I am happier revising than drafting and that I struggle with creating conflict in my plots, probably because I don't like conflict in my personal life.
The picture book process is almost always because I am seeking an answer to something that my child is struggling with. I know that the child needs a story, so I try to figure out what story might lead that child to a place of empowerment where they can solve their own problems. So far this has always involved a visual metaphor which can be turned into lively pictures by an artist. Once I have the concept I hang it on the 32 page picture book framework. Pages 1-5 to introduce the character and problem. The next few to create complications. More complications for the middle, then things have to come to a climax about five pages from the end so that it can all be resolved. There is lots of refining and trying to figure out how I can tell the story using fewer words. Picture books are boring if they are wordy or preachy.
Has it all ever gotten too hard?  Have you ever thought of giving up writing, or had writer's block?
Yes.  I gave up writing twice. The first time was long ago before I started my blog. I was mired in the middle of the truly hands-on era of parenting where all my children were small. I was also dealing with some significant health issues. I looked around at everything and decided that I really should let go of the dream of being an author. It was a childhood thing and I was a grown up now. I was done. The next day I had a creative outpouring of words that lasted more than a week. The second time was a similar situation and a similar result. I gave it up and it came back.
Since then I've had lots of times where writing felt like one thing too many. There have been times where I consciously put it down, knowing I wouldn't be back to it for a long time. Writing has always waited for me. Writing is patient when life gets to be too much. And, like riding a bicycle, I don't forget how.
Okay, tell us what you are working on right now.  I know you've got a Kickstarter cooking along….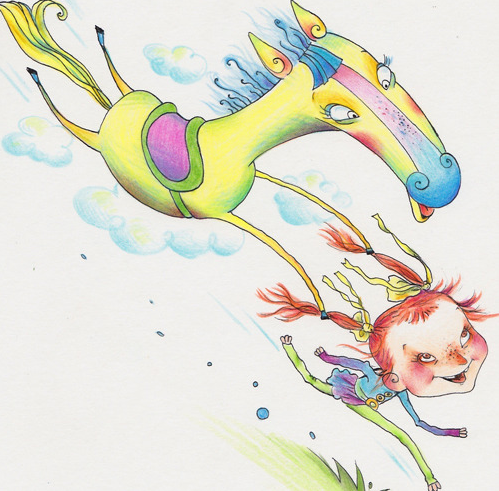 Yes, the big project right now is running the Kickstarter so that I can fund the printing of my latest picture book The Strength of Wild Horses. Running a Kickstarter is definitely a project in itself, but soon I'll get to do the layout and design work for Strength of Wild Horses. I love that part, because then the words and pictures start interacting with each other. I'm always able to fine-tune the words so that everything works together. It is a joy because Angela Call, the illustrator for the project, creates such beautiful images.
Of course, I have other projects, four children, for example. Parenting is a huge and ongoing creative project that takes up a lot of my time. In the business, we spent lots of time this past month setting up a warehouse to store and ship the books full of his cartoons. He just opened pre-orders on his annual calendar, so I have the project of tracking all of those orders and shipping things to customers. The holidays are coming and they always become a project unto themselves. I'm always writing my blog, but that hardly feels like a project. It is just part of how I live. Then there are house projects, of course.  My life is always an ongoing mess of interconnected projects.
Isn't that the truth.  Well, thank you so much, Sandra!  Best of luck to you and your many projects!
Please visit Sandra's Kickstarter page or stop by her blog for more on her complicated, busy, amazingly productive life.
__________________________
Sandra Tayler is a writer of children's fiction, speculative fiction, and blog entries. She has sold stories to anthology markets, including DAW. In February 2009 her blog won an AML award for online writing. Sandra spends much of her time as the publication and distribution half of the Schlock Mercenary comic business. Sandra's publication work and her writing are frequently pre-empted by the needs of her four kids, who alternate between being incredibly helpful and incredibly distracting.
upcoming book releases

Buy my books!

Creature of Dreams, now available on Amazon.


Children of the Fallen, now available on Amazon.


The haunted and talented children of the glorious and terrifying...

Toby Streams the Universe at amazon.

A psychic in the big city, trying to stay sane....

The Violin Maker's Wife at amazon.

Enchanted violins can be deadly....

Conjuring Raine, now available on amazon, B&N, and at Smashwords.

A girl, her vampire, his demon...

You can also listen to the Conjuring Raine free podcast. Enjoy!

"Dusi's Wings" April, 2003. . . . "One thing fantasy can do for us is to give shape to the mysterious in the world; another is to make emotional yearning concrete. The early sections of "Dusi's Wings" do just that...there was a strong grasping towards the spiritual in fantasy here that was very promising, and I look forward to reading more by Lassiter." --review, Tangent Online.

Recent Comments