And by cycling, I mean bicycling.  And by bicycling, I mean pedaling my bike while it's up in a trainer in my yurt.  It's a kind of meta-cycling, is what I'm getting at.
But back to the Not-Agony.  Actually, my initial riding attempts of any longer duration than, say, ten minutes were not Not-Agony, they were just plain Agony.  My heart rate loved it, my energy level loved it, but my wrists, my sit bones, and my lady parts were most definitely NOT loving anything about it.
Wrists turned out to be an easy fix by adding some handles that flange out, giving a wider pressure base than a typical round handle bar.  Boom.  Surprisingly comfy.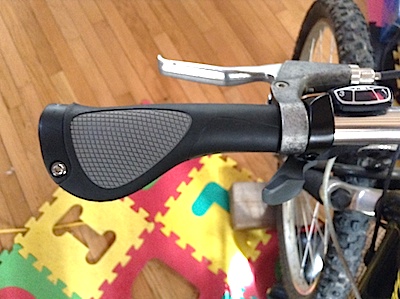 See how the whole palm has support here, instead of a circulation-destroying bar?  It's cool.  I thought I would need aero bars or something, put the pressure on my elbows instead of my hands, but nope.  This worked.
The Down There issues, however, took more tweaking.  I'm talking about my bike seat.  And by seat I mean  saddle.  And by saddle I mean, torture device designed by the devil himself.  When did they start calling it a saddle, anyway?
Here is a picture of mine, the one that came with my bike: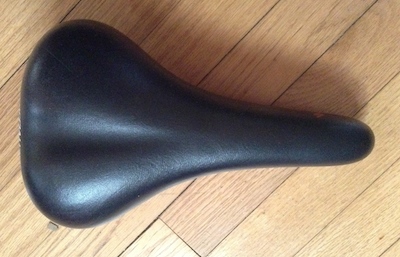 They say you have to become "conditioned" to your bike saddle, so I tried toughing it out for a while, but f that.  It was awful.  So, in between icing my sit-bones, I hit the internet.
Here is an amazing blog post at Lovely Bicycle! with over 200 comments by women talking about the various damages and attempted solutions their bike saddles have visited upon them.  Chaffing, bleeding, swelling, infections, numbness…  The two standard fixes are gooping your works up with greasy lube called chamois cream and tipping, dipping, and angling the saddle, all with mixed results.  Women cyclists everywhere are suffering.
Then there is getting a different saddle altogether.
Enter the inventors.  There are a ton of saddles with these funny little cutouts that I find it difficult, nay, impossible not to mock.  Here is the Team Estrogen—haha, love that name—page on bike saddles for women.  There are a ton of them, from $20 to $200, from hard to soft, all with variations of The Cut-Out.
Bottom line, they look like a v-jay.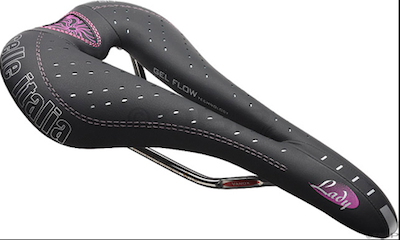 They even come in pink, emphasizing the effect.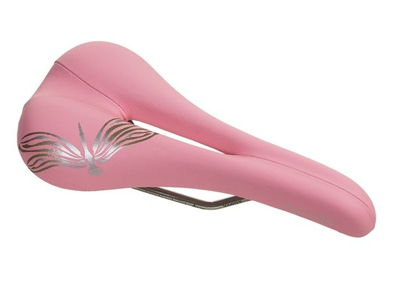 Don't you just want to get a sharpie and draw a clit on there and be done with it?
Maybe we're going for some kind of sympathetic magic in action.  But seriously?  This is what we've got?  Where's the injection molded, internet powered, anti-grav saddle? Come on, aren't we living in the future?  Cut-outs?  This is the answer?
When I first started looking into upgrading my saddle, I thought for sure I was going for the Comfy-Bun, something with a fuck-ton of padding, like, strapping a bed pillow to my bike.  I mean, when if feels like you're sitting on a rock, padding definitely sounds good.  But everyone says no, no, padding is bad.  To which I whined, are you sure?
Because I was mashing my labia so much I tended to ride with my pelvis scooped forward to reduce the pressure, which put my neck in a stretched out position and gave me shoulder pain.  My seat—I mean saddle—was giving me a pain in my neck.  Not to mention the terrible pain my sitbones were in…it felt like two circles of bruised, mashed meat where the bones were taking most of my weight.  Ride the bike and then sit on the ice-pack.  When does that get fun?
Fine, fine, said I.  I decided to try one of the vagina shaped seats.  With the cut-out.  Mock, mock, mock.
I got this one because it was on super sale at Performance, $20, and my budget is, like, negative 4 bucks.  Heck.  I was desperate.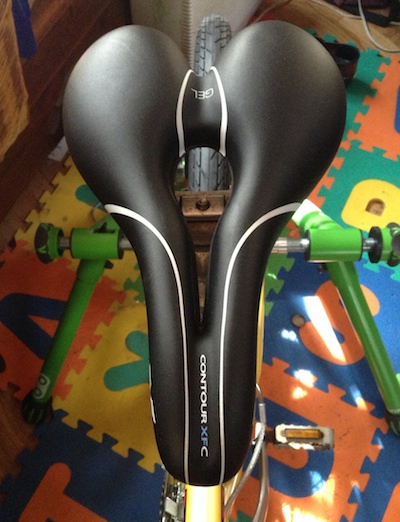 The Forte Contour XFS.  The fellow at Performance who helpfully led me to the saddle section was super professional, and charmingly managed to find just the right mix of practical advice delivered with delicate language…all the while his ears and neck were a brilliant, and I mean brilliant, red. We were talking about my genitals after all.  It's not something that comes up in conversation with strangers very often.
And why is that anyway?  It's bizarre if you think about it.  Half of humanity has a vagina, and a large percentage of the other half spend a decent amount of time in contact with one, it's not like its a secret or anything.  Why would we wipe a body part from existence and pretend like it doesn't exist?  What, are we Barbies?  Imagine if we did that with ears?  Or knee-caps?
Anyway, I got the seat, stuck it on my bike and…well, hand to heart, no longer will I mock the cut-out.  Those cut-outs are fucking brilliant.  No pressure on the squishy bits, which is fantastic, a revelation, hey, it doesn't have to hurt!  And no pressure means no humping my lower back, which means no shoulder pain.  Winning!
Well, maybe I'm going to mock a little.  How about a vibrating seat attachment?  You could power it with the peddling action of cycling, faster for stronger vibrations, slower for a gentle buzz.  You could have orgasms while you get your exercise and never struggle with motivation to get on your bike again.  I'm just saying.
Here's a seat that has taken the cut-out to new levels, the Infinity seat, not specific to women, that recently scored nearly $200,000 on a Kickstarter.


Aren't they cute?  I'm very curious to try one, but too expensive for me.  Maybe in my next life.
So, the cut-out is a big win.  That's half the problem.  But the sit bone issue….with the new seat the sit bone pain is better, for sure.  But not great.  This is Not-Agony, remember.  It isn't Bliss.  I can ride about 30 minutes before my sit bone start aching, which is an improvement—telling you how bad the other seat was.  But since I rarely ride for longer than 45, it's doable.  For Price-to-Relief-Ratio, I'm going to give the Forte Contour a thumbs up.  It is light years better than my previous seat.  But it isn't rocking my world.  It doesn't vibrate or anything.
Honestly, I don't know how the gals going out on four+ hour rides are surviving.  I could not do that.  Just thinking it makes me weep.  No wonder there were 200+ confessional comments on that blog post.
Doesn't this seem like a shocking oversite?  How could there be this amazing, designed-out-the-wazoo, device, the bicycle, and the best we can go for is Not-Agony?  I can't be the only one who feels this way.
upcoming book releases

Buy my books!

Creature of Dreams, now available on Amazon.


Children of the Fallen, now available on Amazon.


The haunted and talented children of the glorious and terrifying...

Toby Streams the Universe at amazon.

A psychic in the big city, trying to stay sane....

The Violin Maker's Wife at amazon.

Enchanted violins can be deadly....

Conjuring Raine, now available on amazon, B&N, and at Smashwords.

A girl, her vampire, his demon...

You can also listen to the Conjuring Raine free podcast. Enjoy!

coming next: the restaurant book

Third draft.

"Dusi's Wings" April, 2003. . . . "One thing fantasy can do for us is to give shape to the mysterious in the world; another is to make emotional yearning concrete. The early sections of "Dusi's Wings" do just that...there was a strong grasping towards the spiritual in fantasy here that was very promising, and I look forward to reading more by Lassiter." --review, Tangent Online.