We regularly make the trip to a nearby city for their massive Asian market and stock up on weird (to us) candy, unusual veggies, mysterious sauces, Kewpie Mayo, etc.  We make a point of getting something totally unknown to us each time, just for kicks.  This time, Sophie picked out these: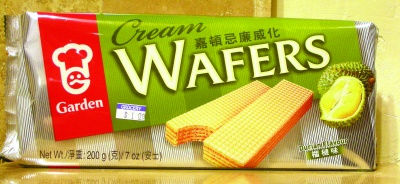 Durian Flavored Cream Wafers. Seems innocuous enough.  It's just little square cookies, right?
When we opened the package, we were assaulted with the most disgusting smell I have ever smelled, something between fetid old gym socks and pus.  I'm not kidding.  Apparently this is just how the durian fruit smells.  I don't know, I haven't had one, although I hear they are quite the delicacy in some circles, an acquired taste that some people actually…like.  They make durian ice cream, for example.  Which is shocking because listen, I am serious as a heart attack about the smell.  Really, really bad.
Sophie actually tried one, a small nibble.  She is so brave.
She had to spit it out.  Then the cookies themselves, once the package was open, stank up the yurt.  I put them in a plastic bag and knotted it, but when we came back from a walk all we could say upon opening the door, was "Holy Mother of Chocolate, what the heck is that SMELL?"  Answer: still the durian wafers.  I put them outside, still in the bag.  But we could smell them when we opened the door. I actually don't know where they are now.  Sophie and Luc took on the quest of disposing of them.  I fear for the local wildlife.
Somewhere, in a board room maybe, someone at "Garden Co." decided flavoring a low-end, rock-gut, cream wafer with durian was a good idea.  They thought, "Yes, we will sell these internationally.  We will make a profit.  This will work."  Heck, maybe it IS working: a couple of people defend them in the customer reviews on amazon, so maybe these have a secret, cult following.  And, hey, I mean, we bought them.  They got our $1.09.  (Actually, how much of that buck is actually going to Garden, I wonder?  It can't be much, given shipping costs, and middle-men costs.)
Bottom line: the mystery of the durian wafer is unfathomable.  Plus: people will eat anything.  I hope this doesn't put Sophie off trying weird shit.  I think that's a cool characteristic of hers.  I've gotten so staid in my old age.  It's embarrassing, really.
upcoming book releases

Buy my books!

Creature of Dreams, now available on Amazon.


Children of the Fallen, now available on Amazon.


The haunted and talented children of the glorious and terrifying...

Toby Streams the Universe at amazon.

A psychic in the big city, trying to stay sane....

The Violin Maker's Wife at amazon.

Enchanted violins can be deadly....

Conjuring Raine, now available on amazon, B&N, and at Smashwords.

A girl, her vampire, his demon...

You can also listen to the Conjuring Raine free podcast. Enjoy!

coming next: the restaurant book

Third draft. It's too long! Trying to trim just seems to make it longer!

"Dusi's Wings" April, 2003. . . . "One thing fantasy can do for us is to give shape to the mysterious in the world; another is to make emotional yearning concrete. The early sections of "Dusi's Wings" do just that...there was a strong grasping towards the spiritual in fantasy here that was very promising, and I look forward to reading more by Lassiter." --review, Tangent Online.