My girl, Sophie, has more style at ten than I had the confidence to pull off at twenty.  Maybe even thirty.  For example, today she was rocking combat boots, over the knee socks, a tutu in black with petticoats, and a hoodie with a glow-in-the-dark skeletal bones, all beneath her bright red hair.  I mention all of this because her combat boots are a crucial part of her look and man, the last pair we got fell apart after only a month: the soles just dropped off.  I hate it when that happens.
We got them fixed by our local cobbler (we have one of those! his name is David and I'm pretty sure he could crush my skull with one hand if he wanted to, he's a BIG dude; luckily he is also very sweet) but finally, I'd had enough with the bimonthly shoe repair, and we went shopping.  We fell upon a sale that netted boots for half-off but get this: they are black combat boots, yes, but they have POCKETS.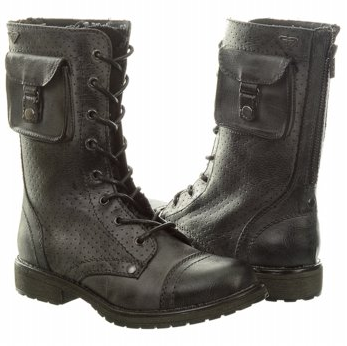 When we saw them in the store, both Sophie and I zeroed in on them, me thinking "Sophie would love those!" and her thinking "THEY'VE GOT POCKETS."  Sometimes purchases are so obvious.
Of course, the very next thing you think is, what goes in the pockets?
SuperCoolHusband took one look and said, "a knife.  A really cool, little, knife."  And he immediately began googling miniature knives ("This one's cute! Oh, dang, it's out of stock…." while Sophie rolled her eyes, "Dad! I'm not carrying a knife!  Besides, I already have, like, two that you bought me.  Chill.").
I said, "lip balm, a tissue, and a twenty." This seems so obvious!  I can't stand being caught without any of these items, amiright?  ("Mom, I don't even wear lipbalm.  But you can give me a twenty if you want.")
Luc rolled his eyes at all of us, "You put in CANDY. Duh."  (Thoughtful look from the girl.  "Possibly.")
And at this point it had become clear that boot pockets are some kind of rorschach for our inner needs.   A boot pocket is an emergency back-up location, too inconvenient for regular use, but out of the way enough for long term storage.  Small but crucial items only.  What fits the bill will be different for everyone.
It has become an informal survey, no one is safe; as soon as someone sees the boots, the conversation begins.  And we keep getting different answers: back-up phone batteries, thumb drives, condoms, drugs, cash, lighter (?), multi-tools, protein bars, dog treats, hand-i-wipes, ID, toothbrush and paste (I guess they have small ones?), tea bags (might there be unfortunate flavor transfer?), ipod charger, a picture of a one's dead mother (that was intense), a tiny notebook and pencil, chewing gum.  It's pretty interesting to find out what people pick.
At first Sophie chose hair ties, two ginger candies, a spare pencil eraser, and a ten dollar bill.  Very sensible.  Then, as a joke, I started handing her things and saying, "keep this in the your boot pocket."  Fireworks, an amethyst, emergency chocolate.  It started being how weird an item can one carry in a boot pocket?  A bird wing.  A collection of teeth.  A pocket watch.  And moving beyond that into metaphorical things.  A sense of duty.  Fears.  My love.  She started writing little notes and carrying those, funny phrases she overhears—she used to write things like that on her legs with sharpie.  Now, they go into the boot pockets.  Every few days she cleans out the pockets, reading the phrases, context often forgotten, like funny poetry.
I wonder what will be next?
What do we want to carry, just a little of, but everywhere?  Somehow this seems linked to Christmas, where I have been thinking about what to give people, what do they want, what do they need, what can I afford, what would surprise and delight or at least not get throw out?  Or maybe keep it simple, the standard socks jocks and chocolates…. I dunno, there's probably more to think about this, but I'm tired.  Time for bed.  Hmm, sleep might be a good thing to put in a boot pocket….
Newsletter of Awesomeness

Buy my books!

Creature of Dreams, now available on Amazon.


Children of the Fallen, now available on Amazon.


The haunted and talented children of the glorious and terrifying...

Toby Streams the Universe at amazon.

A psychic in the big city, trying to stay sane....

The Violin Maker's Wife at amazon.

Enchanted violins can be deadly....

Conjuring Raine, now available on amazon, B&N, and at Smashwords.

A girl, her vampire, his demon...

You can also listen to the Conjuring Raine free podcast. Enjoy!

coming next: the restaurant book

It's out to the beta readers. I'm chewing my fingernails....

"Dusi's Wings" April, 2003. . . . "One thing fantasy can do for us is to give shape to the mysterious in the world; another is to make emotional yearning concrete. The early sections of "Dusi's Wings" do just that...there was a strong grasping towards the spiritual in fantasy here that was very promising, and I look forward to reading more by Lassiter." --review, Tangent Online.