Muscle memory is an amazing thing.
Somehow it came up the other day that I love Icelandic knitting.  Sophie was all, whazzat?  So I did what you do in 2016 when you want to explain something, I google-image-searched it.  Because a picture is worth a million words and a million pictures pretty much says it all, only don't scroll down too far, because that's where things get weird.  Here is what we found: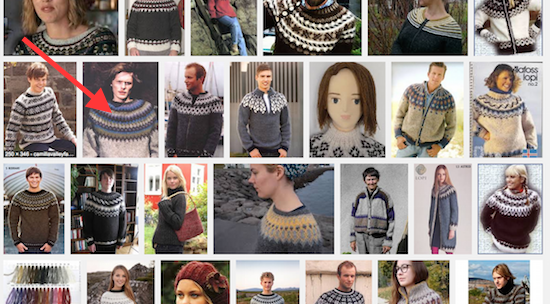 Oh, pretty, she said, but I pointed at one moody, Nordic dude (see arrow above) and said, "I know that sweater." And then, "Seriously, I think I've knitted that sweater."
"What?" said Sophie, doubtful.  "No way.  That's like, a really fancy sweater."
Off to the depths of my closet and the basket that some part of my brain tells me holds my old knitting stash (like a druggie's stash, only with more yarn).  "No, I think I did, that sweater is strangely familiar, I'm not kidding—"
And sure enough, rooting through the bags of wool and abandoned projects, I find: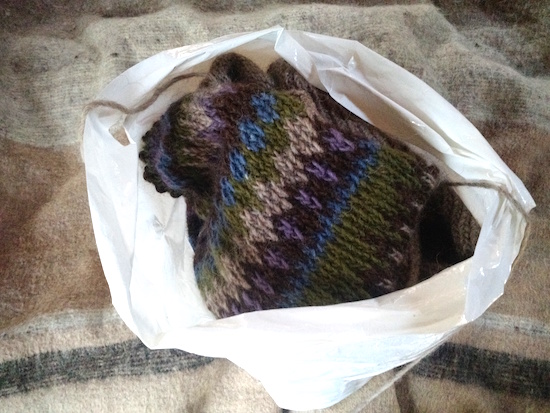 That very sweater.  Completely forgotten by me.  And abandoned only five rows from completion.  Five rows!  Okay, five rows of fancy, double-stranded colorwork knitting, but yeah, a tiny—nay, insignificant—amount of knitting left.  This poor sweater sat in the closet nearly done for probably ten years.
That is so….lame.
I decided on the spot to finish it.  Only, I had no idea how to do double-stranded colorwork anymore.  This entailed digging through many bookshelves to try to find the book I learned it from.  Which I did find.  (I don't know why I didn't just go to youtube, I guess it was a moment of returning to one's roots.)  The diagrams in the book were cryptic.  I looked at them and though this is hopeless.  But then, I picked up the needles and yarn and INSTANTLY STARTED KNITTING.
Just so you understand, I'm talking about a different color in each hand, weaving them in as I go, fast knitting.  I was watching my hands do this thing that my brain had zero conscious knowledge of.  It was magic.  I finished the sweater in about an hour.
It is ENORMOUS.  Which reminded me how gauge used to really be a problem for me. Cough. Here we are, reunited after all these years (and I had to really search to find the pattern book, but find it I did).  This guy and I have traveled far together: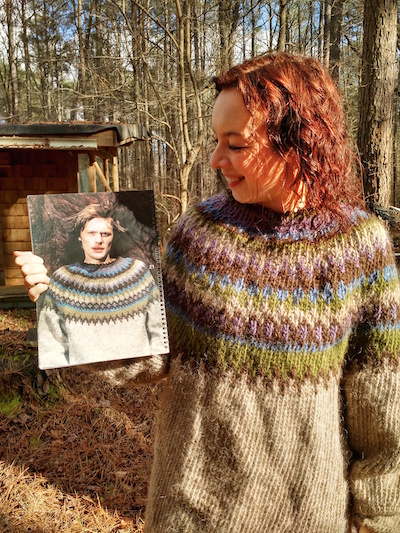 Okay, I tried to take the picture with me making the same expression that Sweater Guy is making, but man oh man, Sophie and I were cracking up so hard she couldn't get the picture. Really hooting, that gut-level laughter, you know what I mean, totally incompatible with me trying to look like Cool Blue Steel Dude.  Now that was fun.
Look at that gorgeous colorwork though!  I can't believe I ever knitted that. Mad skillz!
But listen, I pawed through the rest of the yarn graveyard knitting basket and found:
green chunky alpaca sweater done except for one arm.
two attempts at knitting red wool into sweaters (a cardi and a cabled cardi, yes I could once knit cables) both abandoned mid-body.
THREE sweater starts in a black silk/wool, 1-plain 2-cabled, and 3-SUPER AMAZING CABLED.  That section is GORGEOUS.  I have no memory of knitting it.  All abandoned.
An entire indigo rayon sweater in pieces, waiting to be sewn together, yes, that's an entirely completely knitted sweater, just waiting for finishing (that's what you call the last bit, the blocking, sewing, buttons, that sort of thing).  So sad.
A pair of Koigu socks, knitted to the heel flap, because I apparently, at one time, knew how to knit two socks at once, which is just a magic trick, if you ask me.  Abandoned, just these colorful toes, waiting for their heels….
It's like the cliff dwellings of the Anasazi or Roanoke Island or the rapture, all these projects just left behind and forgotten.
Until now.  I've decided I'm going to finish all of these or die trying.  2016 is going to be the year I BUST MY STASH.  I am not allowed to buy any yarn or start any new hobbies.  If I don't finish a green, a red, a black, and a blue sweater, plus a pair of handpainted Koigu socks by Christmas 2016, I have to GIVE ALL THIS YARN TO A MORE DESERVING KNITTER.
To that end, here is the NEW new start of the red sweater, one for Sophie, a top down fitted pullover.  We'll see how it goes.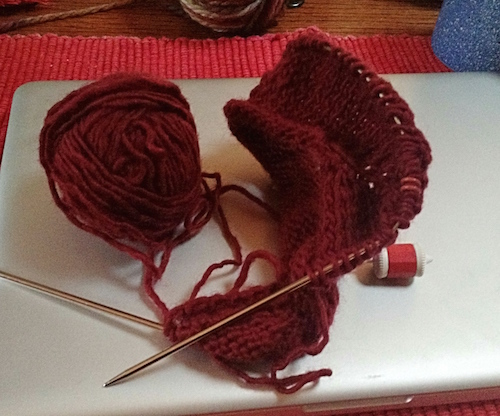 It's funny though, how much my fingers know about knitting that I can't remember.  I'll say, "I think there is some way to close off this armpit hole, but I can't remember how you do it."  So I go poke at youtube, think I'll give something a go, it sounds vaguely familiar, pick up the needles, and BOOM my hands start going crazy, Kitchener stitch, no problem!  Long tail cast on, no problem!  My hands are flying and I'm watching them, bemused, saying, "I think I may have done this before…."  I really feel the current-me can't take credit for anything I knit at this point.  It's all previous-me that figured it out, trained my fingers, and installed the Knitter Software(TM) into my brain that apparently runs without any intervention from the current finger's occupant (me).  I plan to take advantage of this, none the less.
P.S. Just noticed that I actually blogged about the two-sock knitting thing about three years ago.  I do kind of remember this.  The Icelandic sweater though, that's from some other lifetime.