The presents are under the tree tormenting Luc, 10, who struggles with waiting (don't we all).  In the meantime, I haven't been around the blog for a while, can't even say why.  Busy life!  I have started a bunch of posts these last few months, the essay-ish ones, when my brain is chewing on a thing.  But then I don't finish them, or my life moves on before I do.  Will I get more organized in 2016?  We shall see.  For now, though, gotta get through Christmas.
But, if I was posting regularly, I certainly would tell you about how I ran my first 5K race last weekend.  (The zombie-mud run wasn't a race, as it was not timed, walking and obstacles, not a run run). A Santa Run! Everyone in Santa hats, reindeer ears, grinchs, elves, bells on toes, people in full costume or just funny Christmas t-shirts.  Best shirt: "Santa, stop judging me!"
I can't believe I ran an actual race! Even a year ago I NEVER would have thought I could.  But I did.  I ran it in 38 minutes—SLOW—but so what, I did it.  Sophie, 11, ran it in 31, Supercoolhubby right behind her.  We were a little team!  So cute.  The fastest dude did it in 18!  I saw him hoofing it back in when I was still going out.  Amazing.  The whole thing was really fun, lots of cheering, lots of smiling people.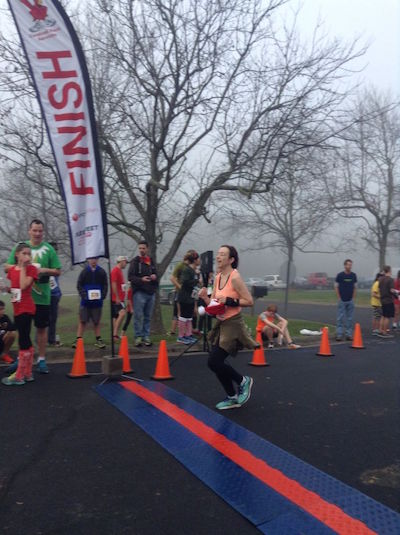 Here I am crossing the finish line.  Photo taken by Luc.  Go me!  I'm carrying my Santa hat because I got too hot.  500 Santas finished that misty morn.  I really, really can't believe I was one of them.  Bodies can change, even at 44 you can pick up a sport and become an athlete.  Nerdy, bookish me, running a race, it's shocking, I tell you.
In other news, nerdy, bookish me (I may be a runner, sort of, but I haven't changed that much) is here to report I am halfway through writing first draft of the next book.  Hoping to get the first draft in the can by the end of January.  I'm at that point in drafting where I'm pretty sure I hate it, it's stupid, I should definitely quit, in other words, situation totally normal.  Still, I'm showing up each day, getting words.  So that's all right then.
But the important thing!  I can't wait to see the kids open their presents in a few days….