We're cooking now, boy.  Daily swimming, lying around in the air conditioning reading fat books while waiting for it to get cool enough to move, tomato sandwiches, being night owls because the heat isn't so bad in the dark.  Eating peaches over the sink.  Cicadas.
In contrast to the pleasures of summer, though, I struggle with stomach-dropping fear about climate change.  You know that feeling?  About which I generally feel quite helpless?  I try to give myself breaks, think about other things.  But all this hot weather (we had the hottest June ever on record and July has been crazy, too, 98 degrees, 98% humidity most days) keeps it in my mind, in the back somewhere, simmering away.  It wrecks my full summery-enjoyment.  Which sucks.
[Whoa, hang on, isn't this a light, up-beat blog???  Yeah, I thought so, too!]
Here, have a Yotsuba, just about my favorite manga series, ever.  I just read this one to the kids, who are not too old to enjoy, thank goodness.  LAUGH OUT LOUD for reelz.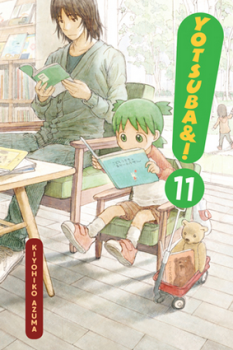 Ahhh. Yotsuba calls it Glow Ball warming, which is adorable.
In other news, we're still running (can you believe it? Nor can I), 2-3 miles, 3x a week.  Sophie and Paul chat as they lope along while I pant and moan behind them, flailing weakly in their direction, "…go on…save yourselves…."  Sometimes Luc comes, too, although he is, shall we say, less committed.  "I want running to be my hobby, not my religion."  He really said that!  He's NINE.  Freaking smart-ass, hilarious kid….
Unfortunately, every time we see something cool (a double rainbow! Llamas! A cool black and yellow snake!) I don't have my camera, while, if I lug it along, it's guaranteed there will be nada but asphalt and sweat.  So, no photo for you.
Ooo, but this is fun: I start drafting on the new novel in ONE WEEK.  I'm halfway through my scene cards.  We'll see how well they work this time.  Last book's scene cards were pretty much a failure.  First feelings can be deceptive.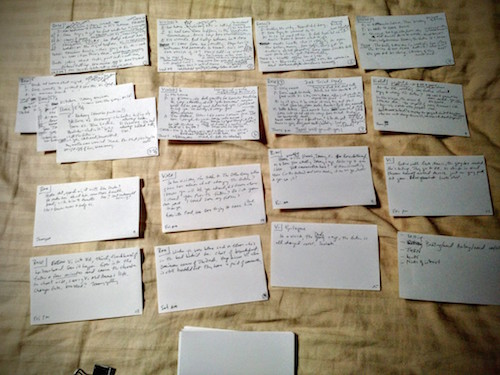 See how the top 8 are super cramped with itty-bitty writing going up the sides? And how the bottom 8 float in a sea of white space?  Yeah, I'm still working on the bottom 8.  Trying for a shorter book this time, 16 scenes instead of the 30 (I think it was?) in the last one. Two pov characters instead of three.  A more streamlined plot.  We'll see how that all works out.
Planning is fun!  Planning is when I haven't fucked anything up yet!
Drafting set to begin August 1.  One more week to finish up the scene planning, where the chant is: protag with a need, in conflict with an antag with a need, in a setting, leading to a unique TURN that upends expectations.  One turn per scene, every scene must have a conflict and an antag, no exceptions, plus note down any funny beats or Points of Interest along the way.  Inciting incident, set-up, three trial-cycles, mid-point, final ramp up after failure of third, big confrontation tying up both inner and outer arcs, conclusion, denouement, yada yada yada.  Gotta love CRAFT.  I mean, I fucking got this, right?
I'm always so full of hubris before the novel breaks me into little pieces.
Happy mid-summer everyone!  (Try not to think about glow ball warming too much…).