1- Visiting a real live Tibetan Sand Mandala
Every couple of years a group of Tibetan Monks from the Drepung Monastery come through the area and throw down some gorgeous sand art in the form of one of their amazing mandalas.  You can go watch them making it, and then when they're done, they sweep it all up and, with appropriate ritual and care, toss it into the river.  Here is this year's mandala completed.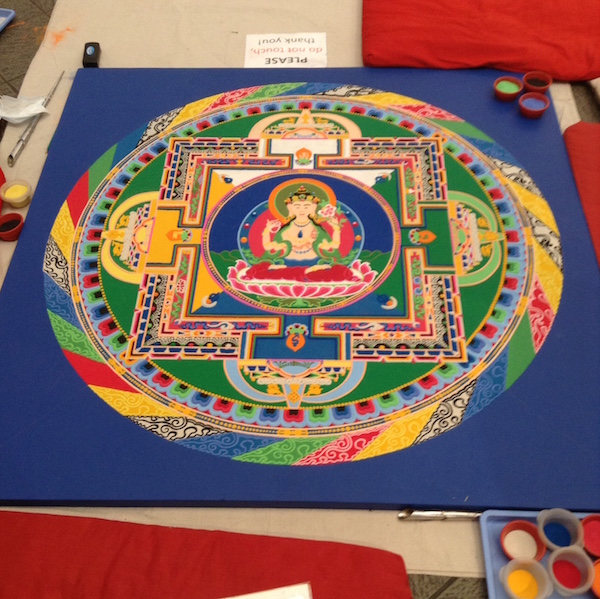 It's the Amitayus Mandala, the Buddha of Boundless Life.  I'm not sure what boundless life is, but it sounds good.  Here is a cool page about the construction process.  Candy colored and intricate!
The monks we met were shy and friendly (and wearing running shoes the color of the their magenta robes, I loved that).  People were meditating all around it, which gave a certain vibe to the proceedings—lots of bowing and nodding and smiling.
I always get the feeling that if one could look at the energetic planes of super-spiritual-something-or-other where these mandalas exist, surely they are 3-d, rising up off the floor and towering over our heads, a huge castle with fancy turrets and gingerbread decorations.  You know what I mean?  Or, alternately, I'm a 3-d person looking at the 2-d universe, fully alive just…flat.  Only I think the mandala must be several 'ds' above us and they are looking down into our world like we are the flat ones….
2- Kitten therapy!
Playing with a kitten, or, say, watching a kitten battle a piece of toilet paper, or a piece of string, or its own tail—anything, really—has undeniable positive impact on one's brain chemistry, cortisol levels, and general well-being.  Call it Kitten Therapy (TM). Basically, if you have a chance to be around happy kittens, you should totally do it.  It will add years to your life.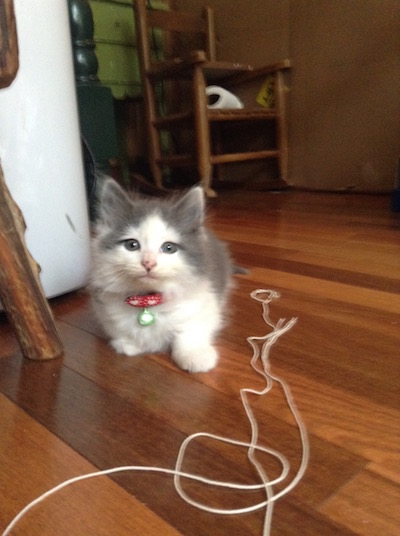 Here is our kitten, brought home from my Granddaddy's old boat barn, once merely feral, now a CRAZY BEAST OF PURRING CLAW AND FUZZ DOMINATION.  He plays non-stop, full-on, attacking anything the moves with great pleasure and gusto.  Falling over is no deterrent.  (Our older cat Momo hates him.)  We've been calling him Jupiter, Ju-Ju-Bee, June Bug, and Juice Box.  He doesn't care.  He only pays any attention when we say, "kitty kitty…"  Or, as I like to do, stomp into the Noah House where he is living and roar, in a low, growly, aggressive voice, "KITTEN!!!"  He always comes out running and purring and ready for Mad Max Fury Road paws-to-the-wall action for that.
Kittens don't come along very often and they only last for a month or two.  Must soak up all the kitten-ness I…possibly…can!
3- Kids VS The Dads: Soccer SMACK DOWN
Park day brought out an unusual number of Dads the other day and somehow it turned into an epic battle for soccer supremacy.  Competition was fierce.  Rules were hotly debated, such as the controversial scoring against your own team by accidentally backing through the goal-line while carrying the ball foul.  (Oops.)  Who's turn was really it to throw the ball back in?  Who's shoes would be used as goal posts?  Could (the now) barefoot players really hold their own against those wearing combat boots?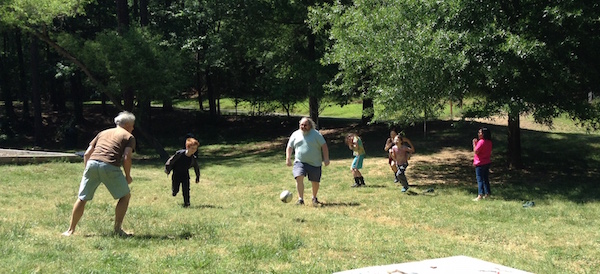 Shorties vs the Talls, WHO WOULD WIN?
4- Ice skating on the hottest day of the year (so far).
90 degrees!  I know, I know, it's only going to get hotter.  August around here often hits 100.  But sheesh, it seemed plenty hot to me.  Time to hit the indoor ice skating rink!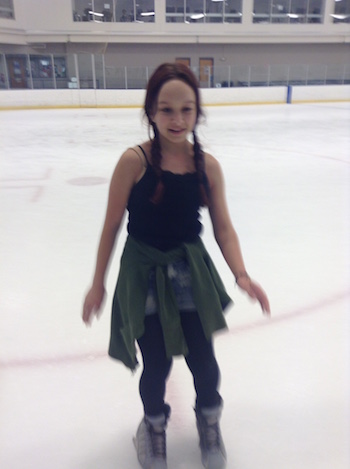 It was Sophie and Luc's first time.  Darn good thing kids are made of rubber because they fell down.  A lot.  Still, they kept laughing and popping back up, so I guess it was okay.  Bonus round: open mouthed staring after they cleared the rink for the figure-skating crew.  Oh la la, so fancy with their flippie moves and twirls.
5- Pizza from scratch!
I turned Ghost Fugue over to my intrepid copy editor at the end of last week and, possibly as a result, I had several days of feeling lost and adrift.
"I've lost the will to live," I told the kids.  "I need an easy, short-term goal to keep me going."
They suggested cooking.  Good idea!  Somehow we narrowed the options down to homemade pizza.
We used this recipe, which was awesome.
But making dough from scratch seemed to warrant a new pizza pan, rather than trying to make due with our warped, dented, encrusted cookie sheets.  I looked for a silicone pastry mat, too, for rolling it out but couldn't find one.  "What about a pizza stone?  Do we need one of those?"  I said.
"Naw," said SuperHubby.  "What we need is to build a cob pizza oven."
Sophie groaned.  "I just want some lunch!  The cookie sheets are fine!"  She's so practical.
I did buy the pizza pan.  $8 bucks!  What a pretty, round pizza it made!  Here it is before cooking: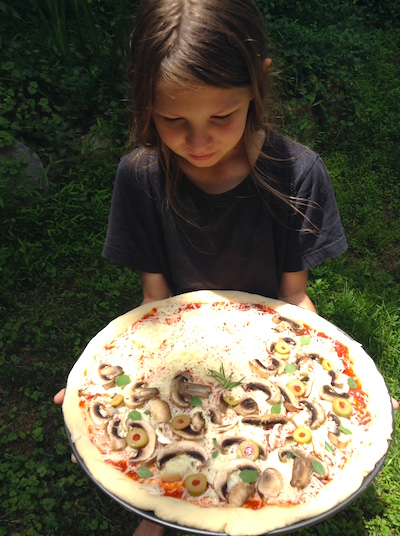 Luc only likes cheese pizza, so you can see his little section over there.  The rest is triple cheese, mushrooms, olives, and fresh oregano.  Here it is after it cooked: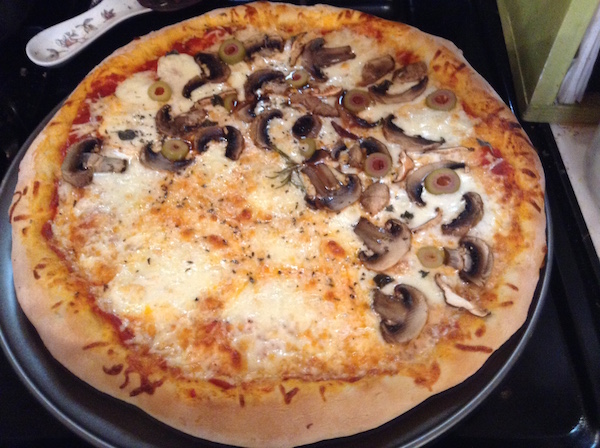 O. M. G.  It was good.  REALLY REALLY good.  Maybe the best pizza I've ever had.  It totally restore my will to live for, like, hours.
And that's it, five random things we did this week.  Nothing too fancy, but it suited us just fine.