I've tried to get into meditation for decades and generally failed to enjoy or stick with it because…well, I don't know, maybe it's because I'm a novelist and am just generally fascinated by my own thoughts (or maybe I'm a novelist BECAUSE I'm fascinated by my own thoughts…) but yeah.  Meditation has failed to become a part of me.  I get bored.  I want the bennies but I just can't put in the time on the meditation cushion to get them.
But!  I've had a chance to play around with a borrowed Muse Brain Sensing Headband for about a month now and I've got to say, it's pretty cool.  It might be something that could get me to meditate regularly.  At least, I've been at it for a month now and still enjoying the experience.  So…go Muse!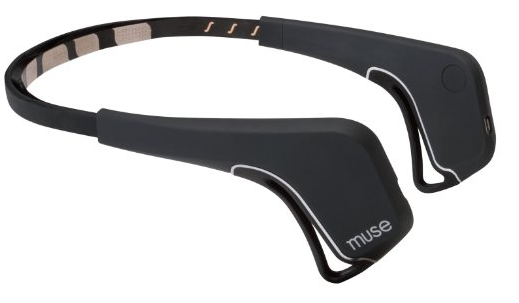 So what is it?  It's basically a portable, home, EEG machine. The narrow strip with the sensors goes on your forehead and the flappies go behind your ears.  Surprising that such a tiny, non-wired (it uses bluetooth to send data and probably some form of magic to read your thoughts) senses your brainwaves and gives you real time feedback via audio cues about whether you are focusing on your breath or wandering off and thinking about a million other things.  That's right, it cues you when your mind wanders. Like, "YO, MAYA!  You're drifting off again!  Get back on the breath already!  Sheesh…"
Okay, it doesn't shout.  Actually it makes stormy weather sounds and my mission, should I choose to accept it, is to calm that weather down by focusing. Biofeedback with your brain.  Gamification of meditation.  Mindfulness training wheels. If focusing your brain on one thing is mindfulness.  (Is it?  Any longtime meditators want to comment on that?)
Anyway, after your session, you can look at a graph to see how well you did.  The goal is to keep your wavy line down in the "calm" zone, something like this: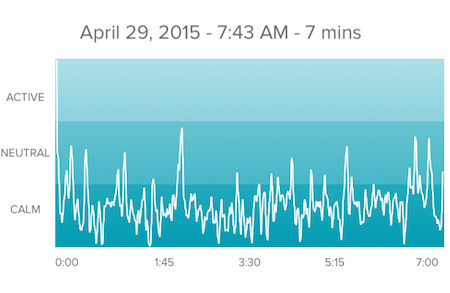 Look at me meditate!  Here we have seven minutes of my brain being super chill.   I actually have no idea how I did it that day because this is more typical for me: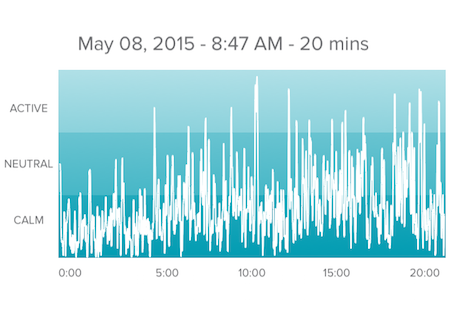 Some up, some down.  Some all around town.
It feels oddly revealing to show the world these wavy lines!  As if I'm a little more naked now….  Don't judge my brain!
The Muse fits around my head easily, makes contact with all its sensors in a couple of seconds, and has given me zero problems.  You have to do this little calibrating thing at first where you think of various things (fruit, tv shows, colors, etc) as prompted by the app, for maybe a minute, then you're good to go.  I've been quite impressed with the hardwear end of things.
But I have, of course, been experimenting.  I mean, when I first tried it I was all, "how the heck do I know it's doing anything?  That wavy line could be the stock price of ice cream in Mongolia."  So I tried messing with it.  For example, I'd try to be "calm" for five minutes and then I'd THINK REALLY HARD for a minute.  Or I'd have the kids sneak up on me at a predetermined moment and shout at me.  Or I wear it walking around and talking, or holding my breath, or watching Fail Videos.  I want to try Musing while sleeping, but that will need an assistant and some planning, just haven't gotten to it yet.  But I will.
Turns out I can predictably make that wavy line jump like a mofo.  Look: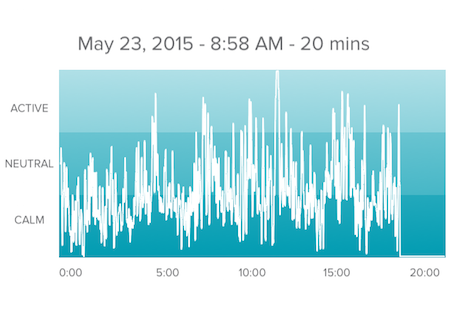 See the sharp spike into the "active" zone at about the five minute mark?  That's me doing math problems.  See the three or four peaks in the "active" zone around the 15 minute mark?  That's Luc asking me for some breakfast.  (See how I didn't finish out the 20 minutes?  That's me going to make said breakfast.)  More on that middle bumpy section in a minute
But WTF?  What goes on in the black box of my skull is supposed to be private. Yet somehow this science fiction-looking device KNOWS.  It knows.
If I get arrested any time soon, you'll know why.
After a while of reliably popping up spikes in the line, I started trying different meditation techniques.  Three, actually: the classic count-the-breath to ten then repeat,  keeping awareness on the breath (no counting), and focusing on a mantra.  (Anyone have others I should try?)
Subjectively, pre-Muse, I have  preferred the mantra approach because it feels somehow more free, less yoked.  The focus-on-the-breath thing (either counting or awareness) feels more like my brain is shackled down, more effortful. Counting the breath will even give me this focused intensity in my forehead, as if I'm drawing my eyebrows together to focus harder (I'm not actually moving my face).  Maybe I'm trying too hard?  Mantra-focus doesn't do any of that.  Plus my breath is freaking boring.
But check it:  the Muse could totally pick up on all this.  Look at that last graph.  The first six or seven minutes I was doing count-the-breath (except for the bit where I was doing math) and my friend, the Wavy Line, stays mostly down in the "calm" and lower half of "neutral".  Then from about seven minutes to twelve minutes I was doing mantra meditation and the line is mostly in "neutral" with some dips into "calm" and some into "active".  Then I went back to count-the-breath  for a minute or two (before Luc showed up) and the line dropped to noticeably more "calm" again.  Mantra meditation produced more "calm" than just freewheeling thinking, but clearly it IS less "yoked" than breath-counting, just as I'd experienced, if by "yoked" I mean "calm" or vice-versus.  It's all right there on the graph.
Does this mean mantra meditation is less effective?  Or does it just mean it's less effective at whatever the Muse is reporting?  Is that focused, effortful feeling the goal?  Or would that effort-feeling pass, possibly, as I got better at it?  If so, could I get to the same "goal" with the mantra method, only slower?  Or something?  It's all very interesting.
I love doing experiments like this!  Totally takes the boring out of meditation for me.  I loves me some graphs!  Give me some data, I'm all happy camper.  Give me a private black box and yeah, I'm off to the races, but it ain't meditation.…
It only takes a second of drifting off for the Muse's aural "weather" to respond and get rough.  I can look at these graphs afterwards and pin point, that bumpy stretch was where I was thinking about Agents of SHIELD, and that spike was when the dog jumped on the bed, and that calm bit was when I dropped out of the world for five whole seconds.
The Muse people claim that continued practice will result in measurable improvement.  I've only been at it for a month and no noticeable improvement yet, as far as increasing % "calm" but I'm still at it.  I wouldn't really expect "results" after only a month.  Maybe six months?  I feel like I have to say "results" in quotes because I'm not really sure what the "result" of keeping the line in the "calm" section will be.  Do really seasoned meditators put on the Muse and just flatline that puppy?  Or is there something else going on here?
I wish I knew more about what the line actually is.  There is this write-up at the Muse site.  And this TED talk by the founder of the company, Ariel Garten.  It seems like they came up with this portable, wearable EEG machine and then tried to think of a way to turn it into a product…and decided the meditation angle was the way to go (in the talk she mentions video games, turning on/off lights and appliances, and a levitating chair, I want to see the levitating chair!).  I'm down with that, monetizing is the way of the world, but there's this vagueness about what meditation is (there are many kinds, of course, with different goals, but still) and what the Muse is telling me with its graph.  It definitely picks up on when I'm 1) thinking, startled, open-eyed and talking, doing math, remembering the plot to Age of Ultron, versus when I'm 2) counting my breaths, or being aware of my breath, or silently reciting a mantra.  I don't know, I just want to know more from their materials.  More detail, less fluff, less marketing-speak.
Perhaps towards that end, I'm reading a couple of books on the neuroscience of meditation. Buddha's Brain by Rick Hanson, and Waking, Dreaming Being: Self and Consciousness in Neuroscience, Meditation, and Philosophy by Evan Thompson.  Although I'm wary of the desire of many authors to grasp new science and graft its terminology onto existing new age paradigms to try to give them legitimacy.  I'm not saying these books do that, just…I'm a bit loath to jump on anyone's bandwagon.  But anyway, I started reading these books, we'll see how far I get.  My attention span is shit.
Maybe the Muse can help me with that!  If I can just keep yoking my brain to my boring breath for 20 minutes a day, maybe the Almighty Wavy Line will take pity on me and start drifting downward, like a graceful feather, to land in the lake of calm and samadhi promised by so many mediators.  We shall see.