Forget a room for every kid: in the yurt we go by the 21st century axiom of a computer (and an internet connection) for every kid, as just basic life gear.
To this end, last year we built a gaming machine that…turned out to be Luc's machine.  And after a year of being very cool about taking the old, lame computer, it seemed clear that it was Sophie's turn to have a new, blazing fast computer.  She isn't quite the gamer that Luc is, but she puts in hours a day doing her artwork using Photoshop for digital painting.  And two computers would mean no more scratching each other's eyes out negotiating for time on the good machine!
HELL YEAH.
Like last time, we used Pcpartpicker.com to assemble a list of components and to track their prices over time.  When the total dropped under our budget ($700) we pulled the trigger.  Here is the pcpartpicker page for our new machine.  That site is so awesome!  You can look at other builds, read reviews, compare prices.  Really a terrific resource.
Parts!  Once they all came in the mail (mostly from amazon) we just waited for a good day for digging into the project.  Nothing like a snowstorm to clear your calender.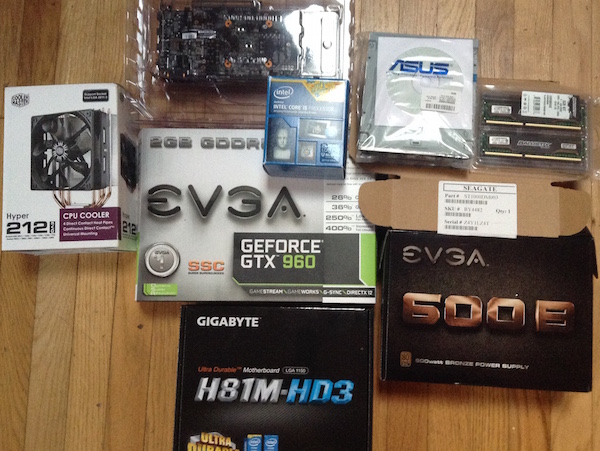 Assembling!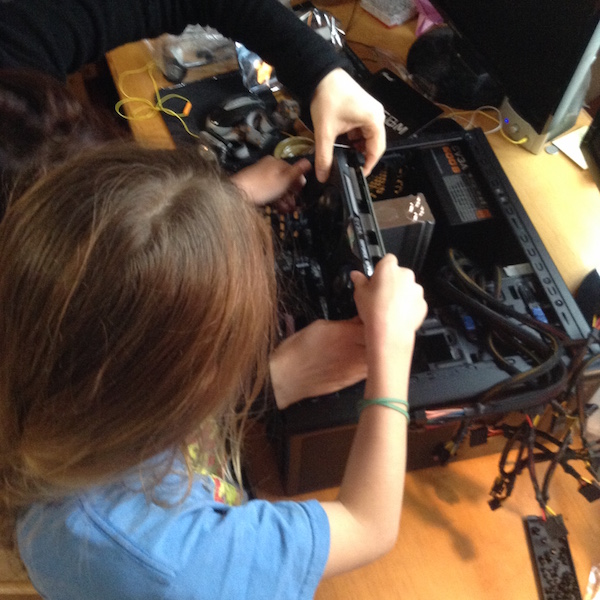 That's Luc and me putting in the video card (we got a nice one, WOOT).  We chose a tiny (micro-atx) case because of limited space under the desk—side effect, it was tricky getting things in.  Small hands were a big plus.
Here are the insides: SPAGHETTI MONSTER.  Yes, I hang my head in shame at this, and can only say in my defense that, in this tiny case, you can't run any of your cords behind the motherboard, so they all end up under the drive bays.  Oh well, when we turned it on, it worked (we cheered), and that's the main thing.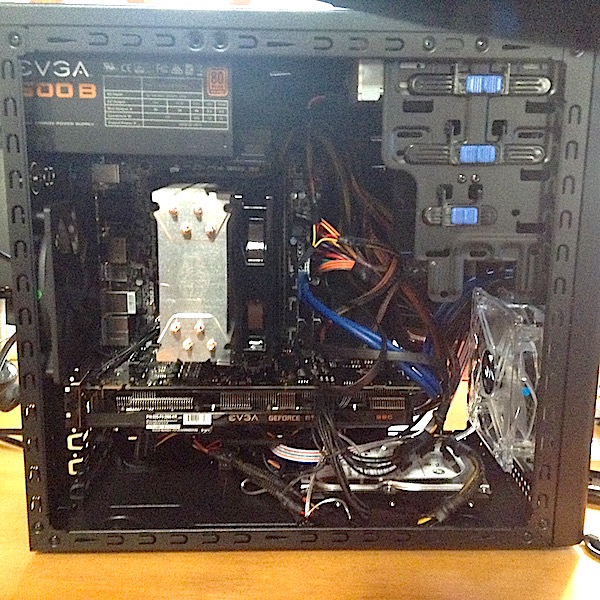 Here it is in its shelf under the desk.  Sophie say the blue lights give us ambiance.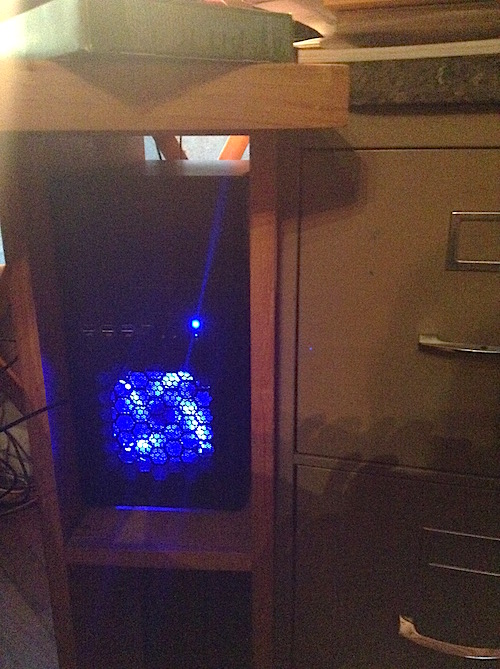 And here we have the dueling machines.  No more fighting over turns, plus they can play each other in games with multiplayer modes.  HUGE WIN.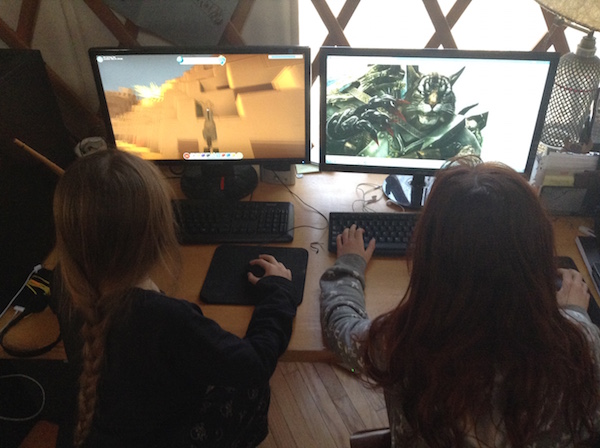 We have friends who are "anti-screen" and I really like them, but man I don't understand that line of thinking.  Limiting computer exposure seems like dolling out a huge handicap to people growing up these days.
Plus there is this focus on the device, and an ignoring of the activities being done on the device.  They see "screens" when the activities can be as diverse as reading a book, drawing a picture, talking on the phone, playing a game, etc etc.  If a gal did all of those things in one day (happens all the time), someone might say, wow, they did a lot.  If she did it all on a computer, a screen-phobic person might say "too much screentime!"   Yet, if she had done the same activities using a paperback, a sketchbook, writing a letter, and playing cards, would that say person say, "too much papertime!" ?
Why this preference for dead trees over pixels?  Look at the activity and the mind and happiness of the person doing it, not the interface, that's what I say.
Anyway, hopefully these computers will last the kids for a few years.  Although even in one year, I can see the difference in power between the two machines.  The tech is advancing so fast.  Indeed, I'm super excited about the HoloLens and similar devices, and how other wearables are coming along.  It's Marvel's Ironman style computers (holographs you manipulate with your hands) only you wear goggles to see what you're doing.  Very cool!
I suspect that in ten years such holographic glasses will be the standard interface, and "screentime" will be a moniker of the past.  Parents will have to freak out about limiting goggle-time I guess.
Listen, if there is any downside (what are the fears, addiction, social backwardness, isolation?) to kids having unlimited access to what they want to do (computer, video game, art supplies, books, tv, movies, manga, yada yada, we see them all as part of an array of Stuff To Do around here) then my kids ought to be exhibiting those problems.  But they don't.  Therefore, screens aren't the cause of those problems.  Basic logic.
GAH, one more rant: I hear parents struggling to find the right amount (an hour a day? three hours a day? none?) of computer time for their kids, but to that I say NO.  Wrong question!  The question isn't the amount, it's WHO IS DECIDING THAT AMOUNT.  And for whom.  You can't figure yourself out if you can't decide for yourself.  Better to get to know what works for you, on your own, when the stakes are low.  Not when you're suddenly released into the wild at 18 and trying drinking for the first time.  Let 'em figure out their own "right amount." Don't presume to know someone else's "right amount."
Okay, enough soapbox.
Have fun!  Learn!  Make cool stuff!  Go at it full tilt if that's what you love, the interface is not important. Playing is learning!  That's my motto.
I'll leave you with one of Sophie's recent drawings, done on the new computer with a Wacom tablet.  She loves making characters like this from scratch, designing their clothes, their expressions.  Each one takes many hours of work.  Actually her work ethic on these (self-chosen) projects is amazing.  (How would it help her to keep her from her chosen materials by limiting her "screentime"?)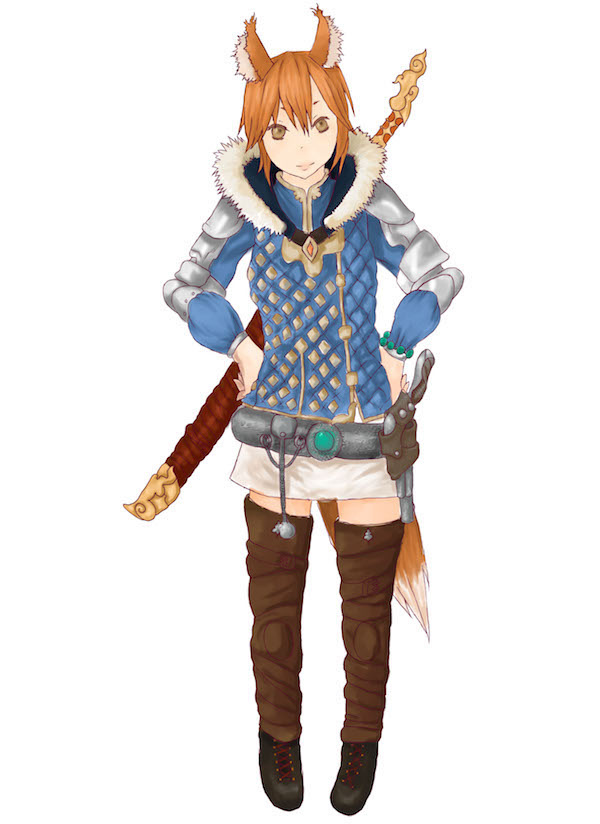 SO CUTE.
Edited to Add: I inadvertently made a huge addition to this in the comments (about ipads), it makes a good continuation of the computer rant, if you're so inclined to hear more.