The question on everyone-I-run-into's lips for the last week has been, "are you ready?" By which they mean,"Are you ready for Christmas?"  It has started sounding like "are you ready? Get set…GO!"  I've started feeling paranoid because folk seem so freaking busy and stressed out and I…don't.  It's like they're whittling their Christmas out of hand hewn logs, grown from Christmas seeds passed down through the generations, and I'm hanging out, eating a carrot (visions of Bugs Bunny, don't ask me why, I don't know) and watching all the industry with a puzzled expression. Why don't I have a to-do list longer than a garden hose?  Am I forgetting something?  Am I shirking my Chirstmas duty?
Cooking, wrapping, mailing, baking, decorating, attending parties, hosting parties…these are the basics of Christmas as celebrated by early 21st century middle class Americans, right?  I keep checking them off on my fingers to make sure we're doing all the Christmas Stuff.  We seem to be (haven't hosted a party, but everything else, yep, yep…yep) and yet…I just don't seem to be stressing out.  I'm clearing doing something wrong.
But wait, no, I've decided maybe it's a question of scale.  For example, yes, we have a tree, we decorated the house, but, you know, when you live in a yurt, it only takes about twenty minutes to put sparkly lights on everything, and our tree is only four feet tall because anything wider would take over all the available floor space.  Maybe we're doing all the things just…in a smaller dose.
THEREFORE.  My present hypothesis is this: the answer to a sweat-free holiday is to cut your portion of Christmas down to bite size.  Then you'll be fine.  See?  Problem solved.  People are just trying to have TOO MUCH CHRISTMAS.
Christmas is strong stuff.  Sometimes, a little dab will do.
After having this discussion with the kids, however, we realized that we were, in fact, shirking: because we were experiencing a sudden and profound shortage of Christmas cookies! Emergency action must be taken to remedy the situation immediately!
I've been craving shortbread—those incredibly buttery cookies that aren't all that sweet but melt in your mouth, you know the ones, fabulous with a cup of strong black tea?  One cookie has, like, 700 calories?  Yeah.  Those.  Where do these cravings come from anyway?
Ah, who cares.  We made some.  Turns out they are super easy.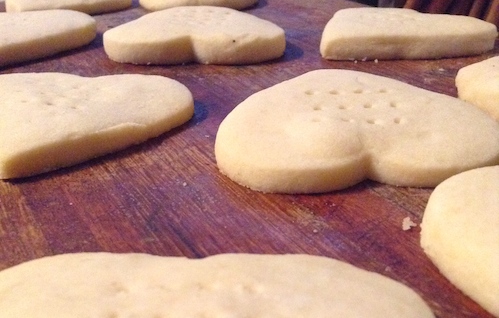 Cream 1/2 cup salted butter (that's a stick) in the food processor with 1/4-1/2 cup confectioners sugar (depending on how sweet you like them.  Add 3/4 cup white flower and 1/4 cup corn starch and pulse a few times until you get a ball of buttery yellow dough.  That's right, there are just 4 ingredients.  Seriously, you can't mess these up.  Maybe if you burn them.  Don't do that.
Roll it out to 1/4 inch thick, cut with a cutter in the shape or shapes of your choosing.  Bake for about 15 min at 300.  If you want them to be a bit golden, you might need to brush them with some egg or something, because mine turned out quite pale, but that was fine with me.
YUM.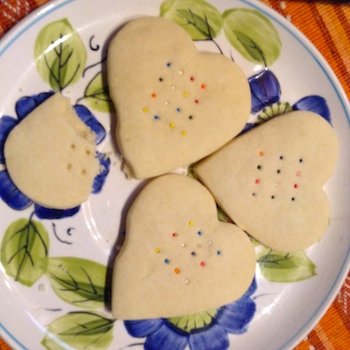 And listen, there is nothing good for you in these, okay?  Except love.
Luc: "These are made of God."
Sophie: "No, they're made of butter."
Luc: "Then God is made of butter."
Sophie, holding up a stick of butter and making Gregorian Chants sounds, "Let there be butter!"
[cheering]
Or as Jake says in "Dungeon Train,"  ""Fiiiinn, I made those biscuits with so much butter. You were just responding to the butter! This whole place is butter!"
Note: this recipe is a very small batch, maybe dozen cookies, depending on the size of your cutter.  You can easily double or triple the recipe, but seriously, you won't want to eat more that one or two of these things.  They are super rich.
SuperCoolHusband rolled colored sprinkles into the little fork holes I made, haha.  We ate them while watching Guardians of the Galaxy (which I ADORE).
Baked Christmas cookies: CHECK.
So there you have it.  My Christmas wish for you: don't sweat it and eat plenty of butter!  Merry Christmas!!