Q: What does five years of Ashtanga Primary, home practice only, do to one middle-aged woman's spine?
I've done some previous State of the Backbend posts (2011, 2012, 2013) so some of these photos have shown up on the blog before.  But I haven't done one in a while. Today's post is the year five installment.
A bit of backstory to catch-up any newcomers:  I started Ashtanga in the summer of 2009 when I was 38.  I started because I got a sore throat and found that I couldn't gargle because I couldn't tip my head back far enough.   This totally freaked me out.  I couldn't look at the ceiling?  Seriously?!  Thus the yoga.  The fact that I ended up doing Ashtanga was a bit of random hit—Primary was a routine when my biggest question when I got onto my new mat was "what do I do?"  Ashtanga offered an answer.
In 2009 I had zero backwards mobility in my spine.  For example, I couldn't do an Up Dog—I had to do this kind of baby cobra instead.  Just lying flat on my back on the floor felt like a backbend.  Maybe this was the result of years of nursing, all curled forward, holding my babies.  My spine felt like cement.
But listen, this isn't a miracle story, okay?  I have not made kapotasana my bitch.  Temper your expectations.  Never the less, in my gentle, no-adjustments, no-shala, no teacher, kind of way, progress has been made.
Let's take a look.  This first shot is after one year of practice.  I could look up at the ceiling!  Yay!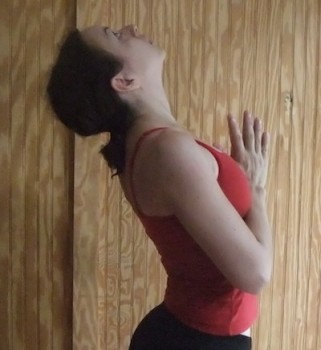 July 2010
Six months later….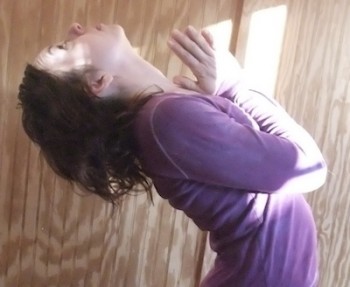 Jan 2011
Three months after that…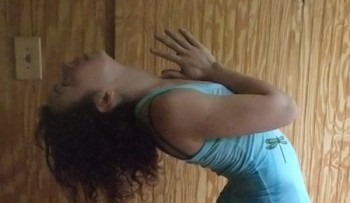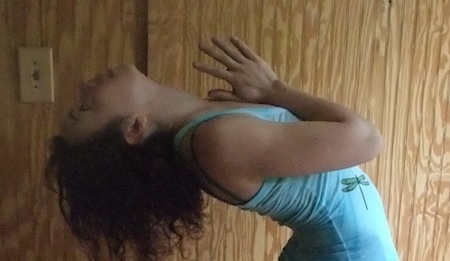 April 2011
Four more months… A watched pot doesn't boil very fast, does it?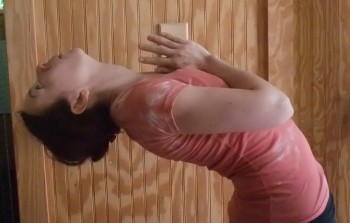 Aug 2012
But still, from the start, that's some steady progress, yes?
However, six months jump again…and it stalls.  The next one is less bend, but I was trying to get more upper-back bend and less lower-back cranking.  More arch, less fold-at-the-lumbar.  If you look at the 2012 pic, my upper back is still rounded forward quite a bit.  In the 2013 pic, I was trying for more upper back curve.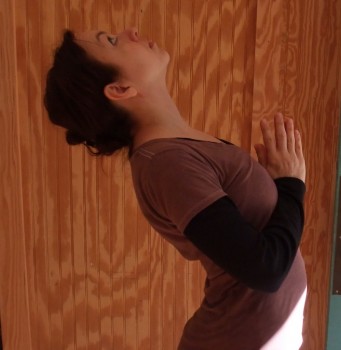 Feb 2013
And then, for a long time, nothing seemed to change.  I didn't take any pictures because shifts of millimeters just don't show up in a photo, and it was depressing.
But, finally, yesterday, a year and half since that last photo, here I am: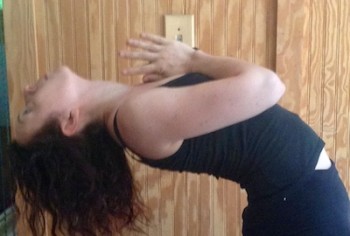 July 2014
 Hey!  Some progress!  Not only can I see the ceiling, I can see the wall behind me now, haha.  So that's something.
Okay, now Urdhva Dhanurasana.
When I first started trying UD, I couldn't do it at all.  So I would stretch out over an exercise ball.  This was the first day I could put my hands on the floor, eight months into practice.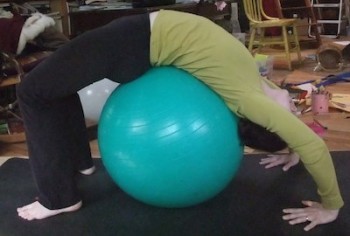 April 2010
Those first attempts were really terrible….and uncomfortable!  My arms are bent at near right angles!  And so are my knees.  It's a mess.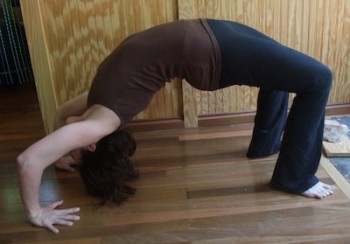 May 2010
But slowly my arms straightened out a bit.  Three months later: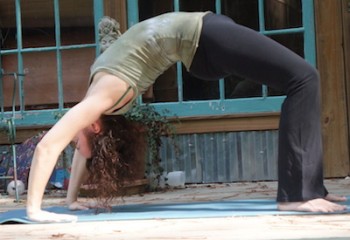 August 2011
Six months later….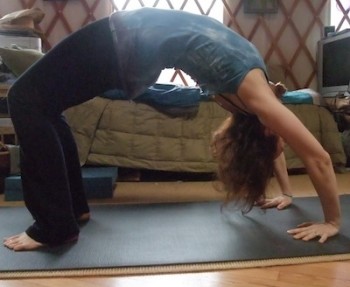 Feb 2012
My hands are still way in front of my face, but it's looking more like a UD now.  This next one is after nearly three years of practice.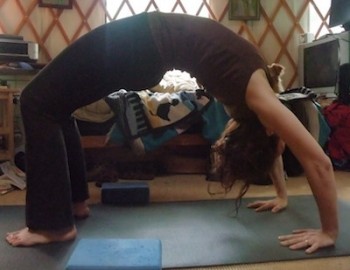 June 2012
I could hold them a bit longer at this point.  Meaning, from five desperate seconds (ha!) to maybe 10, slightly less panicked, seconds.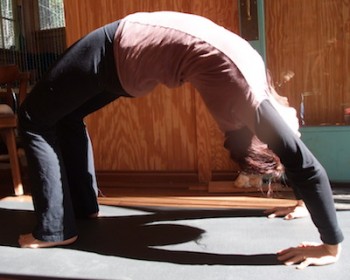 Feb 2013
And then…very little change.  For a long time.  Those early days when change happens so fast—it's so motivating!  Long periods of mostly-the-same, man, those are harder.  (And hey, what's with that baggy shirt?  Ugh.)
But here I am yesterday: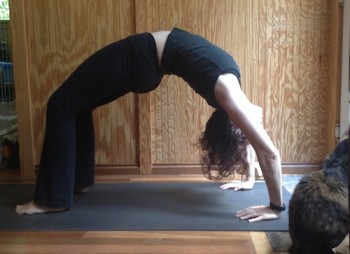 July 2014
Not bad! Seeing this picture, I realized, hey, there has been some movement.  My hands are nearly under my head now, not out in front of my face the way they were last year.  My legs are quite a bit straighter.  And the arch is more evenly distributed, with my butt closer to half way between my feet and hands, instead of crunched over on the foot side.  So that's good.
On the other hand, I haven't gotten nearly as far as I fantasized I would after five freaking years.  Maybe it's being 43 now, maybe its because I'm on my own, no teacher.  I wanted to be omnipotent by now!
But hey, barring that, I'm relieved that I wasn't just treading water the last eighteen months.
Slow—very slow, perhaps—but I'm a far cry from where I started.   Millimeter by millimeter, the body opens up.  The tortoise wins the race.
And hey, if I make no further progress, but stay right here for the next twenty years…that would be a fine backbend for a 63 year old.
(But I might get a little more bend out of my spine, yet.)
Finally, it wouldn't be a backbend post without a shot of my gorgeous and bendy photographer, Sophie, 10, who popped into this backbend cold, just for fun.