Okay, I know it isn't really here until June for most peeps, but:
1) the kids finished their year-end fill-in-the-stupid-bubble test and that's the end of the "school year" for these homeschooled maniacs.
2) we went for our first swim of the season, woot!
And 3) it's 90 freaking degrees today.
If that all doesn't add up to summer, I don't know what does.
Into the pond!  First Luc….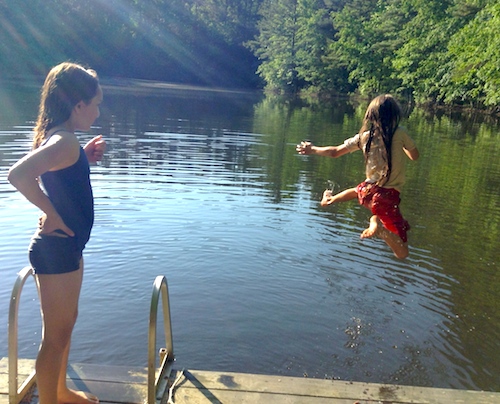 Then, Sophie: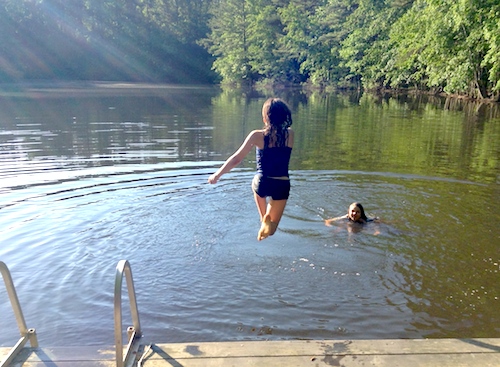 I love my pond.  Although a friend recently terrified me with stories of the "brain eating amoeba".  Jesus, like I didn't have enough to worry about. Thanks a lot, friend-you-know-who-you-are.  Thanks a fucking lot.
Back into the Denial Tower(tm) I go!  I love my pond!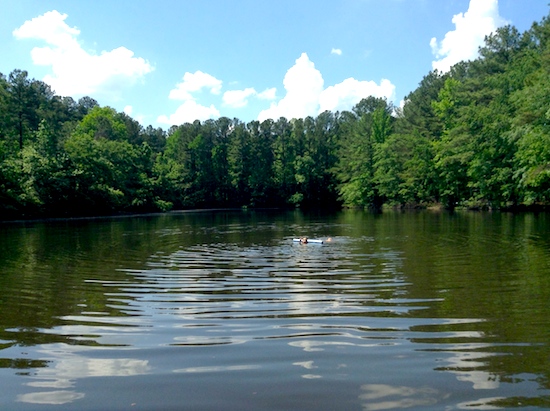 In case you can't see it, Sophie is giving you a peace sign.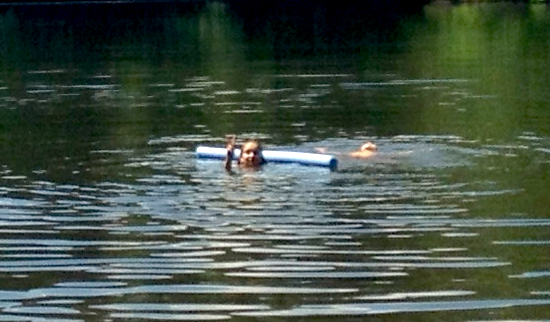 And that's Luc, floating on his back behind her.  Oh man, there is no way to deal with 90+ degree North Carolina Summer day better than a brain eating amoeba breeding pit spring fed pond.  Farmer's Almanac says this summer, after that super cold winter, is going to be a killer.  Yikes.  I need to get the air-conditioner set up, stat.
Newsletter of Awesomeness

Buy my books!

Creature of Dreams, now available on Amazon.


Children of the Fallen, now available on Amazon.


The haunted and talented children of the glorious and terrifying...

Toby Streams the Universe at amazon.

A psychic in the big city, trying to stay sane....

The Violin Maker's Wife at amazon.

Enchanted violins can be deadly....

Conjuring Raine, now available on amazon, B&N, and at Smashwords.

A girl, her vampire, his demon...

You can also listen to the Conjuring Raine free podcast. Enjoy!

coming next: GHOST FUGUE

With the copyeditor. Cover is in the works.

"Dusi's Wings" April, 2003. . . . "One thing fantasy can do for us is to give shape to the mysterious in the world; another is to make emotional yearning concrete. The early sections of "Dusi's Wings" do just that...there was a strong grasping towards the spiritual in fantasy here that was very promising, and I look forward to reading more by Lassiter." --review, Tangent Online.