making muscadine wine, part 2…we actually did it, christmas wine, yum
I wrote here about my friend's new house and the abundant grape vines that came with it, plus about how it reminded me of my Granddaddy's wine.  Well, I turned it around in my head for a while, interviewed my dad and two aunts about what they remembered, and pieced together Granddaddy's recipe.  Maybe.  Anyway, Sophie and I decided to give it a go.
First, Granddaddy's old homemade grape masher and five gallon carboy were unearthed from the old barn.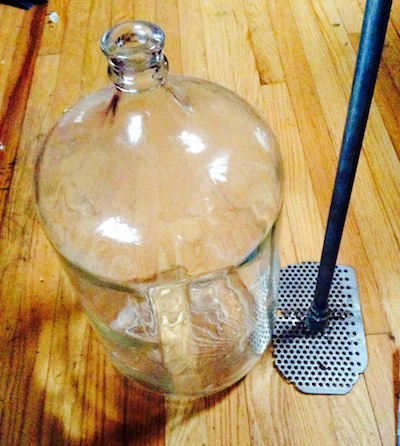 I bought an auto-siphon and an air-lock.  And then my lovely friend gave us 15 lbs of grapes, the last of the season's golden scuppernongs, a kind of muscadine native to North Carolina.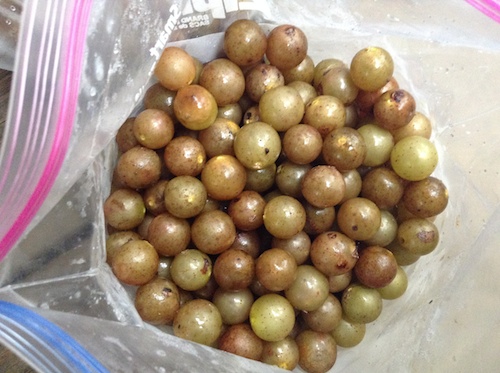 Scuppernongs are this gorgeous bronze color, so pretty! 
First step, mash the grapes.  We did it in a five gallon bucket, food-grade plastic, from Walmart, on Halloween.  The grapes are super acidic so gloves are essential if you want to keep the skin on your hands.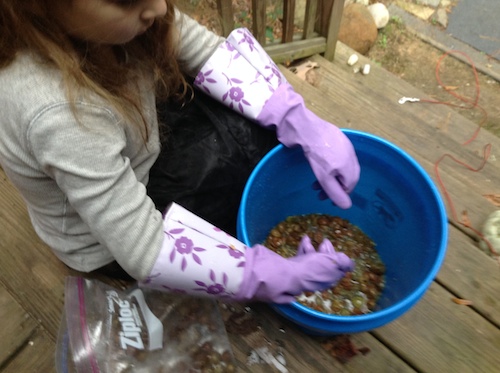 Sophie and I liked squeezing the grapes one at a time, like eyeballs, squirt!, tres funny—but only doable with a small quantity of grapes.
Here is the mash.  It think we could have mashed it more, actually.  We kind of got bored.  Although you don't want to mash enough to damage the seeds, which, apparently, will ruin your wine.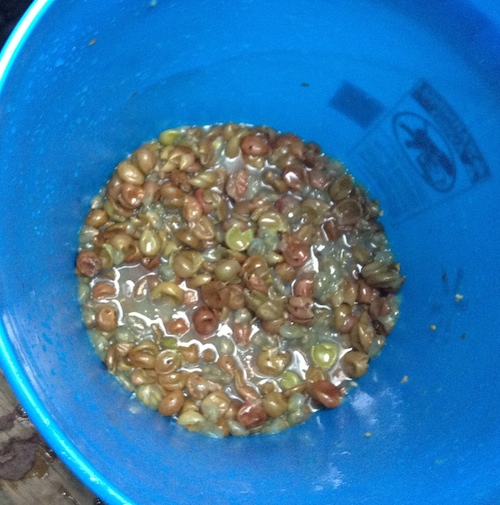 We covered the mash with cheesecloth and a giant rubberband.  No added yeast.  Granddaddy just used the yeast on the grapes, so that's what we did, too.
The skins floated, the seeds sank.  The juice was in the middle.
A week later it was bubbling and smelling super grape-y so I decided to go ahead and siphon it off.  Granddaddy's carboy seemed too big for the amount of juice we had, so we used a one-gallon jug that had had apple juice in it.  Siphoning went okay at first, but as the juice layer got thinner we kept getting seeds stuck in the siphon, very annoying, jamming the siphon and requiring us to stop and clear it out.  This part could definitely have been handled better, resulting in more juice obtained from the grapes (possibly twice as much, I would estimate), but we were the blind leading the blind.  Still, we got about 2/3 of a gallon of juice, enough to early fill our jug, so we called it a win.
Please take a moment now to appreciate how Lucille Ball that whole scene was, Sophie and I in our rubber gloves, holding overly-long syphon tubing all over the kitchen, which kept popping out of bottle tops, squirting juice everywhere as we tried to get juice from the bucket into the bottle—and then the siphon jams up again, and again, oh man, we were laughing so hard, shouting, covered in sticky mash.  It was a disaster.
Moving along!  After cleaning up, we added 1 1/2 pounds of sugar to the juice and about 1 quart boiled water to top off the jug.  Then we sealed it with the airlock (half vodka, half water inside) and waited.
Somehow I totally forgot to take a picture of this stage!  But I found this in the corner of another picture that included our ridiculously crowded kitchen counter, plus my morning coffee.  So here is a grainy image of our second-fermentation set up.

Yes, the stopper is upside down!  It didn't fit, it and the opening both being exactly 2 inches.  I turned it upside down and jammed it on that way.  Oh well.  This is just how we roll around here.  Keep right on moving….
It bubbled actively for a month or so.  A layer of white developed on the bottom of the bottle, which I think is dead yeast.  The later of foam on the top turned sort of brown, kind of gross looking.  Slowly more solids fell out, leaving clear yellow liquid.  Maybe it was turning into wine.
By mid-December the bubbles had become tiny tiny and I decided it was probably done.  Solstice wine!
We opened it up.  Would it be undrinkable?  Vinegar?  Nasty?  Put us in the hospital?
To all of those: NO.  It was delicious!!!  Sweet but not too sweet (not as sweet as Granddaddy's).  A lovely scuppernong afterflavor.  Kind of floral almost.  Not too strong.  Definitely alcoholic as a half glass got me tipsy.  I'm a total lightweight.
High five for me and Sophie!
We got three bottles from our jug and Sophie designed us a label.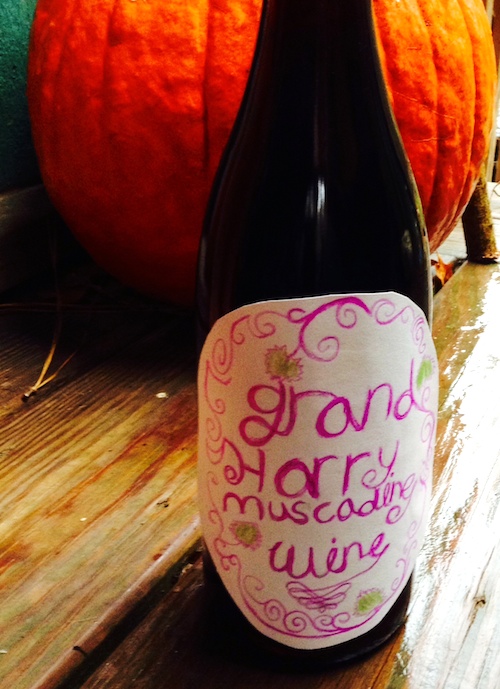 Grandharry's Muscadine Wine!
I wish we had made more, it's really, really yummy.  We took one bottle to the Lassiter family gathering last night and everyone had some.  Lots of congrats on the wine's success, so I guess it worked.
One fellow, a vintner himself, said I should hide the recipe, haha, but I reckon I'm an open source kind of gal, thus this post.  If you've got 15 lbs of scuppernongs, I highly recommend trying it out.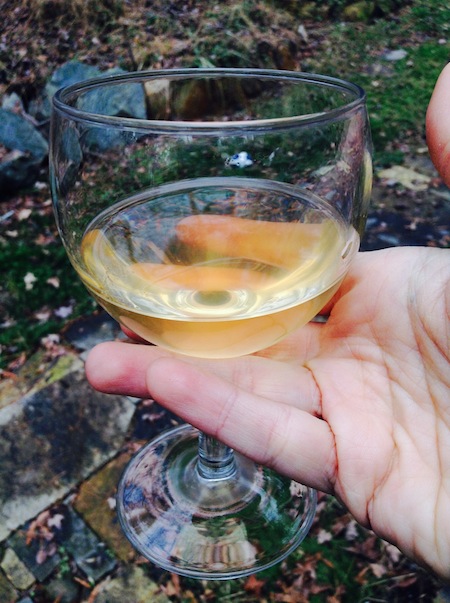 I'm totally adding vintner to my resume.
upcoming book releases

Buy my books!

Creature of Dreams, now available on Amazon.


Children of the Fallen, now available on Amazon.


The haunted and talented children of the glorious and terrifying...

Toby Streams the Universe at amazon.

A psychic in the big city, trying to stay sane....

The Violin Maker's Wife at amazon.

Enchanted violins can be deadly....

Conjuring Raine, now available on amazon, B&N, and at Smashwords.

A girl, her vampire, his demon...

You can also listen to the Conjuring Raine free podcast. Enjoy!

coming next: the restaurant book

Third draft.

"Dusi's Wings" April, 2003. . . . "One thing fantasy can do for us is to give shape to the mysterious in the world; another is to make emotional yearning concrete. The early sections of "Dusi's Wings" do just that...there was a strong grasping towards the spiritual in fantasy here that was very promising, and I look forward to reading more by Lassiter." --review, Tangent Online.