It was a totally crappy Mari D, BUT STILL! I was so surprised! I was just moving through seated and thought, I wonder how far my hands are these days? I actually shouted in surprise when my fingers touched. Sophie rushed over and snapped a couple of super blurry documentary photos for proof….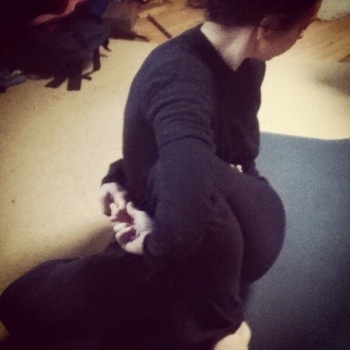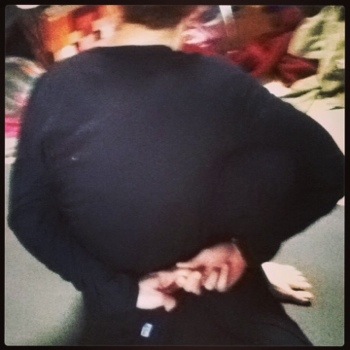 Look! Actual finger to finger contact!
Now, I know I'm hunched over something terrible, and my arm is barely hooked on my knee, and oh, my god, please ignore the mess on the floor behind me.
But fingers! Are touching!
For comparison, here is beautiful example of Mari d, not me, obviously…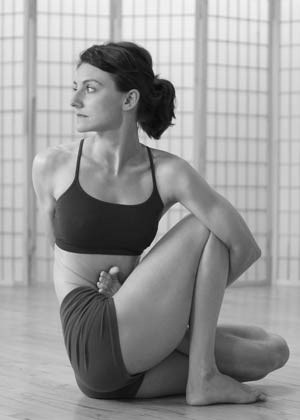 I would never have thought it possible that I could be in this pretzel shape. Ever.  Never.  My fingers have made a 4.5 year journey to get around my back to each other. There is still a ways to go before the pose actually looks good, and I can only do one side…but, but, I did a freaking Mari D!
Maybe my plateau isn't as completely plateau-y as I thought.
upcoming book releases

Buy my books!

Creature of Dreams, now available on Amazon.


Children of the Fallen, now available on Amazon.


The haunted and talented children of the glorious and terrifying...

Toby Streams the Universe at amazon.

A psychic in the big city, trying to stay sane....

The Violin Maker's Wife at amazon.

Enchanted violins can be deadly....

Conjuring Raine, now available on amazon, B&N, and at Smashwords.

A girl, her vampire, his demon...

You can also listen to the Conjuring Raine free podcast. Enjoy!

coming next: the restaurant book

Third draft.

"Dusi's Wings" April, 2003. . . . "One thing fantasy can do for us is to give shape to the mysterious in the world; another is to make emotional yearning concrete. The early sections of "Dusi's Wings" do just that...there was a strong grasping towards the spiritual in fantasy here that was very promising, and I look forward to reading more by Lassiter." --review, Tangent Online.