9 year old runs a 5k! or, my daughter is totally badass
Before the 5k, a little aikido.  You see, they canceled the advanced kids aikido class at Sophie's dojo, so she started going to a "mixed kids and adults" class that turned out to be, basically, an adults class + Sophie.  The first time she went, there were six men (two were teenagers, but they were both near six feet tall), one woman, and my little girl.  They tossed her like she was made of delicate China until she told them to stop.  "You can throw me harder.  It's okay."  After that she was just one of the guys.  "How old are you?" one of them asked at the end of class.  "Nine."  Eyes popping: "Wow."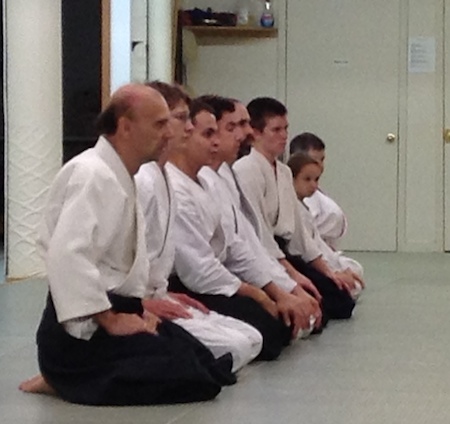 Sophie in the seiza line.  See her little head, below the shoulders of everyone else?
I would have been so terrified to do something like that when I was 9.  Hell, I still would be terrified to do something like that.
But she loved it that first night, talked non-stop on the way home, couldn't wait for the next class.  The sensei was super terrific about having her there, too, very inclusive and supportive.
I said, "Sophie you are totally badass."
"No," she said, "I'm just very determined.  It's like, my superpower."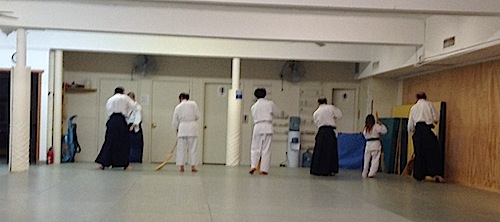 Sweeping the mat at the end of class. 
So what did Determined Sophie do today?
She ran a 5k.
It started last fall when her Granddad, a longtime runner, suggested—jokingly, I think—that she do a race with him.  She gave it a moment's thought and said, "Sure.  I'd like that."
I kind of don't think he believed her.
But she started training, basically just building up to 5k (that's 3 miles and a bit more), adding a bit more distance each time.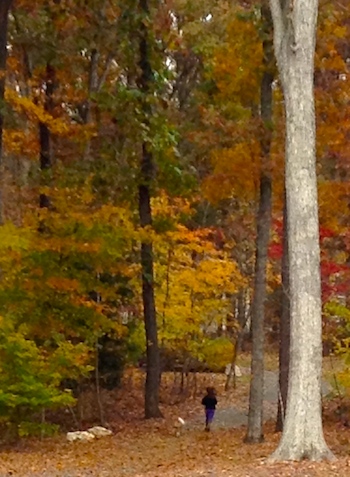 Fall colors, SO pretty…
We took her to a park not far from here that has a measured loop of about a third of a mile and she worked up from 3 times around to 10 times around.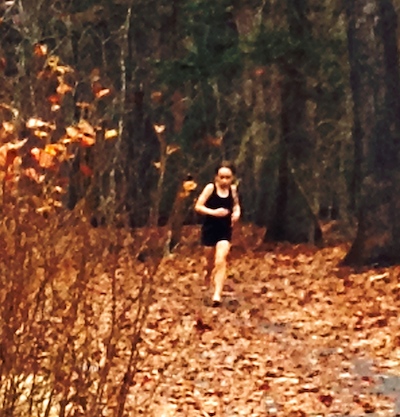 barefoot running through our forest
Then, oh no!, Granddad had to pull out, health issues, he's fine but he can't run for a month.
Sophie was so disappointed.  She wanted to do the run, but didn't want to do it alone.
Not to fear, AwesomeDad stepped up!  Now our thrice-weekly runs at the park looked like this: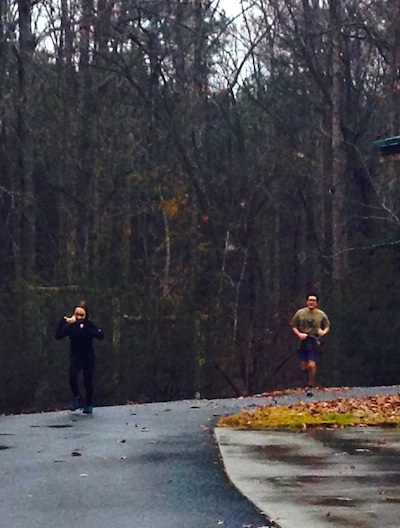 Way to go, Dad!!
He ran cross country back in college, but hasn't run in years.  Despite that, he was able to run the full 5k his first time at the park, I was impressed.  Kind of a slow job, Sophie lapped him, but he did it.  "This is all your fault," he would grumble as he ran by Luc and I, who are pit crew and cheering section.  Secretly, I think he liked it.  I know Sophie liked him doing it with her.
Finally, the big day.  Question:  WHY THE HELL DO THEY SCHEDULE THESE THINGS AT 8 IN THE MORNING????  It's cold!  And darkish!  And we should be sleeping!
At least the rain that was threatening held off.  Thank goodness for that.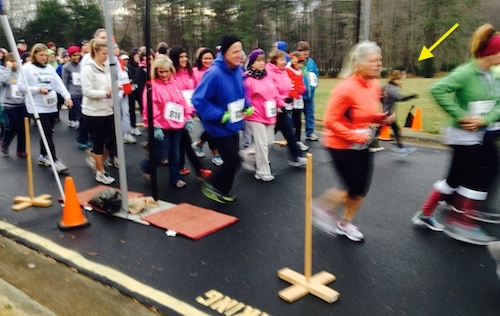 Bang!  And they're off!  See Sophie under the yellow arrow?  There was a big turn out, all ages, shapes, and kinds of people.  Lots of folks were dressed in Christmas gear, reindeer ears, Christmas tree hats, red and white striped socks.  I saw two green-faced Grinches.  At least three people ran pushing babies in strollers, wow.  Quite the party!
Just thirty-two minutes later, here Sophie is crossing the finish line!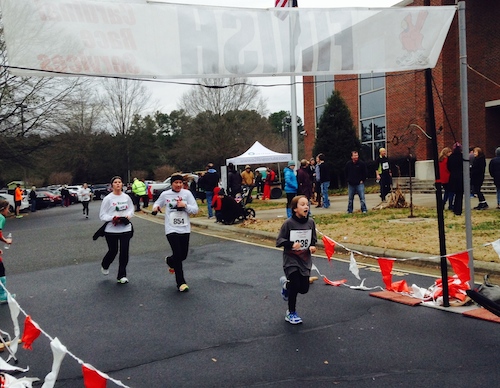 Just after I took this photo, cheering my head off, she ran straight over to me and hugged me. I'm not going to lie, I teared up a little. She did too. A great moment!
And guest what?  She won first place in her age group!  She got a medal!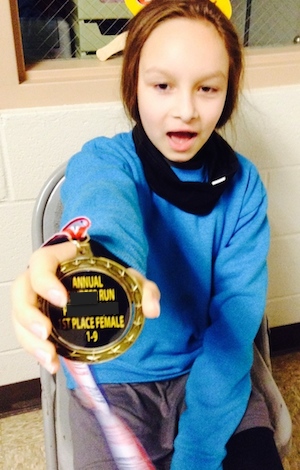 She was so surprised!
I told you she is totally badass.  Seriously, she has always impressed the heck out of me.
Adorable Luc ran, too, the one mile Kids Run.  Here he is zooming down to the finish line….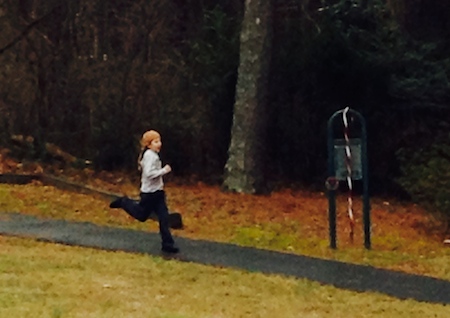 coming in for a fast finish….
And here he is with his star award!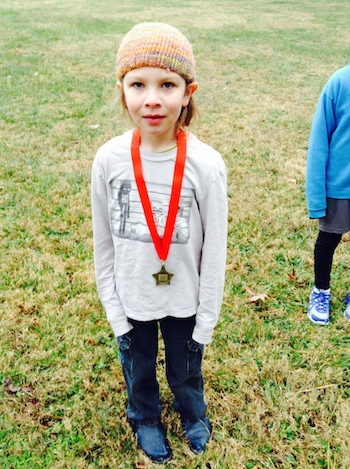 So cute, I could eat him up.
A big day!  I've got that whole parental-flushed-with-pride thing going on, which is nice.  And although I didn't run at all, I'm exhausted.  Being the cheering crew and photographer is harder work than you might think.  I might have gotten some chafing.  I think I'm going to go take a nap.
upcoming book releases

Buy my books!

Creature of Dreams, now available on Amazon.


Children of the Fallen, now available on Amazon.


The haunted and talented children of the glorious and terrifying...

Toby Streams the Universe at amazon.

A psychic in the big city, trying to stay sane....

The Violin Maker's Wife at amazon.

Enchanted violins can be deadly....

Conjuring Raine, now available on amazon, B&N, and at Smashwords.

A girl, her vampire, his demon...

You can also listen to the Conjuring Raine free podcast. Enjoy!

coming next: the restaurant book

Third draft.

"Dusi's Wings" April, 2003. . . . "One thing fantasy can do for us is to give shape to the mysterious in the world; another is to make emotional yearning concrete. The early sections of "Dusi's Wings" do just that...there was a strong grasping towards the spiritual in fantasy here that was very promising, and I look forward to reading more by Lassiter." --review, Tangent Online.