Paul has been working on the east wall of the soon-to-be bedroom, giving it his usual creative touch.  Here is the area around the front door.  Cedar shingles and masonry, with windows above.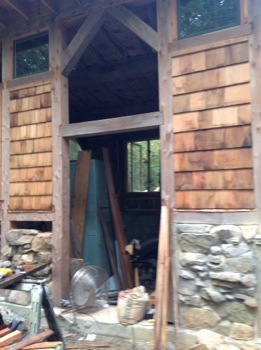 The timber frames make such nice borders around the various patches of materials. It's like ADHD building, where the builder can't stay focused on one material for longer than one 3×4 foot section.
Sophie made some little gargoyle-like faces to scare off bad luck spirits.  Here's a close up of the right side of the door.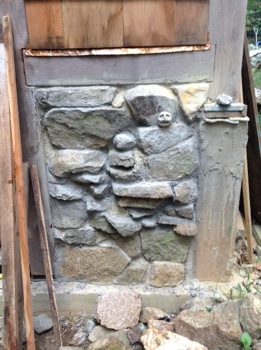 If I were a bad luck spirit, I would definitely assume this bedroom was already occupied and go elsewhere, wouldn't you?  I suppose this method is predicated on the hypothesis that Good Luck is what is leftover after the Bad Luck has gone.  Whatever works, I say.
The cedar shakes are left over from the west wall, acquired years ago from Craigslist, left overs from some huge job sold for dirt cheap.  The rocks are from our land, the cost of these sections being only the bags of mortar (cheap, especially if you buy the damaged bags for half off).  And the damage to Paul's hands and lower back.  So maybe factor in the cost of hand lotion and massage.
The the upshot is, the bedroom is this close to having four walls!  Sheetrock on the interior back wall and the ceiling is next.  Then maybe a floor.
Handbuilding a house is a slow, creative, potentially inexpensive, slow, did I mention slow, process.  Will we move the bed in in 2014?  Let us hope.