YAY! [Pops champagne][crazy dancing]
A new novel is the culmination of a long, long process.  Such a delight to let it out into the world!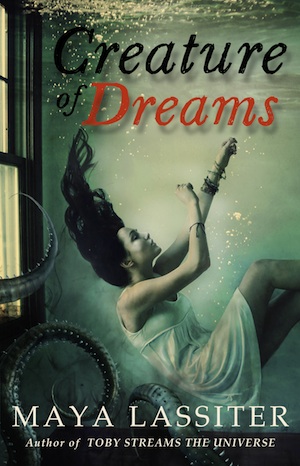 Travel photographer, Liv Hannity, forty-one, returns to her Southern hometown on a quest to find her long lost sleep. An insomniac and a lucid dreamer, Liv is used to waking nightmares–but lately they're getting worse. Parasites have infested Liv's dreams and are eating her alive. Seriously. Or, so says Grim, Liv's childhood dream-character-playmate and a self-professed demi-god of dreams. (Or maybe he's lying. Grim loves a good lie.)
By day, Liv must sort through her difficult past, her overbearing family, her pushy best-friend, and Liv's new (and much-too-young) boyfriend, Milo. By night, Liv must battle the Creeps, with Grim's questionable help, as well battle herself–because Liv might be the biggest dream monster of all.
Creature of Dreams is a funny, scary, roller-coaster about love, friendship, getting older, facing the monsters, and waking up. As well as growing up. Finally. (Maybe.)
Now available on amazon for kindles and any device running the kindle app.
upcoming book releases

Buy my books!

Creature of Dreams, now available on Amazon.


Children of the Fallen, now available on Amazon.


The haunted and talented children of the glorious and terrifying...

Toby Streams the Universe at amazon.

A psychic in the big city, trying to stay sane....

The Violin Maker's Wife at amazon.

Enchanted violins can be deadly....

Conjuring Raine, now available on amazon, B&N, and at Smashwords.

A girl, her vampire, his demon...

You can also listen to the Conjuring Raine free podcast. Enjoy!

"Dusi's Wings" April, 2003. . . . "One thing fantasy can do for us is to give shape to the mysterious in the world; another is to make emotional yearning concrete. The early sections of "Dusi's Wings" do just that...there was a strong grasping towards the spiritual in fantasy here that was very promising, and I look forward to reading more by Lassiter." --review, Tangent Online.

Recent Comments