Welcome to part three in my Best Character Driven Yaoi series, Salarymen (plus 1 historical)!  Go here for Highschoolers and here for University guys.  Coming soon, musicians, cafe workers, and yakuza!  Now that should be a party.  Of course, basically, by calling them "best" I'm really just saying my favorites.  But since my particular kink is all about well written characters, if you like that too, you'll find plenty to love on my favorites list.
Let's dive right in, shall we?  (Oh, an by the way, if you don't know, 'salaryman' is what the Japanese call an office worker.  The female version is 'OL' short for 'office lady.'  FYI.)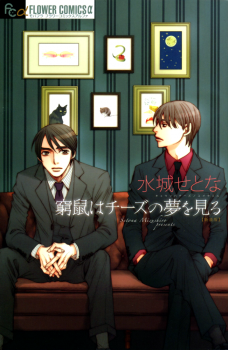 Okay, first up, Kyuuso wa Cheese no Yume o Miru or The Cornered Mouse Dreams of Cheese and Sojou no Koi wa Nido Haneru or The Carp on the Chopping Block Jumps Twice by Setona Mizushiro.  This series tells the complicated, often painful, emotional roller coaster ride of the relationship between Ootomo, a straight, uptight, salaryman, and Imagase, a closeted gay private detective who has had a longstanding unrequited love for Ootomo, ever since college. 
Set up: Imagase has been hired by Ootomo's wife to investigate Ootomo's extramarital affairs.  Imagase uses this to blackmail the easily bullied Ootomo into "just kissing" and from that a whole can 'o worms opens up for both characters.
From this beginning a lesser yaoi could go high-concept romcom, or silly excuse for porn #429, but thank goodness, this one doesn't do either.  Instead, it goes for the jugular, and it does it with strong, complex characterizations, honest to god character growth, and, shocker, sex scenes that advance the plot.  I know, right?  Who would have thought?
Ootomo begins the story as a shallow, self-centered, push-over, willing to do anything to keep up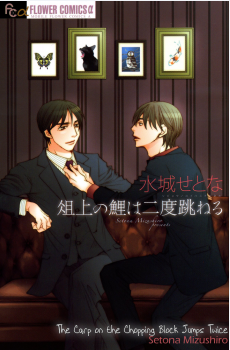 appearances, trapped in an empty marriage but not wanting out…not a very likable guy.  Imagase knows just how to manipulate Ootomo into doing what he wants—which is for Ootomo to become Imagese's lover—and he is self-hating enough to think the resulting relationship is enough for him.  Imagase wants him, no, wait, he can't stand Ootomo's ambivalance, no, quick change, he can't live without him, no, forget it, it's all too painful.  Ootomo hates himself for going along with Imagase, but he wants to be a good person to him, even though he can probably never be what Imagase wants (since he "isn't gay"…and Ootomo is very negative for a long while about homosexuality).  He thinks maybe dragging the inevitable out is even worse, but he also kind of misses Imagase when he isn't there.  Which is it, love or hate? 
Back and forth, it's grueling.  And oh, so real to life.

Ootomo's various women—yes, women play actual parts in this story, female characters of substance in a yaoi, knock me over with a feather—also push and shove Ootomo all over the place, demanding, threatening, challenging, tempting.  Eventually Ootomo is cornered into breaking up with Imagase.  But even that goes badly, producing some of the most poignant scenes of being with the wrong person I've ever seen.  Kicking and screaming Ootomo (and, to a lesser degree, Imagase) grow up over the course of the story.  The Ootomo at the end is a radically different man from the Ootomo at the start.   And honestly, you don't see such character transformation often—but especially not in yaoi where a love confession (tears optional), and a sex scene (penetration mandatory), are a typical story climax, and stand in for all the character growth you're going to get. 
Imagase drives me a bit crazy in the second volume, he just can't make up his mind between wanting Ootomo (and being willing to do anything to have him) and being terrified of being hurt by Ootomo.  But, as if in response to this wildly swinging weathervane of a man, Ootomo calms down, puts down roots of acceptance, of himself and Imagase as both flawed men doing the best they can.  I love how the ending isn't certain, that there is acceptance that they might eventually drive each other away, self-destruct, reveal themselves to be, ultimately, too weak.  Real relationship are full of such doubts.  Seriously, this is good stuff!
Highly recommended, whether you go for yaoi as a genre or not.  Extremely well written.  Oh!  And I didn't say a thing about the art…in a word, it's terrific.  Strong character design, strong panel layout, beautifully done.  Okay, okay, I've gushed enough.
Next!
If you've read any of my manga posts you've probably heard me mention Yoneda Kou.  I am a huge fan of her  work, especially her astonishing characterization.  My only frustration with her is that there is not MORE by her for me to read.  MORE MORE MORE.  Please?
Well, Yoneda herself has said that her favorite kind of character is a "tired salaryman" so we can't possibly have the salaryman post with a title or two from sensei.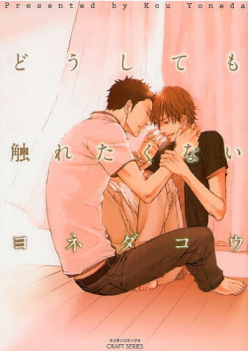 First up, her Doushitemo Furetakunai, or No Touching At All.  This story is a great example of how masterful execution and interesting characters can take the same old same old and elevate it into something that transcends its roots.  What we have here is the same workhorse of a plot: gay guy has been through the wringer by a straight guy who can't get his shit together and as a result is shut down and scared.  New straight guy comes along, falls in love with terrified, angsty gay guy, only this straight guy is man enough to handle it.  Through love of the second straight guy, the gay guy is finally able to love again, cue music annnnd cut!
No Touching at All takes this basic plot and retells with terrific, funny, realistic characters, organic relationship development, and intense moments as only Yoneda Kou can deliver.  It's a veritable study in how to write character interactions of underplayed emotional intensity.  With comedy! And not chibi stuff.  I'm talking about humor that comes out of the characters themselves, not at the character's expense.
I loved this book.  It's one of the first yaoi I read and it left me with the mistaken idea that I would find tons of stuff of equal caliber.  Not so.  Shima and Togawa really moved me where so many manga with near identical plots—at the nuts and bolts level—fail completely.
Translation note.  I have both the kindle version currently available from Digital Manga Pub, and yes, I admit it, I've read the scans.  In this case, I've got to say, the scan is better.  There is some edge, some spark, in the scan that is just…funnier, more interesting, tighter.  It's subtle but unmistakable and I find it fascinating, as a student of Japanese, why this is so.  Buy the real thing because Yoneda Kou rocks and deserves the money.  But, honestly?  I cringe to say this, but read the scans, too.  In this case, they are better.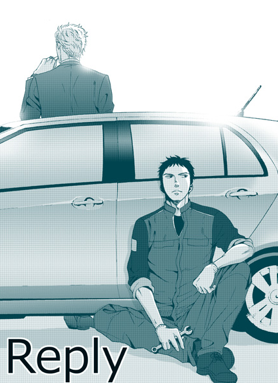 One more salaryman from Yoneda Kou: Reply, about a salesman and a mechanic, both previously straight guys, now fumbling their way towards a relationship.  Yoneda is so good at the tiny moments, the distinctive characterizations that again, she makes these two guys unique people, not fill in the blank placeholder characters.  I'm always so interested to see what Yoneda's characters are going to do next.  Surprise is kind of a rare thing in yaoi, but Yoneda's work is full of it.
I feel like I am being too vague about what it is that I like about these stories…what exactly is it that makes them so strong?  I think part of it is the specificity in the characterization, a lot of which Yoneda conveys in her terrific art.  Her ability to convey emotion through a character's body language is off the charts, and is why she can get away with so many dialogue-less panels.  Characters don't have to endlessly (unrealistically) talk about their feelings, because you can see it in how they are drawn.
There is a strange thing, however, with her speech bubbles where at first it is hard to figure out who is talking—often they are actually reversed, where the bubble closest to the character is the opposite character's dialogue (at least, that's how I'm parsing them).  I guess I've read enough of her stuff to get it now, and it doesn't give me any trouble, but I remember struggling at first with "who the heck is saying this?"
Another translation note on Reply, which will be out for $ in January (I can't wait) from SubLime (Reply is one of the stories in NightS).  There are (last time I checked) two scans of Reply.  One of them is incomprehensible, the other is excellent.  If you go to read it and can't figure out what is going on, you probably have the not-very-good-scan.  Go find the other one.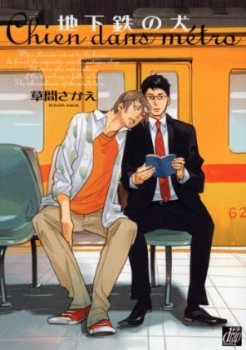 So far these titles will be on a lot of people's Best Of lists, so I wanted to try to find something that might not show up everywhere.  I picked Metro Dogs by Kusama Sakae, for a quiet salaryman story that has some enjoyable characters.  Shinoda, the salaryman, is devastated by a divorce and stumbles into the shop, and into the life, of Asukura, a gay man with a sweet sense of playfulness and humor.  I liked how these two got together, awkwardly, and with no grand confessions or speeches.  They are so different from each other, but tolerant of that.  I also like that they are reversible, something rare in yaoi (which is just baffling to me).
Don't miss the extra story where their past together is slyly revealed…to the reader, but not to the characters themselves.  I see what you did there!
I feel like I've read a ton of salaryman stories, so I was actually surprised when I started pulling this list together that there weren't more titles on it.  Maybe I had the bar set too high?  I want characters that stand out, that I remember long after I'm done reading, characters that I care about.  I get seriously annoyed at stories with unbelievable characters that are just dolls playacting the part the author has written for them.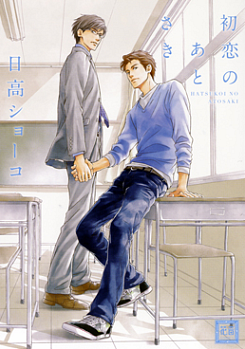 There is a writer doing a lot of salaryman who almost makes the cut for me.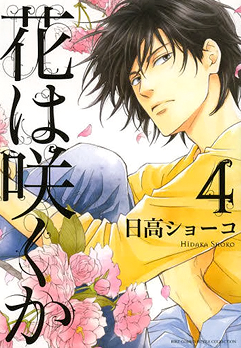 Hidaka Shoko has a series of lightly linked salaryman stories, interior designers, advertising executives, etc. who overcome their uptight, prissy almost, tendencies to find true love with artists, cafe owners, and free(er) spirits.  Hidden Flower, After a Storm, and Hatsukoi no Atosaki are interesting and definitely a cut above.
However, the series of hers that I find really remarkable isn't a salaryman story, it's a historical. It seems that Hidaka's brand of uptight, fastidious, brilliant men trying to connect with each other is fabulously suited to a story of Taisho Era aristocracy.  Oh, the clothes!  The rules of etiquette!  The secret glances!
Blue Morning is a fascinating, psychological, dark, intense, story about powerplays among the nobility,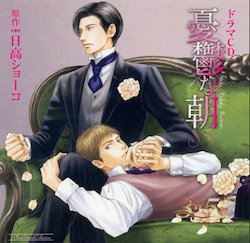 family lines, and Katuragi, a powerful butler who pulls all the strings.  Or so he thinks, until the new heir, Kuze, only ten years old, arrives.  As Kuze grows up, his twisty, complicated relationship with the butler (who's past is painfully tied to the family) becomes a fascinating train wreck.  Smart, complex characters trying to find their way amidst extreme wealth, and politicking nobility.  Think Dangerous Liaisons with two guys plus super complicated family histories (but not, I hope, the sad ending).
I found the cracking open of Katsuragi's perfect facade to reveal the wounding underneath to be a terrific and riveting piece of story-telling.  That, plus moving Kuze from a clueless child to a powerful man making unexpected choices makes this, to my mind, the best thing by far that Hidaka has done.  I don't usually go for court intrigue sort of stuff but this series knocked my socks off for emotional intensity. Highly recommended!  Although be warned, it isn't finished yet.  It could go off the rails.  But I don't think so.  It's playing out with sure mastery so far, and I feel like I am in good hands for the last bit when it finally, finally arrives.
Did I mention the gorgeous art?  Here, look, so simple, but Katsuragi comes undone….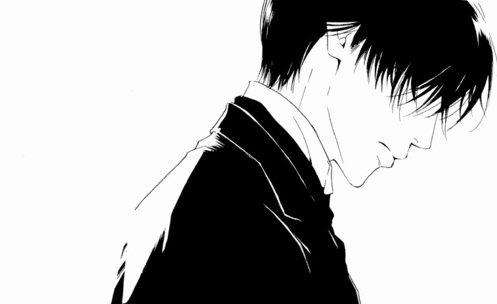 So there you have my salaryman list. Plus one historical—hey, they're still wearing suits, aren't they?
Tune in next time for the oddballs…