Paul continues to build us a bedroom, a separate building from the yurt, go Paul!  We've started calling it, this future bedroom,"The Love Shack."  Heh heh.  Sometimes it's these little sillinesses that get one through the day.
The north wall was slip straw construction and you can read all about the process of doing this very inexpensive building method in my posts here, and here.  But, you see, it turns out Paul really hates doing slip straw.  So that's a problem.  Solution: only one wall of the bedroom will be that!  Moving right along.
Along these lines, the west wall has been framed in with studs and covered with cedar shakes Paul got from a guy on Craigslist who had an extra bundle left after a huge job.  Dirt cheap, he can't remember how much.  He's had them in the mold pit storage shed for years.  Less that $50 he says.  And I must say, in comparison with the slip straw, this wall went very quickly.
It is super cute.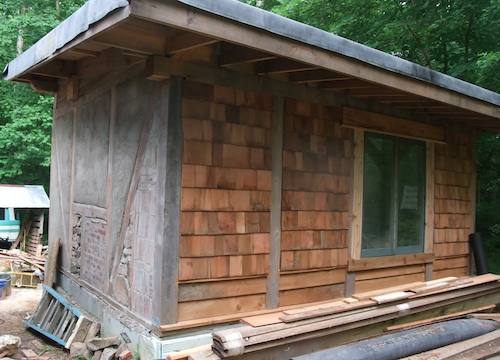 You can see the funky straw/stucco wall on the north there, then turn the corner and Boom!  It's a whole different house.
Remember in John Crowley's terrific novel Little, Big, the house that was a half-dozen (I can't remember how many) houses put together?  You could walk around it and find yourself facing a Greek facade with formal gardens, turn a corner and it was an English cottage, turn a corner and it was a stone castle…
This is something like that.  Only more…humble.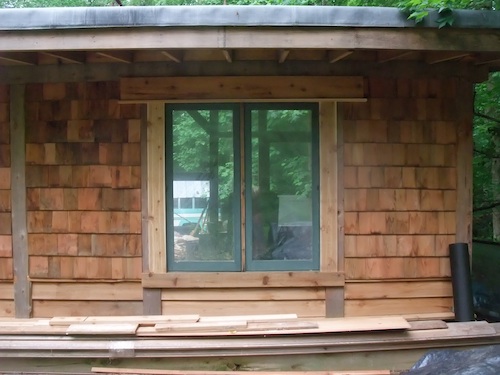 You can see clear through it at this point (no east wall yet, just the timberframes), right through to our turquoise bus parked on the other side.  I think I just decided I would name that bus Santorini!  Grimmly knows why.
While I was taking these pictures of the new wall (it's starting to feel like an actual building now!) Mochi, our cat, found a visitor on a rock right behind where I was standing.  In fact, if she hadn't been staring so oddly, I probably would have backed up and sat right down on…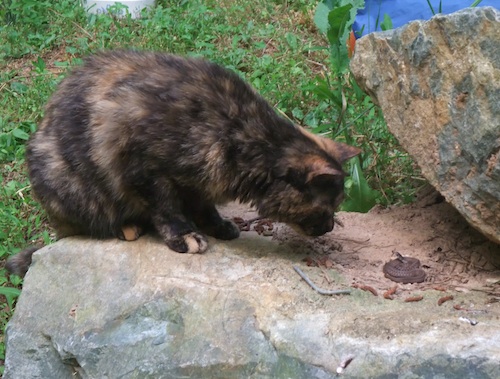 …a snake!  Yikes.
But I'm fine.  And my cousin Noah is coming over tomorrow to help with the south wall, which is to be ALL GLASS.  Recycled sliding glass doors, actually, that we also pulled out of the mold pit storage shed.
Stay tuned.