Yaoi, as I've discussed, is a genre of Japanese manga featuring relationships between guys, written primarily for a female audience. Within that broad banner, as for example, say, the American romance genre, there are many, many sub-genres. Fluffy romance, smut-fests, stories focused on Being Gay, alternate realities where it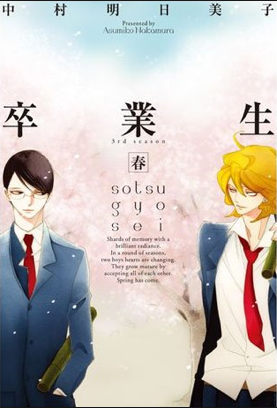 doesn't matter (to the society as written) that the couple in question is made up of two men, sub-sub flavors, you can get as specific as you like. Sci-fi stories, post-apocalyptic stories, supernatural stories, demon, ghosts, vampires, age gap, teacher/student, salary men, yakuza, bondage, brothers, [insert your kink here], all in mysteries, comedies, farce, historicals, and of course, contemporary relationships happening in modern day Japan.
There is, in other words, a TON of yaoi. And, as in any genre, there are massive gradations in quality, style, craft, depth, and complexity.
Personally, I love well written stories with really interesting characters. Complex, flawed, quirky, real. When the characters are interesting, I'll tolerate a wimpy plot (even a stupid plot…although not too stupid), although the reverse (a strong plot with boring, stick-figure characters) never works for me. Of course, plenty of yaoi is rather porny and doesn't bother much with plot or character, and I don't find that stuff very interesting. So you won't find that reviewed here.
But it you want interesting characters in your stories, I promise not to lead you astray.
Last week I started making a list of good titles to post here and it got too long. So I think I'll break it up into loose types: high school, university students, salary men. Maybe another for oddball titles that don't fit. Do yakuza stories get their own post? How about age gap titles that have one character each of several of my categories? Yaoi featuring pets? Now I'm just being silly. Anyway, I'm imagining this as a series I'll add to as I read titles I think knock it out of the park. Manga as I like it: only stories with fantastic characters and strong writing need apply.
So. First in a series on great yaoi, High School Dudes in Love! Here we go.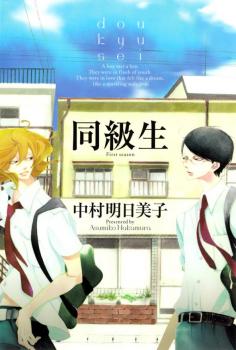 Doukyuusei and it's sequel Sotsugyousei by Nakamura Asumiko are wonderful character studies with slow pace and quiet, delightful humor. The art is unusual but lovely and carries a great deal of the emotional work of the story. Basically, an extremely smart, though overly nervous, young man is courted by a wild haired, playful musician who inexplicably (Smart Guy thinks) falls in love with him.
This one is a great example of how when the same old cliched story line (boy meets, um, boy, boy loses boy, boy gets boy back, you know, the gradual opening of two hearts) is told (yet) again with deep nuance and feeling it becomes fresh and reborn. And wonderful! Cliches are cliches, I suppose because at their core they are based on something true. Doukyuusei and Sotsugyousei are about falling in love for the first time, told in quiet moments, glances and private conversations. No real drama, this is slice of life at its best, told with gorgeous art and likable characters. I loved these stories and would gladly read anything this mangaka puts out. Character driven story-telling at its best.

I should add that some would say these two titles are not actually yaoi, but rather, shonen ai, or, literally boy's love. No sex, just slow-build romance.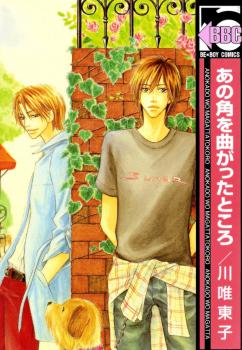 Okay, moving on. I've got two by Kawai Touko, the first being Ano Kado wo Magatta Tokoro or Just Around the Corner. Just Around the Corner is about a relationship that starts between two guys each at a nadir in their lives. One has just lost his job and his lover (his boss) and the other, a pianist, has lost the use on one hand in an accident. The two hook up in shared commiseration and end up becoming friends with benefits. So far so good.
Then the older of the two gets a job as a high school math teacher and finds out, surprise!, the younger one is one of his students. Dude lied about his age by several years. Whoops.
Teacher/student stories abound in yaoi, and I'm not really into that, but this one gets around all the ick factor by having the relationship start as it did, both guys on equal footing. I also like that the difference in the two character's maturity levels is apparent in the way the characters act and the choices they make—the age gap isn't just a number, but a part of the characterization. The whole thing gets a bit shmalpy towards the end, but it still worked for me. I could easily see this as a delightful romantic comedy movie…if they ever made romcoms about two guys. Sweet.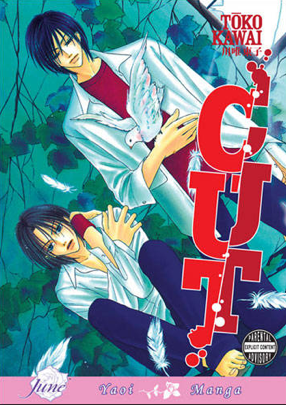 Cut, is my second High School Kawai Touko title. This one is a more serious story about two guys terribly abused by their parent figures who are trying to pick up the pieces of their lives. One cuts on himself to deal, the other has been cut by his mother (now passed away). I avoided this story for a while because I thought it would glamorize cutting or abuse, but it didn't. And, although the guys get together, it isn't some easy "you and me against the world" soul mates fluff—their respective pasts block them in realistic ways. Although the story veers into melodrama here and there, the characters are strong and interesting and flawed, and the relationship they start up has layers to it. These are not typical people and this is not a typical romance.
I'll warn you, the relationship that the cutter is in prior to the new guy, is disturbing. And a bit overwrought. But I didn't feel like it was played for titillation. And it explained his extreme behavior in way that made sense.
I especially liked the end, where the two of them are still lying to each other about certain things—you don't come out of the childhoods these two have had with perfect confidence and great relationship skills. But they're working on it.
Since I mentioned there being no sex in the first two titles on this list, I feel like I should point out that there is plenty of it in these two. So there's an FYI for you.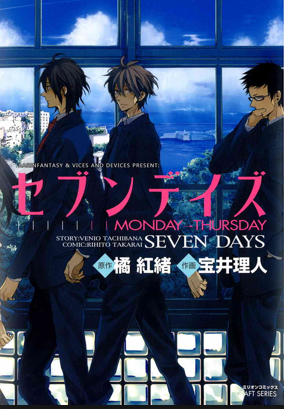 Okay, next we've got Seven Days by Tachibana Venio, art by Takarai Rhito. Another sweet one, a BL title again, (no sex). Seryou has a strange habit (ritual?) of going steady with a new girl each Monday, only to end things with her by the following Sunday. Because of his good looks and gentlemanly manner, he gets away with it—his exs all seem pretty happy with their experience being his girlfriend for a week. Each Monday a new girl confesses her attraction to him and he takes her up on the offer of going out. Seven days to see if love can blossom…so far no one has stuck.
Until, as a lark, a guy, recently dumped, realizes he is first to see Seryou on Monday morning and he asks Seryou out. As a joke. Surprise, Seryou takes him up on it. And for seven days the two boys go through Seryou's dating ritual.
It's hard to find in that description what makes this story so terrific. But it is! Slow build tension, delicate characterization, surprising moments, quiet understandings, the whole thing is just so well written and so beautifully drawn. Not a heavy drama but it's serious. I couldn't put it down. I hated when the seven days, and the story, was over. No, no! I kept trying to slide to the next page, looking for more. I love stories like this, with so much feeling in such a tiny space. Bonus: they are both in the archery club, so gorgeous art of gorgeous guys pulling back on a long-bow. Nice. Highly recommended.
Okay. Now for something a little different, here is Udagawachou de Mattete yo, or Wait for me at Udagawachou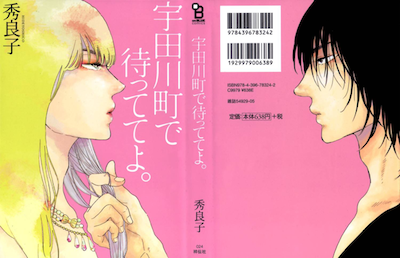 by Hideyoshiko, about a quiet, intense guy who accidentally discovers one of the popular guys in his class out in the city….cross-dressing. To his surprise, he finds he is powerfully attracted to him/her. What to do next?
I had passed this title by several times because the subject matter wasn't of particular interest to me, but I finally gave it a try because it kept coming up on lists of recs. I'm glad I did because it drew me right in with this intense situation these guys find themselves in and the characterization. Some really good writing for this one in the way the characters deal with what they are experiencing, how they mess it up, or make it right. I was completely engaged from beginning to end. I say, give it a try.
Well the above titles are almost always listed if you people are making lists of the best of the best. I thought I'd try to add a few lesser known titles that, while not quite as strong as the above, are still very good, especially with their characterizations. Or, at least, they fit my particular fetish for quirky, weird, characters…?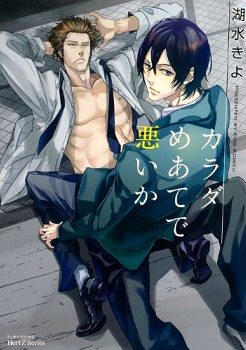 Here are two with very similar premises that I enjoyed. Not as much as the above titles but still, odd, atypical characters, doing things that surprise me…not easy to come by.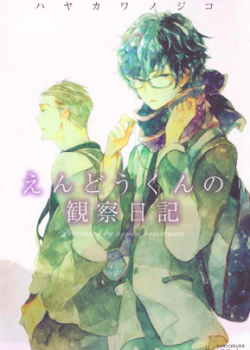 Karada Meate de Warui ka by Koizumi Kiyo and Endou-kun no Kansatsu Nikki by Hayakawa Nojiko are both stories of relationships that develop between a big, athletic, somewhat thickheaded guy, and a small, smart, intense guy. I wonder if this is a sub-sub-sub genre all it's own? Not a lot of conversation, not a lot of clarity, just a couple of believable, confused teen-aged guys grappling with emotions in surprising, sometimes funny, sometimes poignant, always messy, ways. Blunt, weird…I don't know, mayb I like these stories because the characters are so whack about their own emotions. Interesting characters…I told you I was a sucker for them.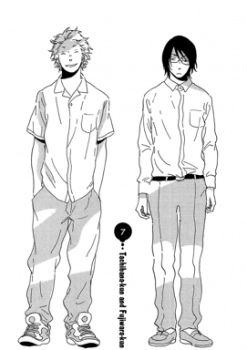 One more quick opposites attract story, Negative-kun to Positive-kun, also by Hideyoshico, (author of Meet Me At H, described above, which was the reason I picked up this one). I just read this, so I don't know if it will stand the re-read later test, but it was fun and sweet and had very funny characters. Gee, I bet you can't tell from the image at the left which guy is the "negative" in the title and which one is the "positive"? This is a light story about an established couple, which is nice, too. Most stories are about how a couple comes together, so its fun to get a story that is further along the line than that. These guys each have serious flaws but somehow they only see the good in each other. I read it in the bath. It made me laugh.
And that's my list for today. Next time I do this, I'll pick out best character-driven university student yaoi, for the win! And then salary men. Then yakuza?
And don't forget my motto: read what you want! No shame! Life is too short for shame.