Moving right along we now come to part 2 in a series on best (best that I've run across, anyway, as of 2013, feel free to give me recs!) character driven yaoi, loosely divided (in the interest of not having a post the size of the Mississippi) into like-piles: Highschoolers, University Guys, Salarymen, Everyone Else. I put the emphasis on character driven because "best" will be different for everyone, of course, best=funniest, best=cutest, best=hottest, etc. and I want to be clear that my "best yaoi" is all about the characters.
Without futher ado, and in no particular order….
Hana no Mizo Shiru or Only the Flower Knows by Takarai Rihito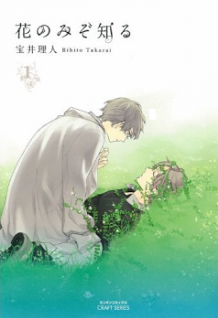 and it's sequel Hana no Migoro ni has got to be one of the slowest build romances I have ever read. In fact, in the first couple of meetings, Youichi, the protagonist, doesn't even remember or notice Misaki, who he will later fall in love with. Misaki, meanwhile, is standoffish, socially inept, and immersed in his work as a agricultural sciences student. He doesn't know what to make of happy, outgoing, direct Youichi who can't seem to get Misaki off his mind. As the start to romances go, it's not very auspicious.
Well. Flower may start slow, but it rewards staying the course with an unrelentingly lovely sneaking-up-on-you kind of love story. That kind of love that has building for months before it slams you over the head with recognition, the whale finally breaching, big as the sea.
The art is terrific, clean and elegant—the artist is the same illustrator of Seven Days, which I loved. For me, Seven Days is a better written and more interesting story (by Tachibana Venio), but Flowers also has chewy, well delineated characters and a deep undercurrent of emotion. Scenes are often delicate with quiet moments of surprising intimacy between characters who aren't expecting to care about each other. It's very sweet, really, capturing the feeling of being surprised by love.
While the tone is serious, it is not angsty. What humor there is is lightly done. By the middle of the first volume, I was totally engrossed. The problems these two have to overcome are not huge, a barely-there girlfriend, Masaki's difficult past including an ominous first love, the general confusion of having fallen for another guy….but watching these two work through it all with such careful awareness of each other is lovely.
Two thumbs up!
Sidebar: translation. While there are definitely cases where I prefer the scan's translation to the pro translation, this is not one of those times. The story is so delicate, hinging on half-formed thoughts and half-spoken sentences, glances and confusions, the perfect word choice can be key to understanding what is going on. The pro-translation in this case is 100% more clear. Pay the money on this one—vol 1 is out as an inexpensive ebook, vol 2 should be coming soon. It's worth it. /sidebar.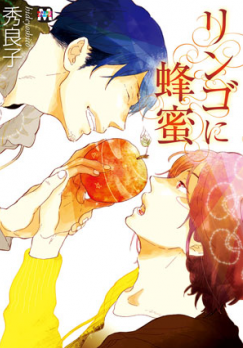 Next!
Apples and Honey, or Ringo ni Hachimitsu (first two chapters only) by Hideyoshiko and it's sequel Kare no Bara Iro no Jinsei, or His Rosy Colored Life is a comedy with great timing and a light touch, plus the same delicate sensibility of Only the Flower Knows. Matsuda is a gay university student who has been bullied and teased in the past and as a result is withdrawn and down on himself. He doesn't know what to do when a comic, extroverted, straight guy two years younger starts pursuing him. Instinct and old wounding says run the other way. A plot not-unlike Flower, but told this time more as a comedy.
The art here is sketchy , full of little quirks and expressive faces and body gestures. Lots of humor in the details. The characters are clearly delineated, both in the writing and in the art—I feel like I know these guys. They are realistic, with believable emotional layers. Plus the comedy here doesn't come at the expense of the characters, meaning, the jokes don't break the character. Rather, the jokes come out of character, out of the character's own sense of humor. Don't get me wrong, this isn't a laugh-fest. There are plenty of quiet, emotional moments, too, as the characters open up to each other, especially around Matsuda's backstory. But it's funny, too.
You get the story all out of order: the first two chapters of Apple are of a beach vacation after the couple are already together (but only recently). The second volume, Rose Colored Life, tells how the two met, the courting of Matsuda, plus what comes after the beach and the deepening of their relationship. Being out of order didn't bother me, although I went back and read the story in order the second time. Which is to say how much I enjoyed it—I don't have time to read something mediocre twice. Although there are no serious problems or antagonist besides Matsuda's painful past, I was fully drawn into the story from beginning to end. Realistic comedy done well with just the right amount of gaynst. Definitely Recommended!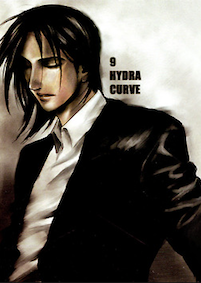 Hydra by Miyamoto Kano, plus its many linked stories including Lovers and Souls and Rules is poignant and realistic storytelling about a group of friends over time. Technically I should probably have this on my "Highschoolers" list because the guys start out there, but they advance to university and then jobs. Besides, my highschoolers list was getting too long….
Anyway. As will happen as groups of friends grow up, things get complicated. A and B fall in love but don't want to admit it. C falls for B and B, in loneliness over the unattainable A, goes along with it. C is all right at first being 2nd choice, but after awhile it starts to hurt too much. Meanwhile, A realizes a mistake was made, only now it is too late. Probably.
You know, life. It's messy, we make stupid choices without realizing what we're doing.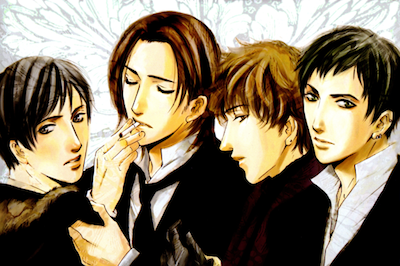 Fear, uncertainty, confusion, hiding from our own emotions, making assumptions, the works. Often we don't know what we were really feeling until years later. That's the territory this story is explores. Chewy goodness!
The art is serviceable but not great. I often had a hard time telling the characters apart, especially as they aged and their hairstyles changed. But this is totally forgivable as the story is plenty strong enough to make up for it.
Occasionally a bit of a soap opera, but the stories usually avoid this by having such confused, realistic characters. Hydra and it's spin-offs and sequels has a totally different tone from the previous two sweet stories on this list. This is darker, grittier material.
There are dozens of side stories in this long cycle, make sure to read them all, as the picture becomes increasingly fleshed out if you do. Some of these mini-stories are painful, always the sign of superior writing. But don't worry, this isn't a downer in the end. Because I hate those, and I don't review books I hate. Highly recommended!
Bond(z) by Toko Kawai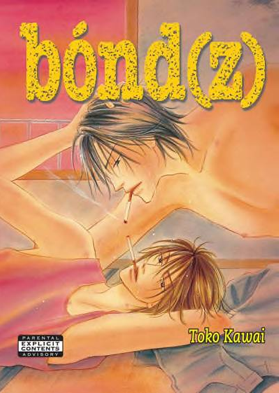 is a collection of unrelated stories. The second was okay, I think, I can't remember (not a great sign) and the last couple are, to me anyway, embarrassingly bad. But the title story, bond(z) is excellent, and that is the one I'm reviewing here.
Two friends, university students, after a night of drinking, sleep together. It's an old story. Except this is two straight guys and it turns out the sex was really good. Playing it off as lust and youthful indiscretion doesn't work—they can't stop thinking about it—and so they decide to go for it and just see how far desire will take them. They don't even break up with their girlfriends, seeing as how they are straight and it's just sex…it's all a game, like high stakes poker. Until someone starts falling….
Okay, the plot is not earth shattering. What's good here is how the story manages to evoke that feeling of going too far, flinging oneself off a cliff and not caring how its going to come out. The reveal moment in the last scene is terrific and what all the build up is for—I actually gasped out loud! The last panel (not the shmalpy one that I don't quite buy, but the flashback one) is perfect.
Bond(z) is short, I can't say much without giving it all away, but I really like this story. The characters are distinct and struggling. Plus the sex is hot. Always a bonus. Recommended!
I'm going to do one more, but I hesitate to put this one here and I'll explain why in a minute.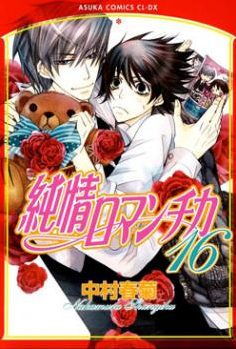 Junjou Romantica by Nakamura Shungiku is one of the best selling manga out there and the very first yaoi to ever hit the New York Times Bestsellers list for graphic novels. This is a huge, international, bestseller folks. Lots of people love it.
The story: a university—wait, he's a high school student in the first chapter, preparing for his entrance exams—student gets tutoring from his brother's childhood friend, who happens to be a famous, rich, gay, eccentric novelist. So far, so good. Novelist falls for university student who ends up living at the novelist's place as a kind of live-in maid, humorously fending off said novelist's advances. Hijenks ensure.
The reason I hesitate to recommend this one is because of the way this relationship starts. In classic bad-yaoi style, Usami, the older, bigger, novelist, essentially forces himself on skinny, 17 year old Masaki. There are circumstances around this, and Masaki isn't exactly traumatized (he does have an orgasm, so I think I'm supposed to understand that it wasn't terrible for him—the whole thing is played almost as a joke) but basically, that's what happens. Which is…I mean, its deplorable, right? How can one get past it?
Two things. First, I was so curious about why this story was on the best seller list! I pushed past to see what was after the sort-of-sexual assault beginning. Second, Masaki is so…funny. And then so is Usami. In the very next scene after the forced hand-job Masaki undoes Usami by guessing his whole psychological profile and sexual history. Masaki refuses to be cowed by Usami's wealth, stature, or awards and instead gives it to him straight. Somehow, after the terrible first meeting, it seems as though the two men are…intrigued by each other. So I kept reading.
Misaki is the classic tsundere, all bluster and fuss and endearing anger, while secretly very sweet and loyal. Usami, on the other hand, is hilariously bizarre, obsessed with teddy bears, spending outrageous amounts of money of trivial things, brilliant at his work and yet indifferent to the fame and fans that come with it.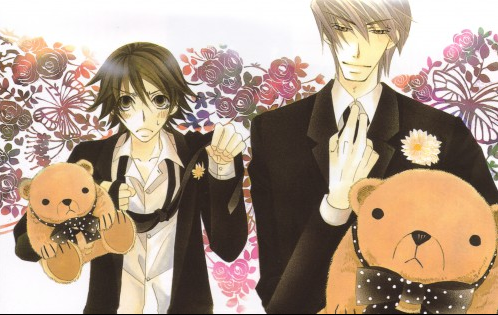 Honestly, I can't tell if this is
1)a young person's fantasy of being taken in by a dashing, wealthy, super-star who is miles out of one's league OR
2) if it is the fantasy of an older writer who wants a cute, much younger lover who also cooks and cleans, all while putting up with one's terrible personality. It kind of works for me both way.
But what you're hearing here is character. Interesting, unusual, and in this case very funny, characters. Ah, my weak spot. So yeah, I've read all the available volumes. Me and millions of other people.
I should add that there are actually two other story-lines in this series that are lightly linked through a few characters who know each other, but honestly, I wasn't very interested in them. More tsundere types—it seems to be this author's specialty—but tsundere pushed too far is just an asshole. Misaki managaes to avoid this, but the tsundere's in these other two storylines don't. In my opinion. I found myself skipping them to get back to Usami and Misaki.
So. Despite it's flaws (for example why, after living together for years, is Masaki still putting up such a fuss? It made sense when he was 18 and didn't want to be gay, but at 22, after living with his gay lover for four years? Is he developmentally delayed or something?) Junjou Romantica is a fun read. Not deep like Hydra, not intimate like Flowers or Apple, but, I don't know…enjoyable. Memorable. Funny. Sharply told. The various sub-arcs Misaki an Usami go through are all rather predictable, but the characters are delightful, in an over-the-top kind of way, so I don't care. Recommended, with reservations.
—–
Okay, that's my list of university guys. I'm sure there are more out there, and I feel like I've forgotten some good ones, but this is what I've got today. Recs! I love recs. Coming soon, Salary Men!