A couple of weeks ago, I found a lump in my right breast.
Cue freak out.
Aaaaand…cue denial.
I've had lumps before.  Most notably, a large lump in my left breast when I was both pregnant with Luc AND still breastfeeding baby Sophie.  (Sidebar: I'm not going to lie to you, breastfeeding while pregnant = suffering.  Lots and lots of suffering.)  I had the whole needle biopsy thing on that lump, which was a freaking nightmare.  They don't tell you when you sign up for the procedure that they are going to shoot you in the chest with a needle gun that blasts out at great force with a loud BANG and that they do it between 6 and 12 times.  You ever seen a pneumatic nail gun, like the ones framers and roofers use?  It's like that.  Plus, after each shot they press really hard on the site, I suppose to stop bleeding, but on my pregnant and nursing breast it felt like shoving a hot poker into me.  Yeah, I didn't want to do that again.
But here I was with a lump.  I was 92% sure it was nothing.  I've just got lumpy breasts.  Whatever.  I was 92% certain this was just normal everyday lumpiness and not any kind of special scary lumps.  Even if it was the size of a robin's egg.  92% sure.
That remaining 8% kept fucking with me.
Obviously, when one finds a lump, one is supposed to rush right over to the nearest Lump Examination Station and get it checked at once.  Stupid reasons I didn't want to do this:  1) with no insurance, it was going to cost me a bunch of money that I don't have.  And I was going to have to spend all that money for either 2) no reason, because it was nothing, or 3) bad news, very very bad news.  And who wants to pay to get bad news?  Plus bonus reason 4) it hurts.  Also, if I actually made the call to schedule an appointment, that was acknowledging the possibility that the lump was Something and not Nothing, and I was working hard to believe that it was Nothing, so why would I call?
I know, like I've said before.  Stupid.
But still, I tried really hard to believe the 92%, to get on with my life, to save the money, to not succumb to fear.  I tried.
Anxiety is such a sneaky bitch!  I'd be going along with my life all normal-like and then one stray thought would lead to another and suddenly I'd be obsessing about who will raise my children when I'm dead, or whether I should try to get a life-insurance policy on myself before I'm diagnosed, or whether they would take the house to pay the medical bills.  These flights of obsessive-compulsive fantasizing started coming with increasing frequency until I had to finally face the fact that I was losing it.  It's so stupid because I knew I was being crazy—but knowing that didn't mean I could stop.  I just could not silence the worry machine in my head.  I was walking around glazed and separate from life.  Plus, any thought that led to a worry thought had to be turned off, too, so all too soon large areas of normal thought were also not allowed, lest they lead to more worrying.
That's right.  NOT worrying was becoming as stressful as worrying.  Maybe more.
Why is cancer so scary?  There are plenty of diseases that are as bad or worse.  I hate falling into a vortex of madness.  I could almost feel (if I let myself) these black tendrils reaching throughout my body from lump-center.  One thought would lead to another, none of which were based on anything real, and I knew that, but I had fallen in and I could not get out.
Anyway.  Obviously, the 8% won.  I realized I had to go get checked or I was going to die of anxiety way before any cancer could get me.
I called the Breast People and they said the Scheduler would call me back within 72 hours.  WHAT?  I'm having a panic attack and I'm supposed to wait for 72 hours just to get a call back on an appointment time?  Screw that.  Yes, I had stalled for weeks, but now I had made a decision, and I wanted to MOVE.  Enough of being immobilized by what-ifs!  I called the gal who saw me seven years ago directly, and man, she was awesome.  "I'll squeeze you in if you can get here in the next hour."  YES.  I WILL BE THERE.
Just sitting in the waiting room I was so keyed up that when they took my blood pressure my heart rate was 105.  "Did you just run up here by the stairs or something?" asked the nurse.  "No, it's just nerves."  She gave me a look like, okaaaay.  I am such a drama queen.
But I was doing this.  I was facing down the monster.  Next came the room, the silly gown (it was in a warmer, isn't that sweet? they warm the silly gowns for you!), then hurry up for more waiting.  They had wi-fi so I read.  I have no idea what.
Then the exam.  Jesus, I was practically levitating at that point.  But the exam itself was nice.  The doctor, this sweet gal with bright red hair, had great hands.  I am probably a total perv but the whole thing was so relaxing and…thorough that as she massaged and palpated and jiggled my breasts, I had to stop myself from getting turned on.  Is this normal?  This is probably not normal.
I love the language of breast exams, though, like when they talk about, "dense, fibrous mass," which sounds to me like some sort of chewy, whole grain bread, or  when the gal running the mammogram machine, who was very nice and very apologetic as she stretched and mashed my poor breasts in a way that was definitely NOT a turn on, said, "You lack elaborate breast tissue."  HAHAHA!  I wanted to say, "Okay, my breasts may be simple but I've got an elaborate ass, you know what I'm saying?"   Junk in my trunk, uh-huh.
Seriously, mammograms, what the fuck.  Who designed that effing machine?  Breasts don't do what they want to make them do to get into that machine.  Especially little cute breasts like I have.  You just want to scream at the nice lady, "THEY DON'T COME OFF, OKAY?"  Sheesh.
But the best language, of course, was when the doctor leaned back after feeling me up and said, "feels like normal breast architecture to me."
What was that??  Normal breast architecture?!?
"Are you sure?" I squeaked, holding my breath.
"Yep."
I sat up and hugged her.
She laughed. "You just have lumpy breasts."
I know!  I know that!  That stupid 8% got the better of me!  I'm such an idiot. (But the 8% could have been right.  Would I really know if I actually had the dreaded C?  See how the doubt creeps in???)
She was so sweet.  I want to send her a box of chocolates or some flowers.  Maybe that would be weird, but really, I felt so grateful for her getting me in there and not making me wait another week to find out what 92% of me already knew.  Normal breast architecture!
Still, next came the "just to be sure" mammogram nightmare, although then an attractive, young, black man smeared gel on my tits and rubbed them with a mildly vibrating wand, ooo baby did an ultrasound.  A much older woman stood nearby, the chaperone, I guess.  I was kind of high at that point, what with the good news and all, I didn't care what he did.  Yeah, sure, rub that gel all over me, because, did you hear?  I have normal breast architecture!
Finally, the ultrasound, the count-them-eight mammogram images, and the nice doctor's nice hands all said the same thing: healthy, if lumpy, breasts.
WOO HOO!!!  PARTY AT THE YURT AND YOU'RE ALL INVITED!
Of course, the bill for all this certainty hasn't arrived yet.  I'm guessing $500.  Shall we take bets?
I'm so annoyed that I couldn't go with what I knew, that my little lump was fine, that I had nothing to fear.  I'm annoyed that I had to spend xxx$ to "be sure."  I'm annoyed that the North Carolina jerk-offs are voting down the medicare expansion that probably would have helped our little family and given me fewer excuses for not just going to get checked.  I'm annoyed that cancer is such a specter that it could take me over.  I'm annoyed about a lot of things.  Mostly about how the whole thing has been such a mind fuck.
BUT.
I'm really, really happy that I don't have cancer!  I keep bopping around the yurt, all happy and shit.  Every once in a while, I burst into song.  It's a good day!  Zippity-do-da-mother-fuckers!
Which all makes me think of what Lumpy Space Princess says (what, you don't watch Adventure Time?): "You just want me for my lumps."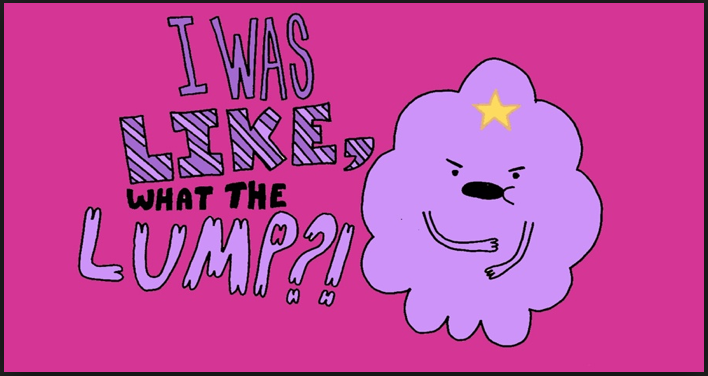 Buy my books!

Children of the Fallen, now available on Amazon.


The haunted and talented children of the glorious and terrifying...

Toby Streams the Universe at amazon.

A psychic in the big city, trying to stay sane....

The Violin Maker's Wife at amazon.

Enchanted violins can be deadly....

Conjuring Raine, now available on amazon, B&N, and at Smashwords.

A girl, her vampire, his demon...

You can also listen to the Conjuring Raine free podcast. Enjoy!

coming next: The Lucidity Effect

Lucidity is now with the editor, woo hoo!

upcoming book releases

"Dusi's Wings" April, 2003. . . . "One thing fantasy can do for us is to give shape to the mysterious in the world; another is to make emotional yearning concrete. The early sections of "Dusi's Wings" do just that...there was a strong grasping towards the spiritual in fantasy here that was very promising, and I look forward to reading more by Lassiter." --review, Tangent Online.