I got this niftykeen gadget that sends the signal from a chest strap to an app on my old wood-burning ipod touch and now I walk around experimenting with what makes my heart rate go up or down. I'm sure I'm driving my family crazy, because, however much they may love me, knowing my heart is beating 114 or 103 or 82 times a minute at any given moment of the day is just not that interesting to anyone but me.
BUT I am now positioned to answer that age old question we all wonder about: IS Ashtanga Yoga Primary Series aerobic?
Let's find out.
Some context for the numbers: My resting heart rate (measured upon waking) seems to be about 70. Fairly typical. I've been doing Primary for about 3.5 years, so I figure my cardiovascular system is acclimated at this point. I mean, it isn't like in the beginning when I felt shaky and nauseous just trying to get through standing, you know what I'm saying? I did not imbibe caffeine this morning before practice so as not to artificially elevate the numbers. Also, I'm not sure it matters but it's about 60 degrees in the yurt this morning, and I practiced in two long sleeve shirts and long pants and did not sweat a drop—I even had to remoisten the electrode pad thingies on the chest strap with spit half-way through. This is fairly typical for me. Anyway! Here's what I got…
Oh, and in case you're thinking what a crazy anal chick to make heart rate graphs, it only took about ten minutes at this fun kid's website. The hardest part was trying to spell the asana correctly (which I probably didn't do). Isn't the internet grand?
[ETA: it just occurred to me that I should mention that the poses and vinyasa mentioned on my graphs are just the points where I noted down my heart rate, usually because it had shifted one way or the other. This isn't a list of every pose and vinyasa I did!]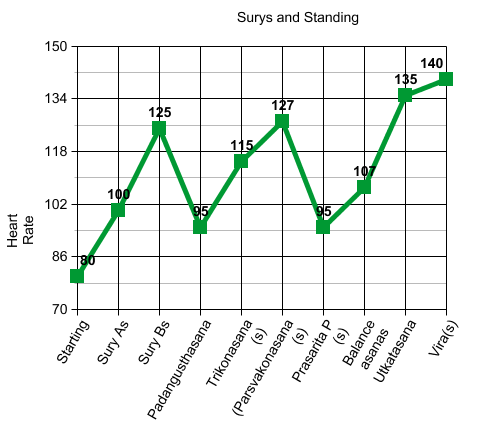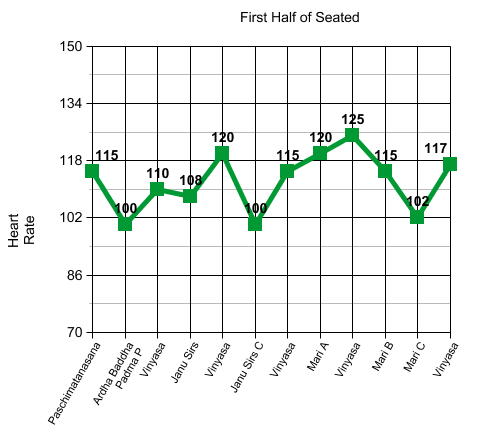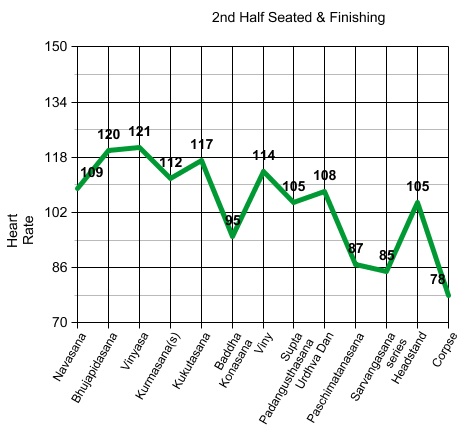 Aren't my graphs pretty? Anyway. Although my HR did get up to 140 during chair pose and vira 1 and 2, it only lasted a minute at most. More typically, high points, vigorous standing poses or vinyasa were around 120 and lower points, forward bends, hovered around 100.
100-120. Pretty low. It's a little lift off my doing-the-dishes rate of 85ish. It's a little higher than walking the dog which seems to stay around 100 (except for that one hill where it might touch 120). But not by much.
In fact, I never noticed it before but the series seems designed to keep the heart rate low-ish, with forward bends coming right after each more vigorous pose (long padangusthasana after surys, for example, and long paschi after the viras). Vinyasa in between all those seated forward bends keep me warmed up a bit but not so I'm "working out" breathing hard or anything. Which makes sense since we're supposed to be doing long slow deep breathing.
I'm kind of surprised, though, because the practice can seem so intense. I'm usually tired afterward, a bit wobbly even, for a little while. I practice at a fairly brisk rate, this was full Primary minus the butt balance poses (my sacrum has been hurting) in about 58 minutes. But I also don't push.
I'd be interested to try again back in that David Garrigues workshop last spring where I was sweating a ton (90 degree shala) and felt wrung out after. I don't practice that hard at home, too hard to maintain.
Conclusion? Is Ashtanga aerobic? I'm going to say No. Got to get that cardiovascular workout (if you value such a thing) elsewhere.
Has anyone else tried practicing with a heart rate monitor? What were your results? Maybe ashtanga just isn't aerobic for me? Or for the way I practice? I'd love to hear.
Sidebar! For anyone who is curious, I'm using (birthday present!) a Wahoo key that plugs into the bottom of my ipod and collects data from other devices such as a heart rate monitor chest strap (what I have) and translates it to a variety of apps on the ipod. It works great, although my ipod is so old that most of the apps out there do not run on it because you can't update the iOS to 5, boo hoo. But I found an app that works on iOS 4.2.1 (last supported update for ipod touch 2) and I'm in business.
In addition to heart rate, the key plugged into your ipod or iphone can also collect data from such things as a sensor on your shoe to collect strides, pace, etc, or a sensor that can go on your bike, tracking distance, speed, and it can even map your route with the GPS in your iphone (if you have an iphone and you get service where you bike), or all of these, plus heart rate, at once. It's pretty cool. Totally makes working out like a video game with stats and graphs and all. You can practically see the energy bar floating above your head as you sweat.