characters for an epic tale UPDATED now with bunnies!
Michele, a regular commenter here at mayaland, sent me this wonderful image and we discovered, quite by accident, that if you print it out, you can use it as a gameboard for your very own Epic Adventure.  Woo hoo!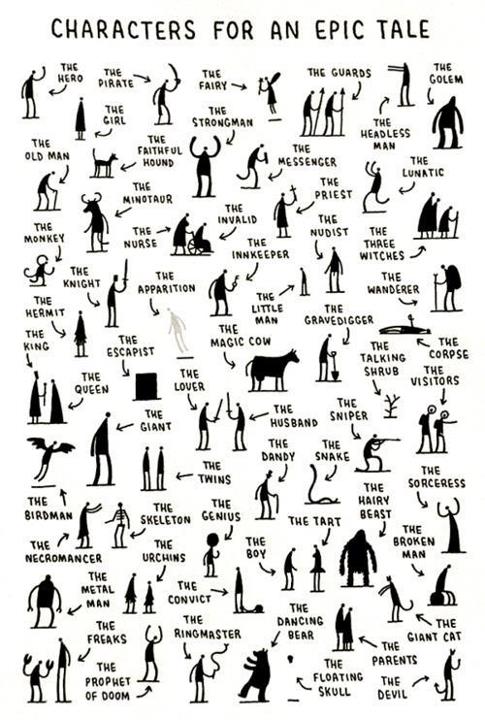 We put little people (army men, in this case) on "the hero" in the upper left corner, and then roll a dice.  Then we move our army wo/man the number of steps (in any direction) and have our character meet the character we have landed on.  Army person talks to the character—here we make up some funny dialogue—and then some crazy stuff happens because of the interaction.  Maybe you land on the fairy and get a wish granted, or help the convict escape and he tells you where the pirate treasure is buried, or you meet the monkey and he throws poop at you.  Cool.  Then it's the next person's turn.  You could have any end-goal, but we decided we would just try to end up back together on the other side.  The real goal, of course, is to make everybody laugh with your crazy Epic Tales.  Pretty much fun for a rain afternoon.
The art is by Tom Gauld and you can see more at his site.  Of course, once we got going, we had to add more characters.  The kids have been making up expansion packs for days.  Sophie draws them, these tiny people with funny attributes, and Luc names them.  It's so much fun!
Thanks Michelle!
UPDATE:  Oh!  We just figured out a much better ENDGAME.  You cover each little person with something edible.  We used Luc's favorite, bunny cookies, or, as I call them, Honey Bunnies.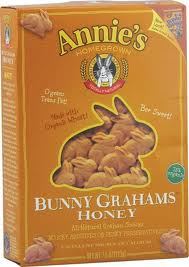 Honey be my honeybee!  Now, when you roll the dice and move your person, you get to eat the cookie to uncover the character you will be interacting with/making up a story about.  The goal then, is for all the bunnies to get eaten, so you might have to work your way over to a bunny all alone in the upper corner, say.  It's a team sport, so all the travelers win when all the bunnies are eaten.  Oh, and on any given roll, you only eat the last bunny you land on, not all the bunnies as you go, or the game is over too fast.  You could use carrot slices or pieces of chocolate or apple bits if you like, anything that fits well.  There is an element of surprise, then, when you uncover your character (although we are starting to memorize the board at this point).  Remember: always play with your food.  It's the law.
Buy my books!

Children of the Fallen, now available on Amazon.


The haunted and talented children of the glorious and terrifying...

Toby Streams the Universe at amazon.

A psychic in the big city, trying to stay sane....

The Violin Maker's Wife at amazon.

Enchanted violins can be deadly....

Conjuring Raine, now available on amazon, B&N, and at Smashwords.

A girl, her vampire, his demon...

You can also listen to the Conjuring Raine free podcast. Enjoy!

coming next: The Lucidity Effect

Lucidity is now with the editor, woo hoo!

today's yoga practice

upcoming book releases

"Dusi's Wings" April, 2003. . . . "One thing fantasy can do for us is to give shape to the mysterious in the world; another is to make emotional yearning concrete. The early sections of "Dusi's Wings" do just that...there was a strong grasping towards the spiritual in fantasy here that was very promising, and I look forward to reading more by Lassiter." --review, Tangent Online.