A speedpainting—that's right, I'm using it as a noun, but it can also be a verb—is the time-lapse video documentation of an artist at work. It can also refer to when the artist paints very fast, but that's not what I'm talking about. In digital art a speedpainting is a capture of the artist's screen for the duration of the painting's creation, hours of work sped up to be a few minutes of video. You see menus dropdown and the cursor flying around as the artist uses their program (often Photoshop) to construct their image. For traditional media a speedpainting is video recording of the paper/canvas with the artists hand flying around.
Either way they are both SUPER COOL.
Speedpaintings are also a terrific way to learn drawing and painting techniques. The kids and I first discovered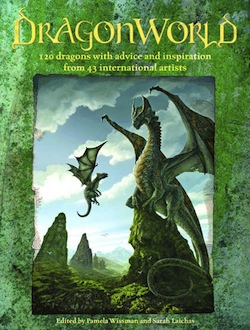 speedpainting on Youtube after looking at the book Dragonworld, a kind of curated collection of artists from deviantart.com (an online artist community that is vast and often astounding) who were mostly creating their dragons with Photoshop. This led us to look up some of these artist's deviantart pages to see what else they had done, and also try to find out HOW you can create such cool looking dragons using Photoshop because I had no idea…and that led to speedpainting, where you can see the dragon emerge from blank screen, all the "how" revealed.
This is so amazing! Youtube rocks! Lately, whenever I want to know something, I just google for youtubes and there it is, in full color, live action, glory.
Anyway, there are a TON of amazing artists out there. No longer is art confined to a gallery where you can only see the finished product. Art is everywhere and sometimes you can even watch it being made.
Let me show you some we've found and you'll see what I mean….
Since we started with dragons, here is a speedpainting of a dragon/wizard showdown by Chris Scalf, four minutes from blank to fully fleshed out dragon!
That one has just the working screen, but if you want to see Chris do another dragon with the Photoshop menus made visible, look here. Very cool.
One more from Chris because it is Luc's favorite…the cute kitty, done in photo realistic style.
Here is a cool, quick one, just an eye by Martin Missfeldt.
We got into a run of watching fantasy landscape appear on the screen. Here's an intriguing one by Tim McCluskey.
Another another futuristic landscape, this one by Scott Drake:
Now for some hand-on media, here is a beautiful speedpainting done by Agnes Cecile, watercolor and mixed media.
Another mixed media piece by Olga Noes—it was super hard to pick one of hers, she is amazing, go to her site for more.
Actually, I can't help myself, here is another of her intriguing portraits. We call them "The Drip Eyed Girls."
I could go on and on, there are so, so many great ones, even many of our favorites that I couldn't find to make this post. Like where is that zombie in the Russian hat that was so cool? You get on click click click trails with these things and I didn't notice the name of that one, and others!, as they went by… oh well.
But aren't these nifty? So fun to watch. It's one of our new hobbies right now, "hey, let's watch some speedpainting!" Out comes the ipad and we snuggle up on the couch and watch art like it's a tv show.
Buy my books!

Children of the Fallen, now available on Amazon.


The haunted and talented children of the glorious and terrifying...

Toby Streams the Universe at amazon.

A psychic in the big city, trying to stay sane....

The Violin Maker's Wife at amazon.

Enchanted violins can be deadly....

Conjuring Raine, now available on amazon, B&N, and at Smashwords.

A girl, her vampire, his demon...

You can also listen to the Conjuring Raine free podcast. Enjoy!

coming next: The Lucidity Effect

Lucidity is now with the editor, woo hoo!

today's yoga practice

upcoming book releases

"Dusi's Wings" April, 2003. . . . "One thing fantasy can do for us is to give shape to the mysterious in the world; another is to make emotional yearning concrete. The early sections of "Dusi's Wings" do just that...there was a strong grasping towards the spiritual in fantasy here that was very promising, and I look forward to reading more by Lassiter." --review, Tangent Online.