Look what I made!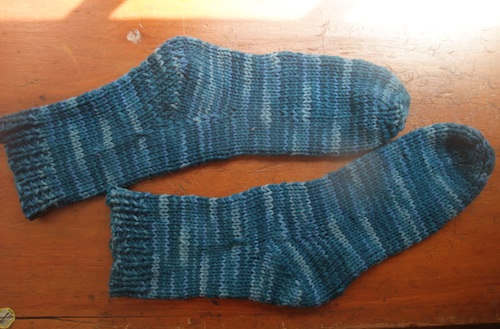 My first pair of socks!  Supersoft merino wool, a bit chunky for warm winter footsies.  For the knitters in the crowd, I knitted them toe-up, using magic loop, but the real trick was, I knitted them both at the same time.  That's right, both socks on the same, super-long needle, appearing beneath my flying needles like I'm granny on Bugs Bunny.  I have to say, I'm deeply impressed with my badass knitting self about this.  Go me!
I learned how to do this amazing feat via some cool on-line videos made by Liat Gat.  I highly recommend her extremely clear, cheerful videos for all your Knitting Education needs.  Soooooo much better than trying to learn from a book.  Sell all you're How To Knit books and get Liat's videos instead.  She makes it super easy to learn tricky things.  I knitted these socks and didn't have to scratch out my own eyes, not even once!  Go Liat!
Regular readers will remember that the original plan was to knit a pair of Koigu socks .  This is still the plan, but I thought I would perfect my technique on some larger yarn first.  Which I have now done.  So, I'm on to the fingering-weight Koigu (fingering weight is thin yarn, like embroidery floss), it is such beautiful stuff.
But something has become quickly obvious: if you love to knit, but can't afford much yarn, knit fingering-weight yarn because it takes FORFUCKINGEVER to finish anything.  I might be finished my Koigu socks sometime before I turn 70.  Maybe.  Seriously, you knit for an hour in front of the tv watching Death Note or Samurai Champloo, your needles are flying, stitch after stitch, and then you look down and you've advanced your socks by, say, a quarter of an inch.  Sigh.
BUT I WILL FINISH THEM.  And when I do, I'll post pictures. If there are still blogs by then, if the internet hasn't become an implant we all receive at birth, if the coming zombie apocalypse hasn't ended the World As We Know It.
I gave these pretty teal socks, my learning socks, to my cousin who is an all around awesome person.  She deserves some hand-knit socks.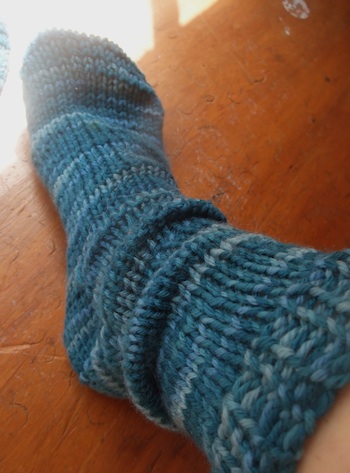 Two socks at once—check that bad boy off the bucket list!