children of the fallen free until midnight tonight…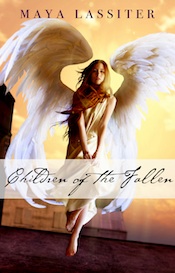 You can still get the Children of the Fallen ebook FREE until midnight tonight, for reading on a kindle, or an iphone, or a tablet, or whatever. Codex, with its freebie book bash (see a couple posts back), has taken over the historical fantasy bestseller list and has several representatives on the fantasy bestseller list, too. I've discovered that it is surprisingly fun to do a group promo—its like playing a sport where you get to root for your team.  There is an increased drama.  As a total non-joiner, this is a new experience for me.
[image of me waving a team banner, woo hoo!]
You can see the whole list of sixteen SF&F books, free until tonight, HERE.  Go get some good reads!
Buy my books!

Children of the Fallen, now available on Amazon.


The haunted and talented children of the glorious and terrifying...

Toby Streams the Universe at amazon.

A psychic in the big city, trying to stay sane....

The Violin Maker's Wife at amazon.

Enchanted violins can be deadly....

Conjuring Raine, now available on amazon, B&N, and at Smashwords.

A girl, her vampire, his demon...

You can also listen to the Conjuring Raine free podcast. Enjoy!

coming next: The Lucidity Effect

Lucidity is now with the editor, woo hoo!

today's yoga practice

upcoming book releases

"Dusi's Wings" April, 2003. . . . "One thing fantasy can do for us is to give shape to the mysterious in the world; another is to make emotional yearning concrete. The early sections of "Dusi's Wings" do just that...there was a strong grasping towards the spiritual in fantasy here that was very promising, and I look forward to reading more by Lassiter." --review, Tangent Online.