What's big at the yurt right now? ANIME. That's Japanese animation and it is made of shiny. Some of it is, anyway. We eased into the anime waters last year with the anime-inspired American show, Avatar: the Last Airbender (LOVE!), then fell in love with the Japanese stuff with Mushi-shi (MORE LOVE!)
But how to swim through the overwhelming flood of hundreds of shows available from the last thirty years?
With the recommendation help of a anime-savvy friend, we waded into the shallows with Spice and Wolf, a fun, adorable story of a traveling merchant who accidentally picks up a hundreds-of-years-old wolf goddess who is looking for a ride north.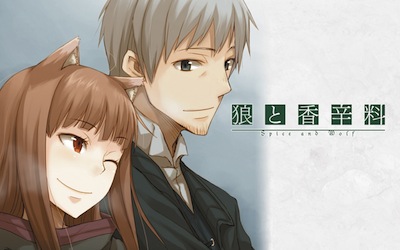 After the first episode I thought, "way too talkie." But the characters, with their tricky banter, got under my skin. The conversations between this lonely, business-minded young human and his much more experienced and capricious traveling companion are THE THING, really, and it's delightful to watch her run circles around him, all the while she is falling for him. Romance-centered, but also, oddly, economics, trade, business practices, negotiation…business made interesting, who would have thought? Most semi-medieval-world fantasies like this center on warriors or magicians. I've never seen one center on a merchant before. It is surprisingly refreshing. Here's a quick trailer…
So that was a success, and I was bummed to come to the end of the 26 episodes.  I wish Lawrence and Holo well on their continuing adventures!
But what would be next?  Many folks recommended Cowboy Bepop, but it was only on dvd and I was lazy, looking for a streaming alternative.  So netflix served me up another show directed by the same guy, Shinichiro Watanabe, Samurai Champloo.   

Ah, how I adore this show! EXTRA MORE LOVE WITH SPRINKLES! Although it's a more adult-themed show including such things as blood spatter, brothels, and trafficking…so Paul and I watched without the kids. Date night!
So, you have Jin, a 16th century ronin samurai, Mugen, a Ryukian ex-convict pirate, and Fuu, a sassy young girl and they end up traveling together through Edo period Japan, plus…HIP HOP!  No joke.  It's AWESOME.  Seriously, you get funny, you get terrific music, you get the best sword fights in anime, you get just the right amount of angst and drama, you get some tricky, sticky over-arching plot, plus hilarious, bizarre episodes (zombies anyone?), all with historical backstory and tons of on-purpose anachronisms.  Highly recommended.  I love me some Champloo. Don't miss the astonishing scene/music in episode 14, you'll know what I'm talking about when you get there.
ARGH, I can't find a vid that will let me embed the first episode.  You go on, you can watch it here and Funimation has all of them online for free, with subs and dubs, whichever you prefer. I think the dubs are pretty terrific, and I don't say that lightly, although you do miss a little bit that way. In the meantime, here is a promo that's okay, you have to get to the 30 second mark before it gets good, though.
Super hard to follow Champloo up, but I decided to stick with Shinichiro Watanabe's work and went through the wonderful (but short! only 12 episodes) show Kids on the Slope, or Sakamichi no Aporon.
What a joy!  Another period piece, Kids on the Slope takes place in 1960s Japan and chronicles a beautiful friendship between two guys—a rare subject for anime, or any visual media that tend to focus on romantic relationships—all through JAZZ.  Because, although Kids on the Slope has plenty of romance, the real story is the friendship between Sentaro, a lower-class drummer in a giant family, and Richie, an upper-class pre-med student and classically trained pianist, who comes to adore Jazz through Sentaro.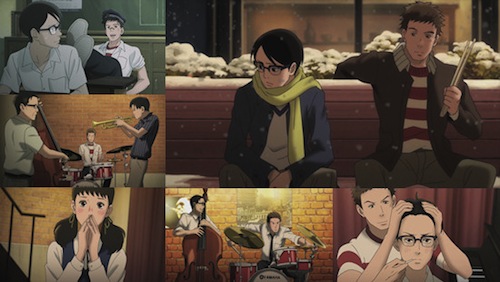 I can't say enough about how terrific this 12 ep story is.  It is delicately told, wonderful characterization, full of sweet moments and terrific music.  EXCEPT the very rushed last episode.  It really needed at least 13 full eps to get the ending in there right, oh well.  Even so, the rushed ending doesn't mess up the whole: it's rushed but it is sufficient.  Highly recommended.
Like Samurai Champloo, Kids on the Slope follows a wild, fighting, lower-class guy who ends up befriending an educated, upper-class, refined guy, both of whom join a brave, funny, sweet, girl for a journey.  In Champloo, the two guys share awesome sword skills, in Slope, they share Jazz.  I guess this is part of the story territory that was assigned to Watanabe to explore in his work.  I can't wait to see what he does next.
Kids on the Slope is perfectly fine for kids, although they may be bored, except that it is only available with subtitles, no dubs, which can be a challenge for small folks who don't read fast enough.  Crunchyroll has it (subtitles), free streaming.  Don't delay, just go and enjoy, a wonderful story.
Meanwhile, the kids and I were watching Trigun.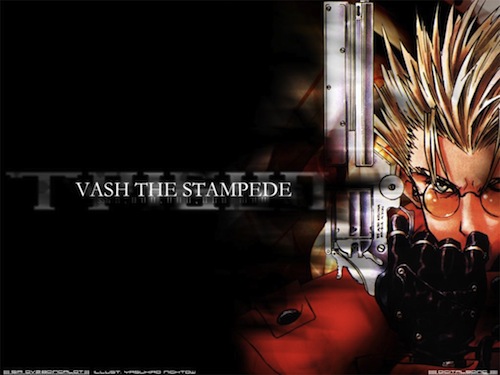 This on is a late 90s anime about a wild west planet with weird tech from a forgotten civilization, and a mysterious, maybe not human, gunslinger with a penchant for donuts, laughs, and "Love And Peace!"  The kids LOVE the funny in this one.  Plus the cat.
I thought this one was going to be just a funny-fest, but it gradually reveals a cool SciFi plot that had me fully engaged by the finish.  Sorry to see this one end.  It doesn't have the emotional depth or finely tuned characters of Kids on the Slope, but it was definitely worth our time.
Our most recent anime is Death Note, of which I am two minds (more in a minute).  Death Note is about Light Yagami, a genius who finds the notebook of a bored death god.  Write a name in the notebook, and that person dies.  What Light does with this in the first few eps had us glued to the tv. It got even better when "L", a genius detective, is sent to stop the mysterious killings.  The two young men go head to head and brain to brain and it's fascinating and full of chewy moral questions and flights of inspired deductive reasoning. We were hooked…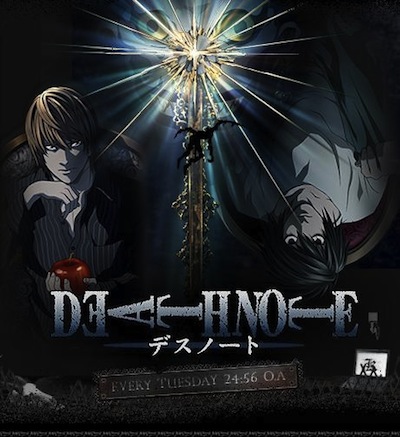 …until about episode 15.  Up to that point Death Note was AWESOME, yes.  The kids and I stayed up late late late to watch "just one more," cheering when the next disk arrived in the mail…ad then things started going off the rails.  We hung in there, hoping it would get itself together, right up until THAT TERRIBLE 25th EPISODE WHEN THAT THING HAPPENS that pretty much ruined it for us.  Honestly, we are still watching, will probably finish out the last two disks, but I'm so disappointed.  The first 15 were SO GOOD. I HATE it when this happens.
I have a theory that Death Note the manga, and then the anime, was so successful in Japan that they just kept going with it, past the point when they should have stopped.  You know what I mean, when a property is making money there can be a tendency to keep flogging it, when, perhaps, this story would have been better served by ending it earlier.  Just a theory.  But if they had finished things around ep 14 or so, I would have easily placed this one in a five-star-top-best category. As it is…for us anyway, it's pretty much turned to shite.  My rec: watch the electrifying first 15 and then walk away.  Read the ending on wikipedia.
Here's the first episode, give it a shot.
And now? Post Death Note? Well, we've just started Gankutsuou, a SciFi telling of the Count of Monte Cristo that is pretty interesting.  Too soon to tell, but the animation is spectacular. A few that we've tried and not continued are Kino's Journey, Princess Tutu. On and off we've been watchign Full Metal Alchemist, which is pretty good, but doesn't hook me the way some of these other have, so we tend to drop it when something better comes along. Then, next up on disk, we're trying Ergo Proxy, Evangelion, and then Serial Experiments Lain.  That should get us through Autumn and into Winter. I'll let you know how it goes.
Buy my books!

Children of the Fallen, now available on Amazon.


The haunted and talented children of the glorious and terrifying...

Toby Streams the Universe at amazon.

A psychic in the big city, trying to stay sane....

The Violin Maker's Wife at amazon.

Enchanted violins can be deadly....

Conjuring Raine, now available on amazon, B&N, and at Smashwords.

A girl, her vampire, his demon...

You can also listen to the Conjuring Raine free podcast. Enjoy!

coming next: The Lucidity Effect

Lucidity is now with the editor, woo hoo!

today's yoga practice

upcoming book releases

"Dusi's Wings" April, 2003. . . . "One thing fantasy can do for us is to give shape to the mysterious in the world; another is to make emotional yearning concrete. The early sections of "Dusi's Wings" do just that...there was a strong grasping towards the spiritual in fantasy here that was very promising, and I look forward to reading more by Lassiter." --review, Tangent Online.