Once again, it is time for the annual Cleaning Out My Camera's Memory Card procedure, wherein I find pictures from as long as eight months ago languishing forgotten and unenjoyed on my camera.  It's pretty fun, actually, because I find all kinds of weird stuff on there.  Moments of my life that I have totally forgotten about, moments I barely noticed as they went by.  Except someone recorded an image of them and froze them in digital form.  Cameras are so interesting for this reason!
Like these two shots, taken by the kids, I'm guessing, of me, early in the morning.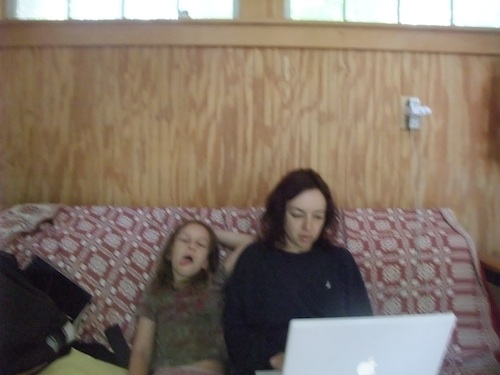 I sneak over to the Noah House most mornings while everyone is asleep and write until the kids come find me, demanding hugs and breakfast.  Half asleep Sophie is mugging for the camera Luc is weilding while I'm trying to get a last sentence down, now that my time is up…
On the mornings I don't write, it's usually because I can't get out of bed and all I want is coffee and more sleep.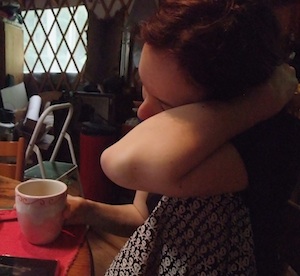 I didn't even know this photo was made.  I'm kind of cute, I think, half asleep on my own knee.  Aren't my self-made pirate lounge pants nifty?  And you can just see the corner of the ipad, ready for my morning reading…only it looks like I hadn't gotten far with that plan on this particular morning.  I wonder who took this shot?
That's part of the best fun of unloading the camera memory—finding lots of photos that I didn't take.  Like these funny shots of some friends of Sophie's, wearing the little clothes she made for them: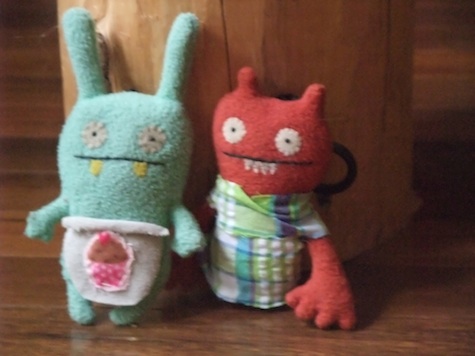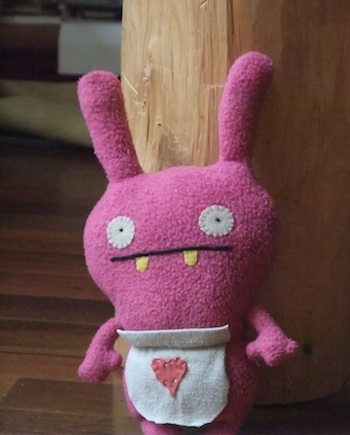 It's like there is an infestation or something of these cute little strange monster people in heart aprons….
Of course, there are lots of cute kid photos I had forgotten about.  As Bad Guys: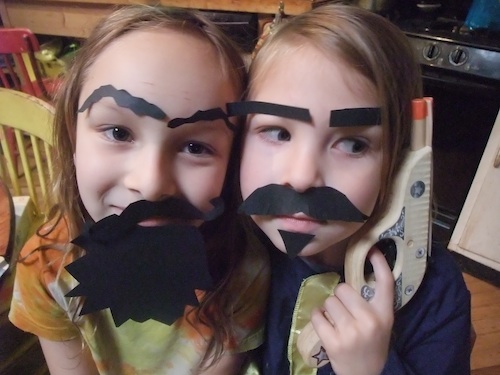 Or heading out to a pirate movie (can you see the skull and crossbones on Luc's hoodie?):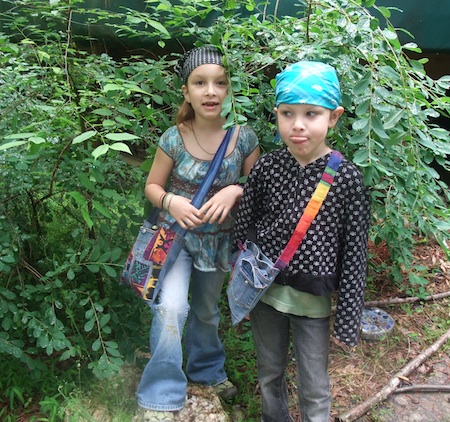 Or being upside down: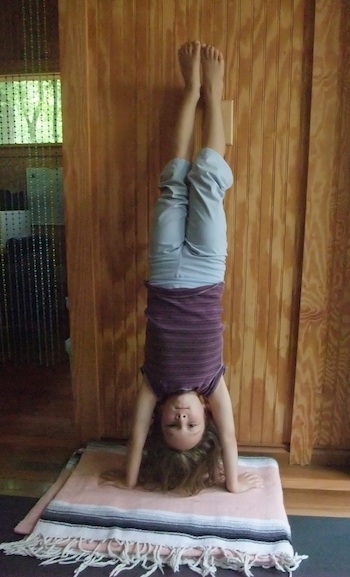 It weirds me out that all these moment are flying by, forgotten almost as soon as they occur.  If it weren't for these photos, each of these moments would be gone forever.  It's all going by too fast!
Here's one Luc says he took.  I like how her eyes and fur match the marble floor: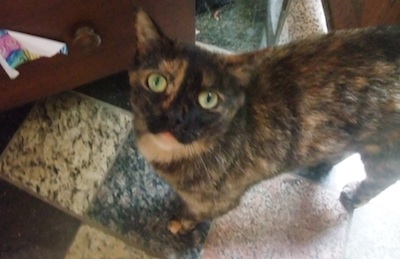 "Feed me! Or I will eat your leg."
There are lots of funny ones.  I'm gad for this, because it seems like we must be laughing a lot to be able to capture many funny photos.  Bug on Sophie: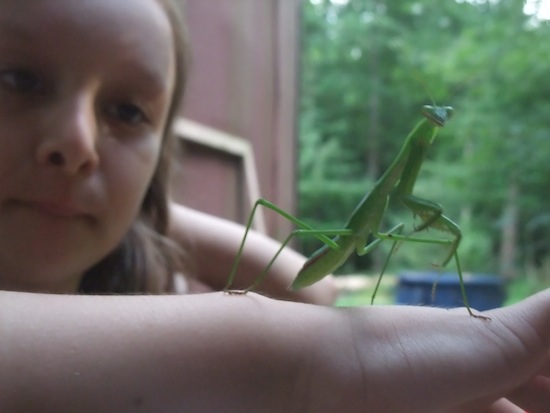 Bug on Luc: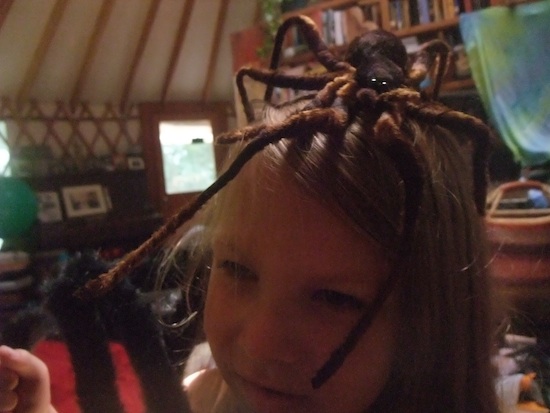 Oh, here's one I had completely forgotten: it's the swatch I made for a sweater I'm knitting, nearly done now.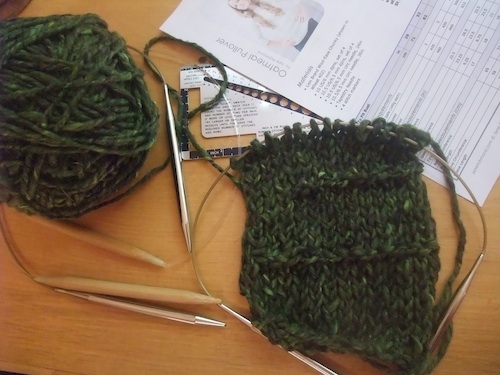 I had planned to do this blog post on the knitting of this sweater—but I completely forgot. So, instead of having several in-process photos, I have only this single swatch photo and a palm to my forehead when I rediscovered it on the camera—because now the sweater has only one sleeve to go!  Oh well, would have been a nice post.  Best laid plans and all that.
Here is one from the beach trip, my own feet on a bed of seashells that came in with the tide and were left behind: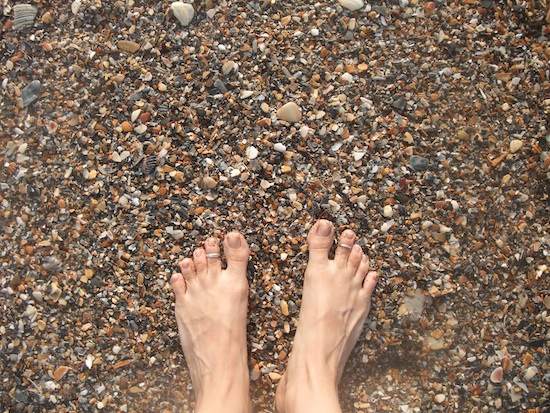 This picture is rather like all these photos—little pretty bits, fragments of our lives, left behind by the tide of our days, for me to sift through, looking for gems.
Buy my books!

Children of the Fallen, now available on Amazon.


The haunted and talented children of the glorious and terrifying...

Toby Streams the Universe at amazon.

A psychic in the big city, trying to stay sane....

The Violin Maker's Wife at amazon.

Enchanted violins can be deadly....

Conjuring Raine, now available on amazon, B&N, and at Smashwords.

A girl, her vampire, his demon...

You can also listen to the Conjuring Raine free podcast. Enjoy!

coming next: The Lucidity Effect

Lucidity is now with the editor, woo hoo!

today's yoga practice

upcoming book releases

"Dusi's Wings" April, 2003. . . . "One thing fantasy can do for us is to give shape to the mysterious in the world; another is to make emotional yearning concrete. The early sections of "Dusi's Wings" do just that...there was a strong grasping towards the spiritual in fantasy here that was very promising, and I look forward to reading more by Lassiter." --review, Tangent Online.