So this thing happened that was kind of weird, not eye's popping "HOLY SHIT" weird, just, eyebrows lift "Huh!" weird.  My life is full of that second kind of weird.
You might recall the kids and I got into an anime last month called "Mushishi" about a traveling mushi master named Gingko.  Mushi are these strange semi-supernatural creatures, that have a strange semi-parasitic relationship with humans, Gingko is a mushi master who has a strange affinity for them, its a very cool show, you should watch a few.  Anyway.  I was doing an image search for Gingko and was scrolling down page when I notice something odd.  There is a nice pic of Gingko in his winter gear: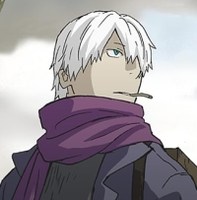 And right above it on the results page is a picture of this lovely, purple yarn: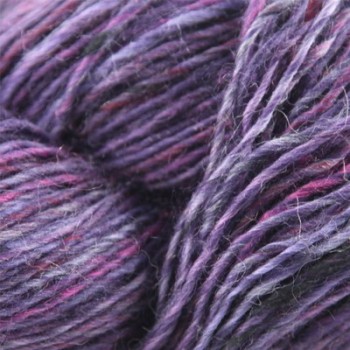 Huh?  The juxtaposition leads my brain inevitably to think: is this the very purple yarn that Gingko's purple scarf is knitted from?
Okay, I know Gingko is an animated manga character, no actual yarn was used in the making of his scarf.  But, I mean, it's the exact same color, is it not?  Why is yarn turning up on a Mushishi search?
Turns out there is a yarn made by Plymouth Yarn Co inexplicably named "Mushishi."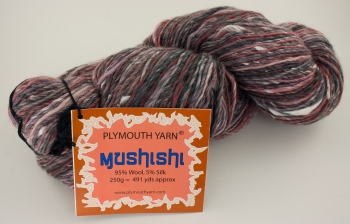 I found some yesterday in the local yarn store.  That's right, I was in the local yarn store, I didn't buy anything, it was a super human effort.  But back to the mushishi.  Wool and silk, very soft, comes in giant hanks…just the right size for making a traveling mushi-shi master a scarf.
I feel the boundaries between art and reality thinning sometimes.  It can get confusing.
"Mushi" means insect in Japanese, as in the wonderful art/game Hanamushi ("insect flowers") that the kids and I played last year.  I wonder why an American yarn company named their yarn Mushishi?  Is there a secret anime-lover in the naming department?  Is there some other definition for the word mushishi in Japanese besides "bug master"?  I am oddly curious about this, like having a song stuck in my head that I keep returning to.
And how about that exact color of Mushishi yarn showing up right over Gingko with his purple scarf?  I have now contracted an obsessive desire to knit Gingko's scarf out of Mushishi yarn and wrap it around my neck this winter.  Even though I know yarn and show are unrelated (probably) I can't help but feel some kind of weird link between the two, a link (or the illusion of one) created by the google search algorithm devas who put these two pictures next to each other in that image search.  Maybe it is a sign.
But I can not purchase yarn at the moment.  I have a sweater nearly knitted up out of stashed Donegal Tweed in hunter green, done-but-for-the-sleeves.  It is top-down, raglan, in the round, with negative ease.  Lovely yarn.  I must finish that first.  I also have a pair of worsted socks, toe-up, two at a time using magic loop almost at the mystical Turning of the Heel stage.  I told you I was going to learn how to do that.  AND I've got my Koigu all lined up for the needles when I finish these worsted puppies. I'm doing straight-up, vanilla, stockinette toe-ups on the Koigu.  It will be a dream made manifest.  So you see, my knitting dance card is full at the moment.  No room for a mushishi scarf.
Listen to me dork out on the knitting-speak!  I feel so quirky!
But it's just too weird a coincidence, don't you think?  Maybe I should buy this yarn anyway.  These are the stash-increasing-excuses we knitters employ when needed.  Like this: maybe I'll buy the yarn and knit it up and something really cool will happen to me while I'm wearing that scarf.  The knitting-mushi must want me to have that yarn!  That's the only explanation.
Sometimes I like to go all magical-thinking on my purchase decisions.  Don't you?
Okay, okay, I'm going to stop stalling and go get my 1000 words on the nightmare book.  Have you noticed I'm up to 32,000 words?  Progress is happening!