Not a day goes by that I don't thank the Lords and Ladies Above that Paul and I had brains enough to buy property with a pond.  Because every summer, almost every day, you'll find us out in our pond's lovely waters, laughing, hanging out, and staying cool.  Swimming is a big deal for us.  What would we do if we didn't have our pond?  Horror!
Come on in, the water's fine!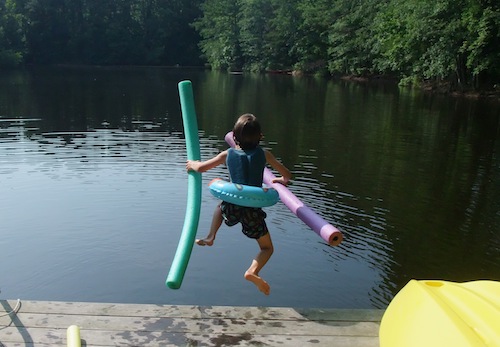 As you can see, Luc likes a LOT of floaties.  He sometimes has ALL the floaties.  But this summer has been extra fun for him because, for the first time, he's getting the hang of swimming without floaties, too.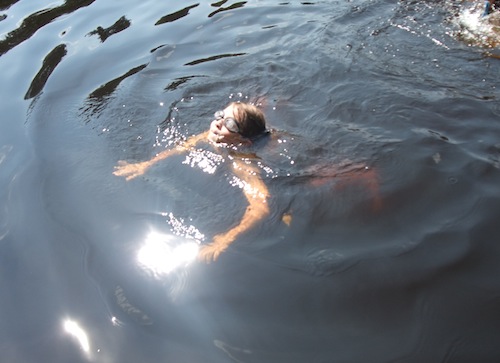 That's him in the goggles, doing his adorable little frog/puppy swim technique.  He's so cute!  And proud!
Sophie, on the other hand, is an old pro.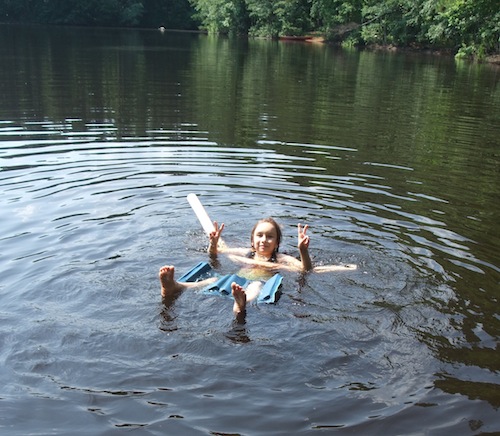 She is total confidence in the water.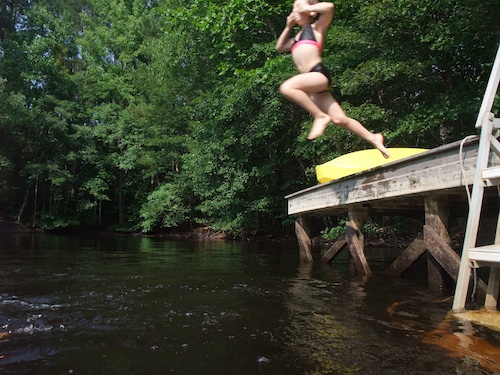 Of course, she has nothing against using a floatie or two when she feels like it.  Me neither.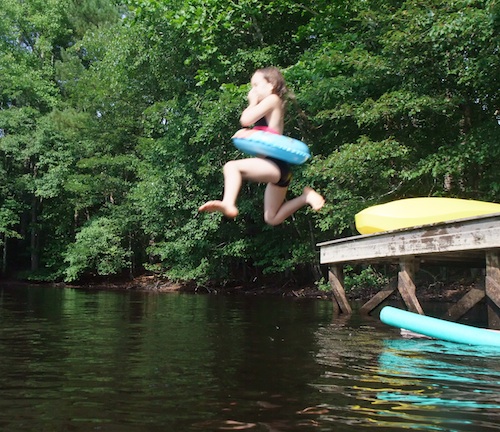 You can tell they spend a LOT of time jumping off the dock.  Up the ladder, running jump, WOO HOO, swim around, up the ladder, running jump, WOO HOO, swim around—!  Etc. If you could attach wires to it, you could power a small city.
I used to do the same when I was a kid, so I totally get it.  The thrill!  The subtly changing technique!  The splash!  Now I'm more of a hang out in the inner-tube kind of gal.
But, oh!  Listen to this!  I got bit by a turtle last week!  My first time.  Drew blood even!  That was exciting.  Big turtle, too, at least a foot long.  It took us a couple of days after that to get our nerve up again to get in the water, I'll tell you what.  You never saw me swim so fast as right after that turtle got me.  I was probably levitating.
I'm pretty sure it happened because we had some friends over swimming with us, and the girl, 10 years old, said nervously, "Are there any turtles or snakes in this pond?" Wanting to put her at ease, I said, in my most confident voice, "We've been swimming in this pond for seven years and we've never had a turtle or snake interaction."  I realize now that the turtles probably heard this and became a bit offended.  Sorry turtles!  I quickly let them know I appreciated how generous they are to let us use their pond, and thanked them profusely, apologizing for any hubris on my part.  Don't want to go around ruffling any, um, shells.
One nip in seven summers, I figure that's pretty good.  Not even turtle nips are going to keep us out of the pond.
So we're pretty much back to full-on swimming.  Sometimes the pond is so nice, its hard to leave.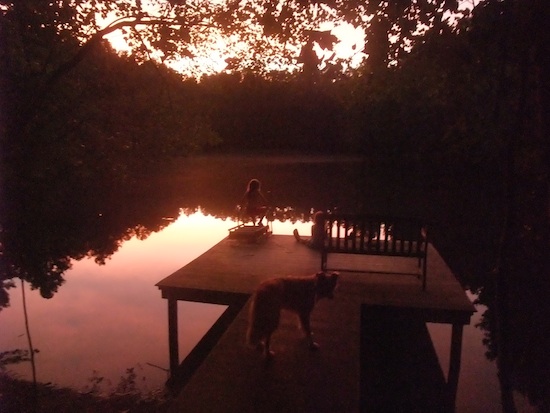 The sun starts going down and we're still out there, tempting the turtles with our delicious flesh.
But, our swimming days are numbered.  You can sort feel fall in the air, just a hint, but its there.  Only a few weeks left.
All the more reason to go early, and stay late.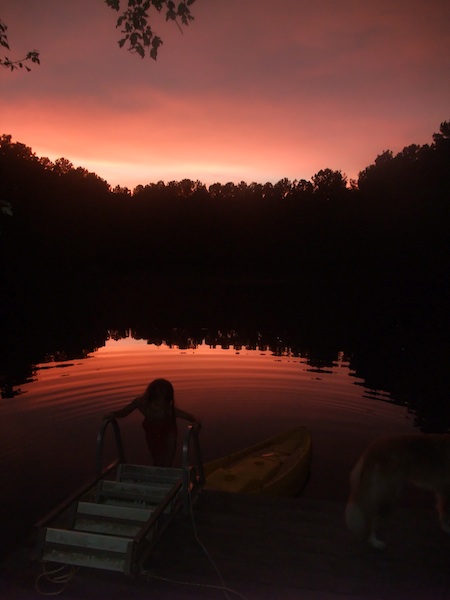 Buy my books!

Children of the Fallen, now available on Amazon.


The haunted and talented children of the glorious and terrifying...

Toby Streams the Universe at amazon.

A psychic in the big city, trying to stay sane....

The Violin Maker's Wife at amazon.

Enchanted violins can be deadly....

Conjuring Raine, now available on amazon, B&N, and at Smashwords.

A girl, her vampire, his demon...

You can also listen to the Conjuring Raine free podcast. Enjoy!

coming next: The Lucidity Effect

Lucidity is now with the editor, woo hoo!

today's yoga practice

upcoming book releases

"Dusi's Wings" April, 2003. . . . "One thing fantasy can do for us is to give shape to the mysterious in the world; another is to make emotional yearning concrete. The early sections of "Dusi's Wings" do just that...there was a strong grasping towards the spiritual in fantasy here that was very promising, and I look forward to reading more by Lassiter." --review, Tangent Online.