Sophie has been making masks.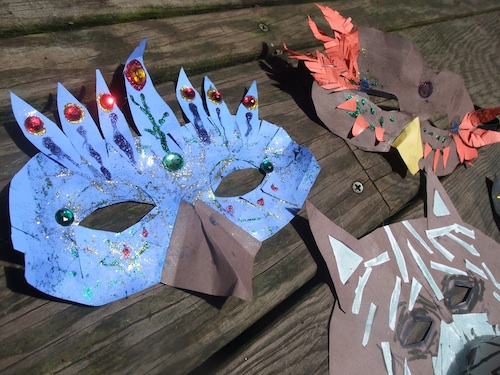 I love the individually cut feathers on the owl mask!  The wolf got a snout that I managed to miss in this photo, but its pretty awesome, all shaped and glued into place.  And drat, I couldn't find the peacock mask, which is truly a shame because it is gorgeous.  I'm not sure where Sophie is getting the idea for these but I do know this: she is on a mission.  New masks have been appearing around the yurt every day for a week.
But perhaps the theme she is playing with is concealment and mystery, because what she really wanted was a cloak to go with the masks.  A big, swishy, black cloak with a pointy hood.  It was very specific.
Heck, said I,  now that we have a sewing machine, let's make one! How's that for instant gratification?  Three yards of cheap-o black fabric and we were in business: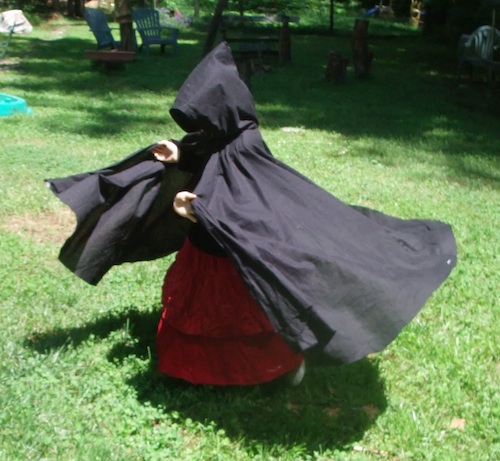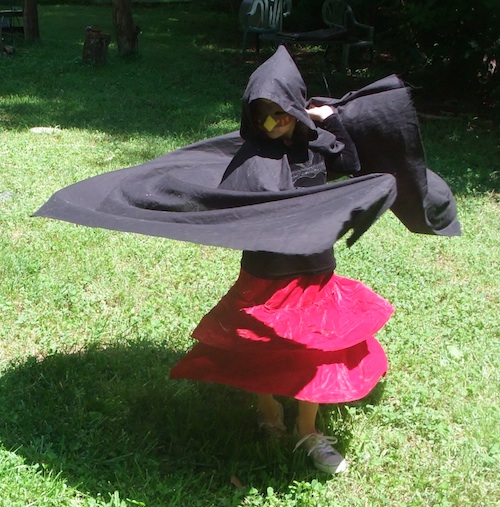 We poked around on the internet for a pattern but nothing was quite right.  Finally we did a pattern mash-up, a circle cloak (I had to remember how to use pi to find a circumference from a radius for the neck line, whew, just barely managed it, couldn't BELIEVE that after a bit of prodding my brain remembered that formula), with a squarish hood (for the pointed top, VERY important) slightly gathered to meet the neck, and she wanted a ragged hem for extra mystique.  I think it came out pretty well. Sophie did the sewing after I figured out the cutting and piecing.  Bottom line, she is pleased as all get out, wears her cloak everywhere now.  It's like having my very own midget Nazgul.
Although I don't think a Nazgul would be caught dead wearing these: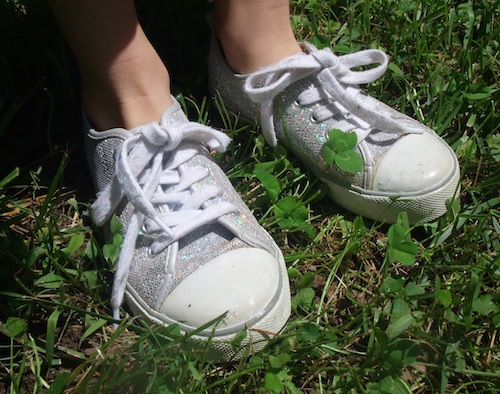 Five bucks yesterday for sparkly wizard sneakers, you can't beat that! Sophie says they are Wizard of Oz shoes because in the book, the magic slippers are silver, not ruby red, and I'm down with that.  Literary references for the win!
But of course, to be really witchy and mysterious, you need a cat.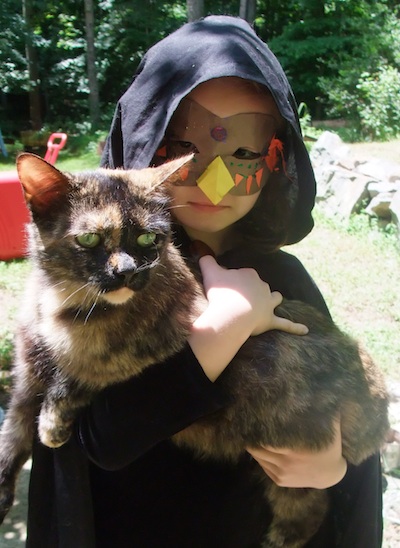 Mo-mo is only slightly willing to participate, but Sophie respects that.  A good familiar can't be a push-over.
Although the cat is optional, and the various masks come and go, the cloak and  shoes are now permanently attached to my child.  I did make her take them off for sleep last night.  I don't know the details of the story Sophie is living out inside herself as she wears her spooky, mysterious outfit day in day out, but I think its all pretty cool and it is my mission to help her do it.
An artist needs to be able to do her thing, I believe, free of bother and trouble of explaining her process to the rest of us.