One of my fave yoga bloggers, Grimmly, has gone to Santorini to practice for two weeks and I freaking hate him.  It's so unfair.  I have wanted to go to Santorini ever since I was 14 and saw this campy, pretty, B-movie called Summer Lovers, about a sweet little menage a trois that takes place on Santorini and oh my goddess, the scenery of that movie rocked my little world.  And I was living in Hawaii at the time, so that's saying something.  I mean, seriously, would you look at this??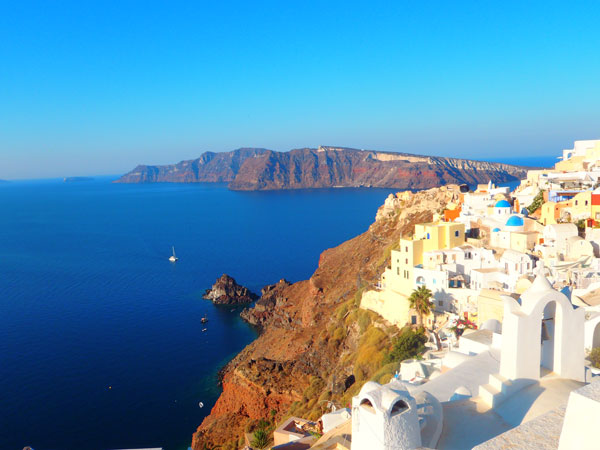 Holy bananas, is this place even real?
In the movie, basically you've got incredibly young Darryl Hannah and incredibly young Peter Gallagher going to Greece for a post college vacation together, where they find throngs of nearly naked and just plain naked young people getting it on in every possible configuration on the gorgeous turquoise beaches of Greece, all while the black dressed local men and women turn their heads in disgust.  Soon the young couple meet a lovely young French archeologist and, after a few minutes of gorgeously lit angst-on-the-beach, the three fall in love and become increasingly tan and have this idyllic summer with the Pointer Sisters blaring "I'm So Excited" in the background.  I would be excited too.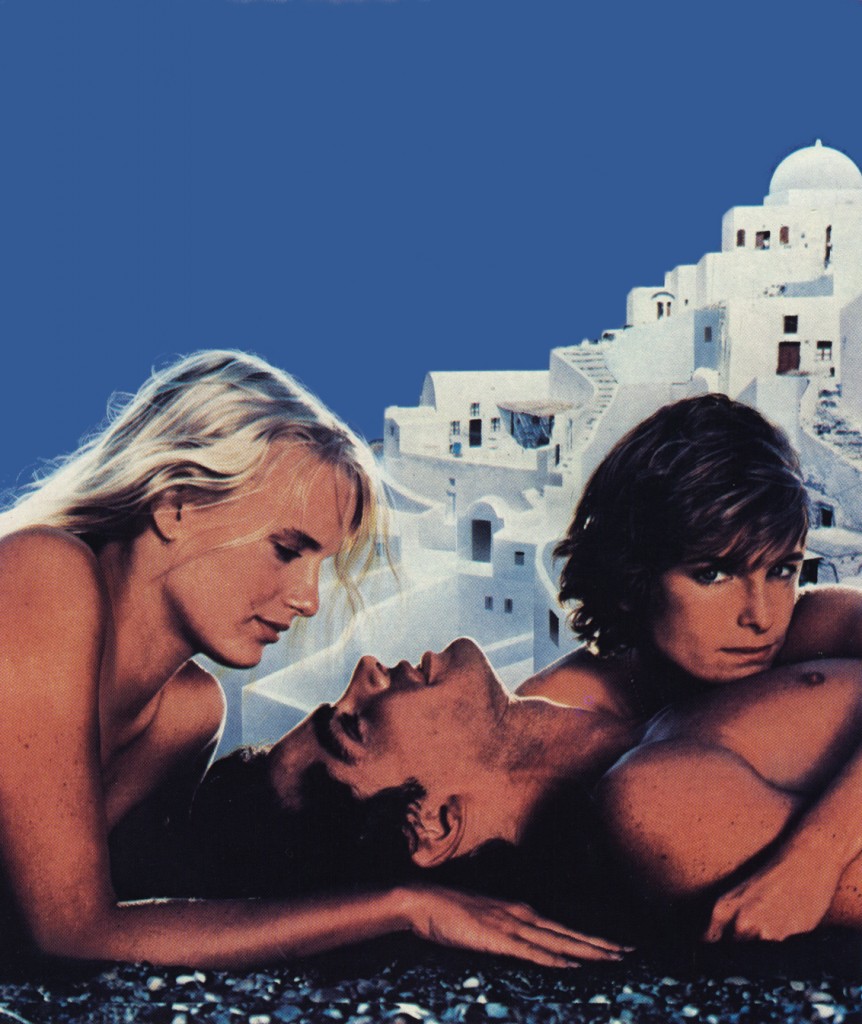 So, I'm googling around looking for good pics from the movie and would you believe that the amazing little white house the three characters live in is now a tourist attraction, a little gift shop called, what else, "Summer Lovers"?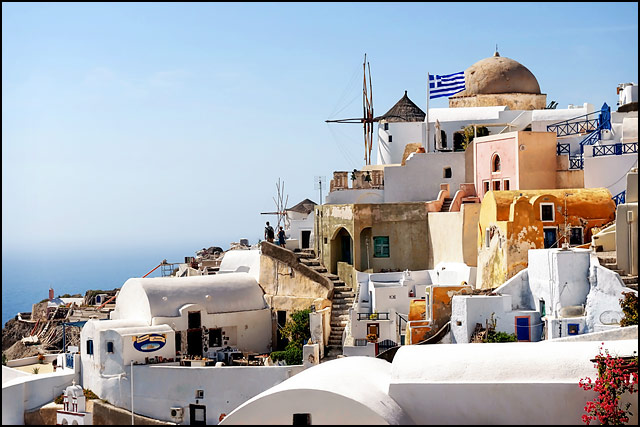 See it down in the lower left corner?  Here it is in the movie: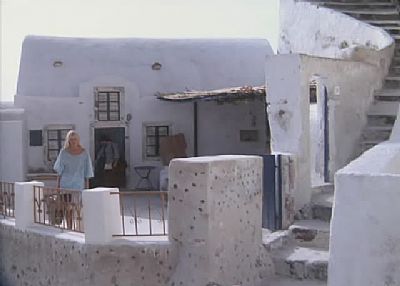 I'm pretty sure this shot is from a moving moment where Darryl and Peter think they have lost their French sweet heart and are dejectedly leaving their gorgeous Greek home-away-from-home, heading back to America a few weeks early.  FOOLS.  What the Hades?  They only have the place for two more weeks or something, I mean, if you're going to mope over lost love, you might as well mope in a house like this with a view of turquoise waters, because the moping isn't going to be any better back in Wisconsin or whatever not-Santorini place these two were from.
But not to fret, they find her, of course—I hope I'm not giving anything away here—and the movie ends all up-beat and happy, yay, the lovers are together again!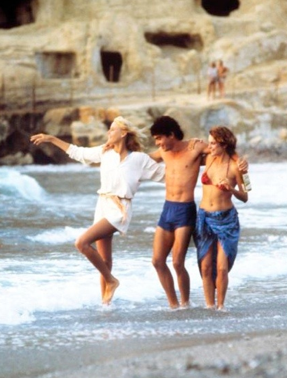 Actually, I was always troubled by this ending, because the problems that caused lovely Lena to leave in the first place (they're American, she's French living in Greece, how can this continue, blah blah) are still there.  And they still only have two weeks, right?  I was so worried about them in the end, even as they ran off into the sunset, arm in arm.  My 14 year old pre-novelist self had to invent a couple of further scenes, a true, if improbable, happy ending for them. I couldn't help myself.
ANYWAY.
Now we come to the temper tantrum.  Brace yourself.
WHY HAVEN'T I BEEN TO SANTORINI YET?  I'm freaking 41 years old!  I totally should have been there already, I totally should have at least gone before I looked really stupid in a bikini!  Shit, it is probably already too freaking late, for heavens sake, it's like I had book-marked Santorini as a Thing to Do, and didn't realize this particular Life Plan had an expiration date.  Who's stupid idea was it to go to freaking useless graduate school for a freaking useless MFA when I could have used all the money to go to freaking Santorini?? I could have been swimming in those mouthwash colored waters and been getting skin-cancer and been living in a salt-white house already!  How did my life get so off track???
Shit.  I've totally blown my shot at this one, haven't I.  I can't believe I missed the freaking boat to Santorini.
I know what you're saying.  Why not go now?  I mean, Grimmly gets to go, why not me?  Well, I've got these two kids, and a yurt payment, and a pile of medical bills, and a husband who has a job he has to keep going to, blah blah, there are always reason not to go to Santorini.  Sometimes very compelling reasons.
I know, I know.  Lame.
Maybe.  Maybe when I'm old.  I'll totter up that steep road with all its staircases, my suitcase on some poor donkey's back.  Or maybe they'll have levitating suitcases by then.
Pout.
Grimmly, I hope you're having a good time over there.  Take some pictures for me. If you see Lena, tell her I said Hi, will you?