I'm back on the sauce.  Coffee, that is.  Glorious, aromatic, black and tan COFFEE.
I had given it up by accident when I started drinking green smoothies.  I would drink the smoothie and just not want any coffee right then (coffee + smoothis = yuck), and then the day would get on and before I knew it, I wouldn't have had any coffee all day.  I thought, hey, cool.  I guess I gave it up.  So I walked around feeling all virtuous and pure.
Then I was finishing up Children of the Fallen, and getting up super early to do it, and Paul had coffee and I would just take a sip of his… Just a little bit wouldn't hurt me, right?
HAHAHAHAHA.
When I worked in South Beach Miami, there was this grubby, fantastic Cuban cafe down the street and I used to stop in there and get the works, black beans, fried plantains, blackened fish, and these tiny shots of super sweet espresso that would blow the top of my head off.
Cafe Cubano. O. M. F. G.
So yeah, a couple of weeks ago, stealing sips of Paul's coffee and pretending I was just a social coffee drinker, I could quit any time, I found myself combing the internet for info on those tiny, mystical, Cuban Coffees I used to down like sweet shots at every single opportunity.  Surely there was a way to get such syrupy coffee goodness here in North Carolina?  Surely I needn't buy a ticket and fly down to Miami just for a hit of the good stuff?
I understand now it was all just exactly like picking back up a drug habit I thought I had kicked.  The obsession, the glassy eyed look, the talking about your works, your drug-making gear, the shakes when you have to wait too long….
Bit of backstory: before I had kids, I was a HUGE COFFEE WHORE.  I had the income of a migrant cucumber picker but I had a Rancilio espresso machine, and a high-end burr grinder.  Hell, I modified a popcorn popper in which to roast my own beans that I bought green on the internet.  This is not unlike saying, "I can carve a bong out of a carrot."  Shamelessly I pursued the God Shot, that perfect shot of espresso, with a daily, ritualized prostration over my stainless steel espresso machine and I was happy, I tell you, happy.  It was god damn beautiful.
I gave it all up when I got preggo.  And then I nursed for years and you do NOT want a caffeinated baby.  I only started back because I was a freaking zombie, nursing two babies and getting four hours of sleep a night, and my Uncle Jamie said, "Why not drink coffee?"  "Oh, it will give me headaches, I've been off so long…" "Naw," said Jamie, "Just power through.  You'll be fine."
I remember staring at him, like the smog had just been cleared from my sleep-deprived brain and the sun had finally burst through—it was all so logical.  Just Power Through!  So, I started drinking coffee again, just pour-over drip, nothing fancy, but OH how I loved it.  I didn't have the time for espresso and God Shots, but that was okay. Instead of demitasse cups I did Alice In Wonderland boat-sized mugs of the stuff full of double sugar and triple cream….
Fast forward to the green smoothies, then to the novel, then to me fiendishly rubbing my hands together as I pulled the trigger on an ebay order for one of these: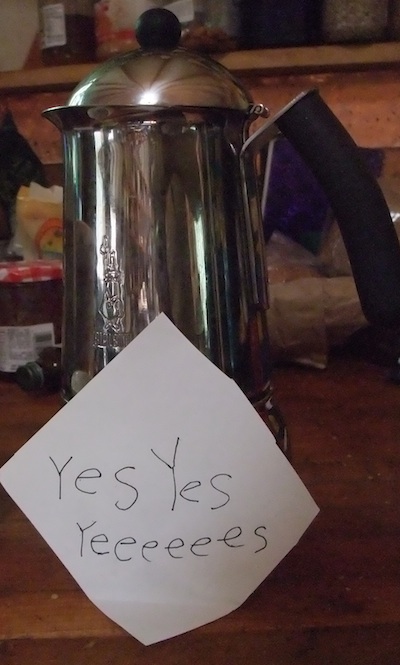 The note is from Sophie, who was answering my, "do you want some coffee with your toast?"  Relax, I only make her decaf.

Because, if you're going to make Cafe Cubano, you have to have a moka-pot.  Or, as they are now called, a stove-top espresso maker.  Whatever.  I would have done it with my old Rancilio, but I discovered, much to my horror, that the boiler has cracked at some point in the last eight years of being in storage.  SOB.  I then discovered that it will cost over $200 to get it fixed.  DOUBLE SOB.  Well, I don't have the counter space for it anymore, anyway.  Best stick to the traditional moka-pot.  They're only $20 or so.  Bang.
Moving on!  The moka pot I got is a stainless steel Bialetti, 6 cup size—one cup being 1.5 oz or so.  In American terms, that's one mug (9 or 10 oz) of super strong stuff, or three demi-tasse very full (3 oz each), or 6 tacitas, which are the Cuban thimble-sized cups I used to get my Cafe Cubanos in at the aforementioned grubby Cuban cafe.
But wait, back up, does this mean I found out how to make the Cuban coffees?
YES.
First, Paul talked to a woman he knows who grew up in Miami and whose mother is Cuban and got the inside scoop.  It has to do with adding the first few drops of espresso that perc out to a fuck-load of sugar—I'm not kidding, it's like, a heaping teaspoon per tacitas—and then whipping the coffee/sugar mixture into a frenzied paste while the rest of the coffee brews.  Huh?  What the heck was he talking about?  To youtube!  Where I found confirmation on several coffee vids, plus this excellent tutorial with photos.  If you do it just right, you get this sweet, syrupy black stuff with the caramel colored foam on top, the espumita, man oh man oh MAN.
I've been working on my technique.  Sophie likes them, too, so I've been making hers in decaf and we share tiny cups of coffee each morning, such a pleasant ritual.  We always clink the cups, like we're at a tea party.  Clink!  Mmmmmm.
In this way, I started with just a little cup in the morning, easily justified.  The cup is so small!  I'm only having one!  But then…okay, well, I found I really, really wanted another around mid-afternoon.  But I don't want to make a whole pot, not without Sophie and Paul to help me drink it, what to do?
So last week I got one of these: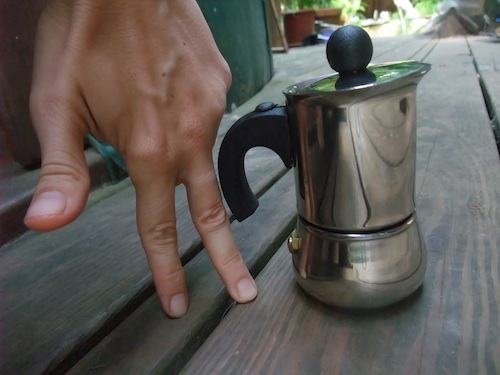 Action fingers shows off her Vanna White skills.  You're pointing the wrong way, Action Fingers.
A miniature, single cup (remember, that's 1.5 oz), moka-pot!  It's tiny.  It's SO CUTE.  Meet my new Vev Vigano (which Paul can't say with a straight face) which makes half a demi-tasse cup of espresso at a time.  It's really more the tacitas size, which is just about perfect for a mid-afternoon shot of coffee goodness.
Unfortunately, it is SO small that it's almost impossible to balance on the prongs on my gas-stove top thingy.  Indeed, yesterday, just as the black gold was percing through, I knocked it slightly and it fell over, spilling my espresso everywhere.
I wanted to cry.
Paul took one look at this mess and did his little, "huh," sound and disappeared.  I was vaguely aware of him rummaging through the recycling, then of the sound of power tools outside, as I ground coffee beans for another miniature pot to replace my squandered one.  By the time I was ready to put it on to boil, Paul comes back in with this: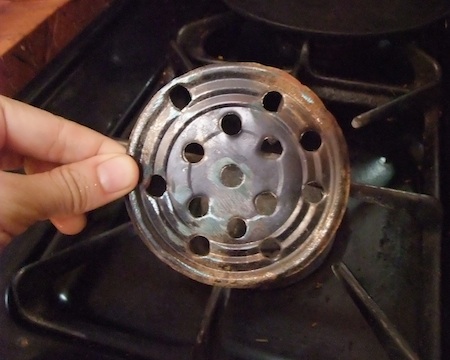 A DIY trivet made out of a flattened, drilled, can top.
Wow!  What a great idea!  What a sweet husband!  I have him a big kiss.  "You're the best!"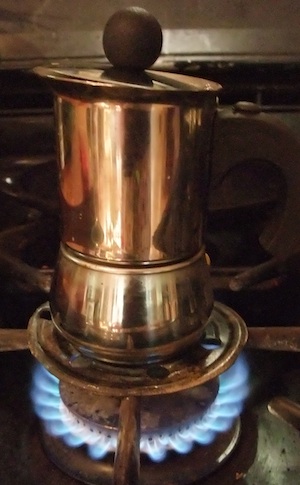 It works!
Then I made him one of these: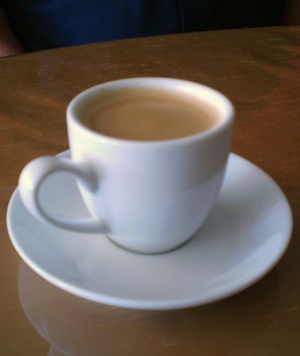 YUM.
(Excellent music in this one….)