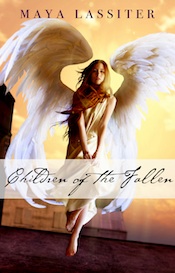 It's up, it's out, my third novel is born! Woo HOO!
[cue wild party, drinking, funny hats]
That's right, TODAY, on Amazon, Children of the Fallen has been officially released! [more partying, probably some crying, definitely chocolate]. It will hit other stores, Barnes & Nobel, Smashwords, iBooks, Kobo, etc. in the next few days, I'll update with links when that happens, but for now, amazon is the source for all your fallen angel story needs! Right here! And hey, there is also a print version coming, so that will be cool.
This has been 10 years in the making, I SO HAPPY to have this one out and alive in the world! Oh, and did I mention the link? Here, let me show you.
Some of the characters you will meet!…. A homeless musician who is falling for the incubus who hunts her. A cellist who is slowly allowing herself to be consumed by her fire-winged grandmother. A blind painter who is receiving secret teachings from her night-winged father, while her brother searches for a door into the realm of the angels. A young man who finds he is able to capture angels and demons on film, unaware that his photographs are killing him. A girl who reads her future in the cards, and runs from her would-be lover, a creature who might also be her father. And a young man, raised by angels, who searches for them all…
Please, rush over, clickity click, and buy yo' self a copy!
Can you tell I'm excited?
Buy my books!

Children of the Fallen, now available on Amazon.


The haunted and talented children of the glorious and terrifying...

Toby Streams the Universe at amazon.

A psychic in the big city, trying to stay sane....

The Violin Maker's Wife at amazon.

Enchanted violins can be deadly....

Conjuring Raine, now available on amazon, B&N, and at Smashwords.

A girl, her vampire, his demon...

You can also listen to the Conjuring Raine free podcast. Enjoy!

coming next: The Lucidity Effect

Lucidity is now with the editor, woo hoo!

today's yoga practice

upcoming book releases

"Dusi's Wings" April, 2003. . . . "One thing fantasy can do for us is to give shape to the mysterious in the world; another is to make emotional yearning concrete. The early sections of "Dusi's Wings" do just that...there was a strong grasping towards the spiritual in fantasy here that was very promising, and I look forward to reading more by Lassiter." --review, Tangent Online.