children of the fallen…how to make a book cover in 4239 easy steps!
Making a book cover can get pretty hairy.  But its also super creative and fun, even as it is nerve wracking.  I love love love a beautiful book, you know, those gorgeous books that by sheer power of their intriguing design make you want to pick them up and fondle them.  Maybe even read them.  I want my books, too, to be as gorgeous as I can make them, even though I'm no graphic designer.  I try. I probably worry too much as I go.  I muddle along.  I do think I'm getting better…
Anyway, I thought a behind-the-scenes, making-of post for the Children of the Fallen's cover might be in order, since the book looks to be coming out in a few short days.  Holy crap!  [insert nervous hand wringing, excited hopping from one foot to the other, nail chewing, etc.]
The first problem with making this cover was that there are so many visual moments in Children that could make a cool cover image—it was hard to choose! I still waffle and think, shit, I should have picked another moment, maybe this one, or that one, would have more perfectly conveyed what the book is about, been more intriguing, whatever—
But its done!  I will let this go and move on!  Any moment now!
So, the image I did choose is of a photograph one of the characters takes—this young man is blindly snapping shots off his apartment building's roof, only to find  that he has captured an angel on film when he gets into the darkroom.
Here is a bit from the book when he sees the negative for the first time:
She was on the last shot, standing close, staring straight into the camera, no smile, the sun lighting her hair swirling around her, lighting her wings, a corona of fire.  Staring at the picture, Daniel's legs became weak and he had to sit on the floor.  She was so beautiful! But it was more than that.  Was it divinity itself reaching through her skin, through the grace of Her, to light him on fire?
Get a grip on yourself, he thought.  It's only chemicals on paper, arranged in a certain pattern, to mimic life.
Right?
But her eyes watched him, questioned him.  He was sure of it.
He nodded, without realizing he did so. Whatever you're asking me, he thought, the answer is yes.
—–
And here is the bit where the resulting photograph is described by another character, later in the book:
He stopped before "Angel Photo #13," this one the same winged girl from the mausoleum, now lit by the flaming sunset behind her.  She looked straight out of the picture at him, the edges of her huge wings bright with golden fire from the setting sun, her expression full of such longing it pulled Jeremy's chest tight, evoking echoes of the Sound all around him.
—–
So I emailed my wonderful cover artist, Ida Mary Walker Larsen, sent her these bits of text, and this lame-ass crappy pathetic sketch I'd made of my idea of how the photo would look, and asked if she thought she could do it.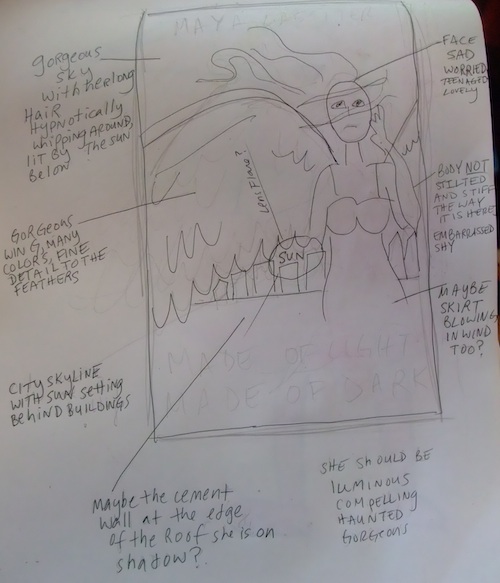 To which Ida replied, "sure, no problem."  Because she's confidently bad-ass like that.
Next I combed the stock photo places for images that would get across what I wanted, and possibly be of use to Ida in her work, if we found one we wanted to buy.
I thought this gal had the right face, the youth and vulnerability, the worry…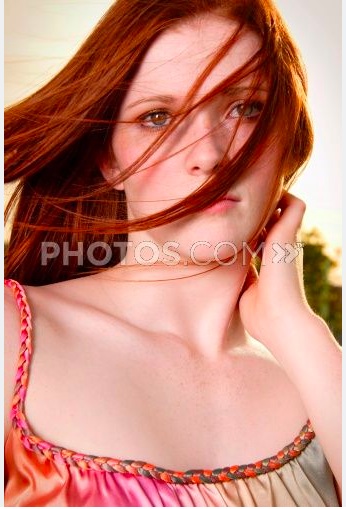 And I wanted it to look like a photograph so I asked for lens flares, like these: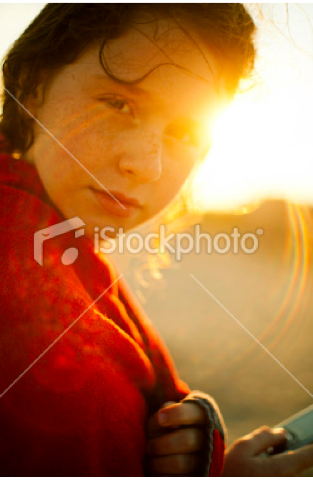 I wanted crazy, improbable, wind-whipped hair, something like this: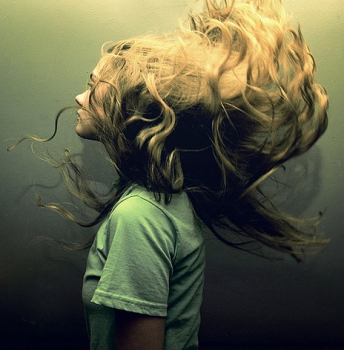 And I wanted feathery wings something like this:
Ida is so patient with me.  She receives all these missives and conflicting pictures and she just politely takes it all in stride and telepathically gets the download somehow without laughing at me.  She is awesome.
Because she went through her contacts at DeviantArt (an amazing site, I highly recommend roaming around over there if you are looking for an artist, its where I found Ida in the first place) and found THIS: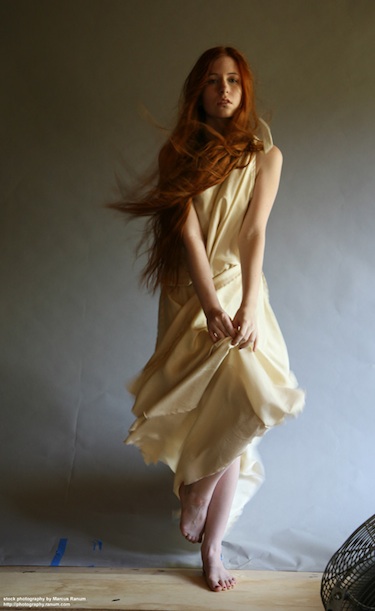 To which I immediately replied YES.  YESYESYESYES.  This is an image taken by Marcus Ranum, of Courtney Simonds, one of many images Mr. Ranum has posted of "sad angels."  Digital artists need raw base material from which to weave their photomanipulations, and so people take evocative stock images like this one and sometimes offer them up to other artists to use in their work.  For example, here is Ida's own page of stock images of herself that other artists in the Deviant Art community can (and do) use as base material from which to make their own images.
So!  From this photo, and all my requests, Ida sent me this: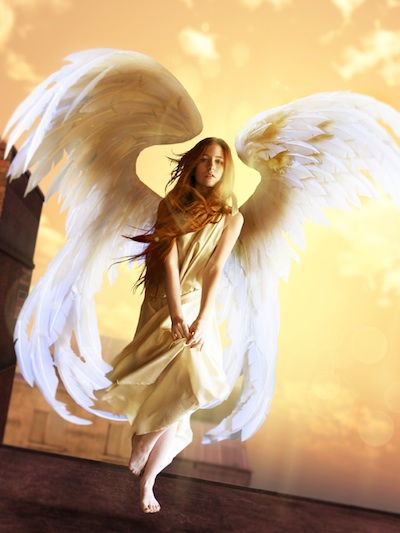 GAH!!!  Wow!  How does she do that????  She even tilted it, like a photograph might be if one was shooting blind….
But it wasn't perfect.  We still fiddled with it.  For example, the feet weren't right.  We tried a few iterations: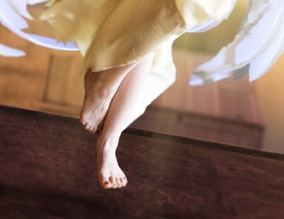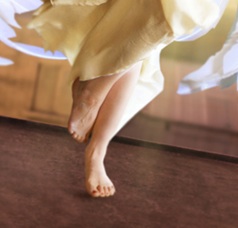 Should she be floating?  Should she be lightly landed?  Could we integrate her more with her surroundings, maybe a mist, maybe change the lighting?  I thought I had settled on lightly landed with a bit of shadow when Ida sent me these feet…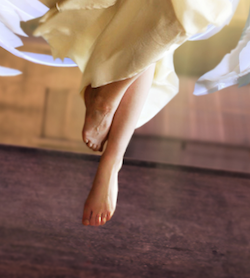 …which I loved.
So the art was finished.  My turn.  As usual, I tried a million fonts, placements, sizes, colors…
Etc. Etc.  Ad nauseam.  My family started running whenever I said, "What do you think about this one?"  (You'll notice I was working with a different title, then, too.)
I found I liked the hand-written fonts and I tried dozens of them. I know, I know, these sorts of fonts can be hard to read and legibility counts mega-points in book covers. But still, there was something about them that appealed…and then I found a font that is based on Cezanne's handwriting.  How cool is that?
But everything I was coming up with seemed too pretty, looked too much like a romance book, which this book (although it has romance in it) is definitely not.  And you don't want to send the wrong impression because people will buy thinking they are going to get X and then when they get Y they are rightly annoyed and write 1 star reviews, and its just all downhill and drinking from there.  I thought the title was part of the problem. It was pretty, but it didn't tell much about what the book—this dark, urban fantasy ensemble piece—was about.  And I had already gotten this pretty piece of art that I adored…pretty + pretty = shit!  I gone and gotten the wrong cover!
So I changed the title to something more descriptive and less pretty, with the word FALLEN in it to get across there are problems, these are not rosy angels—even though this particular angel is looking quite rosy under this Maxfield Parrish sky.  So, next I played with the colors, darkening it up, fiddling with contrast and saturation, all while moving the words around, looking for a way to get in enough atmosphere to get the message across that this is NOT a romance!  This is contemporary fantasy!  This is some weird shit that also includes a few pretty angels (and some decidedly NOT pretty angels…)!
Until I got the current iteration:
Which, I think, I hope, between the title and her uncertain expression, has achieved some elegance, plus the needed darkness.
And, honestly, I do love how it looks.  If it is a cover just for me, I think Ida and I nailed it.  If I'm the market, and I saw this book on the shelf, I would totally reach out and pick it up, curious.  I hope other readers agree….
But that's it.  There we have it. As is the case with any indy-publishing endeavor, all fault is mine and mine alone.  I can't blame anyone but me if my cover sucks!  With great power comes great responsibility.
Of course, since Waking Dreams Press is me, I reserve the right to change the whole thing with zero notice, on a whim, whenever I feel like it.  And amazon will magically update all the e-copies ever sold, all through the magic of whispersync….
The final formatting on the manuscript is being done as we speak.  It is not unlike waiting for the impending birth of a baby, only without the swelling and the labor pains.  I can't wait to release it, we are days away people, DAYS.
Buy my books!

Children of the Fallen, now available on Amazon.


The haunted and talented children of the glorious and terrifying...

Toby Streams the Universe at amazon.

A psychic in the big city, trying to stay sane....

The Violin Maker's Wife at amazon.

Enchanted violins can be deadly....

Conjuring Raine, now available on amazon, B&N, and at Smashwords.

A girl, her vampire, his demon...

You can also listen to the Conjuring Raine free podcast. Enjoy!

coming next: The Lucidity Effect

Lucidity is now with the editor, woo hoo!

upcoming book releases

"Dusi's Wings" April, 2003. . . . "One thing fantasy can do for us is to give shape to the mysterious in the world; another is to make emotional yearning concrete. The early sections of "Dusi's Wings" do just that...there was a strong grasping towards the spiritual in fantasy here that was very promising, and I look forward to reading more by Lassiter." --review, Tangent Online.