I just got the last editor letter back on the angel book and am deep in edits.  The plan is to finish this, as in done done DONE, by the end of May and send it off to the copy editor by June 1.  I'm so excited for this book to finally see the light of day!  It kind of contains my entire professional writing history in one 350 page package, starting with the first short story I ever published (see the sidebar over there, its posted to the wall like a cafe's first dollar earned) the guts of which is in this book.
That story was written in twenty-four hours for Orson Scott Card's Writer's Bootcamp in 2001.  2001!!! Two Thousand and freaking ONE.  A decade gone in the blink of an eye!  I will never, ever forget Scott reading the first paragraph out loud, putting the paper down and saying, "You can't teach writing like this."  I burst into tears.
That first paragraph, that story, became the seed of this novel.  From that seed, I wrote the bulk of the material while in my second year of grad school, getting my MFA in writing from the Vermont College of Fine Arts.  That manuscript got me my (then) agent who said she loved it, that it had made her cry, and that, even though it was different, she was sure we could find an editor to take it on.
Fast forward a couple of years and nope, turns out no one wanted it.  Into the trunk it went.  Sob!
Anyway, a couple years passed, a couple more novels written, a couple of babies born, but I still couldn't stop thinking about my fallen angels.  So I pulled out the manuscript and did a deep edit, a structural overhaul on the thing, giving it over a 100 pages of new material and generally bringing it up to the state of my current writing ability.  That must have been 2007 or so.  Still no sales joy.  Back in the drawer.
I wrote Conjuring Raine, then Toby Streams the Universe, published them, and have been thrilled with the response.  And still my angel book, at various times called "Falling", "The Fallen", "You Who Are Made of Light", and "Made of Light Made of Dark", whispered at me.  So I pulled it out again last year, reworked the whole thing again.
So you see, this book really does have my whole writer-story up-to-now inside it: my first publication, OSC's Bootcamp, grad school, getting an agent, the emotional grind of being on submission for over a year with no sales, leaving my agent, and now Waking Dreams Press which feels like rebirth.  It's time!  It's time for this book to be born!  Hallelujah!  Now called When Light Falls, I want so much to get it really there, all on the page the way it is in my head.  I hope, I hope, I hope I can do that.
I'm working hard on getting that last 10% as solid as I can, and, as I said, the plan is to do this in May.  Yikes!  What am I doing writing a blog post?  I should be working on the book!!!  I get SO NERVOUS when I'm about to release a new one.  Like, awake at night, manic/depressive, can't eat/eat too much, crazy nervous.  And this one has been a long time coming.  Eleven years worth of nerves!  My poor family!
I'll leave all you lovely readers with the gorgeous cover art made for me by Ida Larsen.  I'll do another post on the making of the cover in a bit, and of course, this version (the text, fonts, placements, etc) is subject to change right up until the day I hit publish, haha.  But the art is set, the art is GORGEOUS, I'm so happy with how it turned out.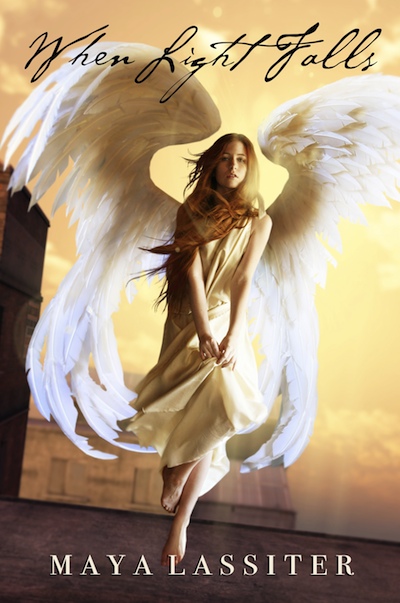 Oooo!  Ahhhh!  So pretty!