Look what we did yesterday!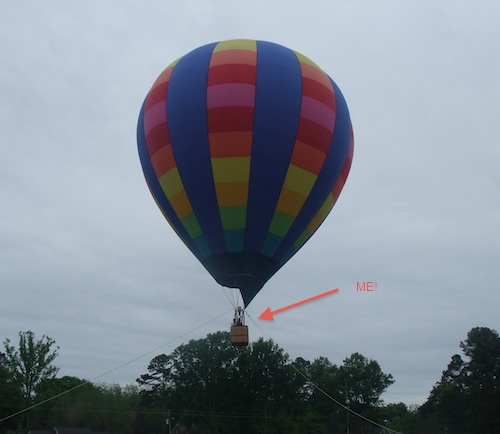 We went on a hot air balloon ride!  How cool is THAT?  It was just a little ride, tethered, but still, really fun.  And free!  Even better.
We got there early and got to see them fill the balloon, which was surprisingly fast. They just lifted the mouth and opened the throttle on a huge fan and whoosh! HUGE waves of ooos and ahhs from the crowd and the little band of kids were screaming with excitement.
Isn't it pretty?  I wonder who gets to design hot air balloons?  That seems like an awesome job to have.  Anyway.  They didn't start with the hot air until nearly the end of filling.  The propane flame thingy made a terrific roaring noise.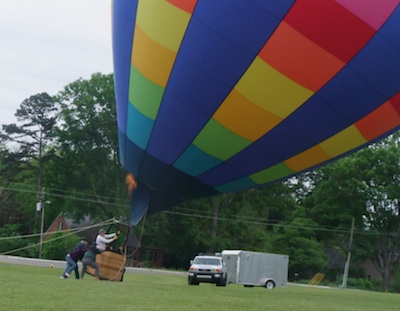 Gusts of sporadic wind added excitement and action to the proceedings as the balloon people wrestled the basket and ropes, roaring the propane jets and being dragged across the pitch.  Who hoo!  And some nervous looks like, are we really going to get in that thing?
In between gusts, however, waiting for our turn, it did get a little dull.  Waiting is always boring, can't be helped.   Cinnamon buns to the rescue!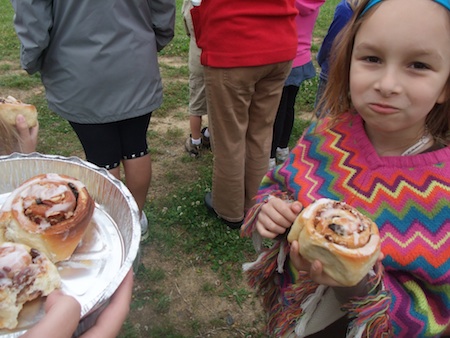 Yum!
They couldn't take all four of us at once, so Paul went first with another group, and the kids and I followed.   Here is Paul climbing into the basket, the little dude in the black jacket.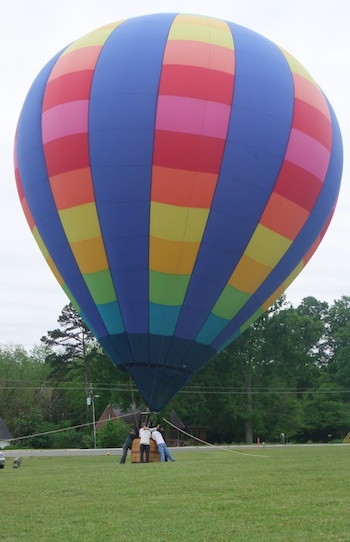 We climbed in next and I was glad I do yoga because it took some dexterity and flexibility to hoist one's leg over the edge.  The kids got lifted in like "a sack of potatoes" as the guys said.  It was physical work for them, but they were all smiling.  Quick instructions, hold here, not here, don't rest your chin here (you might bump it if we come down hard) keep your knees bent, and then whoosh, with a roar, we went up!
Sorry I don't have a picture from the basket, looking down over our town, but it was much too exciting to miss any of it fiddling with the camera.  Besides I was hanging on to the kids for their dear lives, as if, should they fall, I would be able to save them, despite the high probability I, too, would be falling.  It's a mom thing.  It's coded in our cells, I would have thrown my body to the ground first for them to land on, wouldn't have thought twice.  Which is kind of weird, but good.
Anyway, Sophie squealed and bounced up and down (no jumping in the basket), and at first Luc was scared of the loud roar of the fire, but he got used to it and was soon peeking over the edge and waving his little hand frantically to Paul on the ground.  It was surprisingly exhilarating!  I mean, given that we were not all that high.  Part of my brain was noting, we're only maybe 50 feet up, you've been in planes a heck of a lot higher than this, but it didn't matter, I got totally high (ar ar), a huge grin on my face, we all did, everyone clambering out of the basket looked like that.  What a cool job to be the balloon guy who gets to make people smile like that for a living!
(The guy going up in the basket with us told me he has been flying for 53 years and doing balloons for about 5.  He was smiling big, too.)
Maybe it's that you're standing on unstable wicker that sails this way that that with every breeze?  Maybe it's how quiet it is (when the propane isn't roaring)?  Maybe it's the change in perspective?  I don't know but from what I can tell, a hot air balloon is a perfect storm of variables for making a person happy and exhilarated, but also somehow quiet and internal.
A giant gust of wind blew up just as the kids got out and swept me and the balloon guy across the pitch.  Here we are just before it happened, the kids off to the left grinning, the guys to the right, starting to feel the tug of the gust, me oblivious in the basket.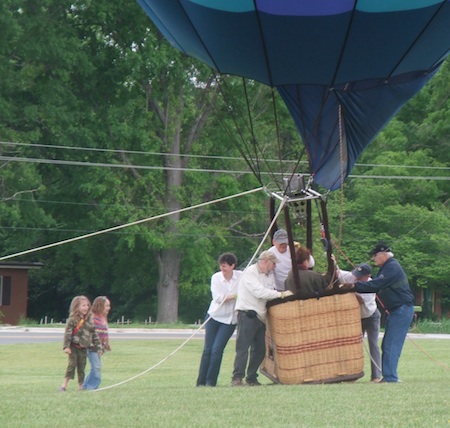 Whoosh, the wind grabbed the basket, and all the people holding on, and dragged us all a good twenty or thirty feet.  The basket was all tipped sideways like it was going to dump me out.  I'm pretty sure I screamed, although I wasn't scared so much as surprised.  Although I did have one of those bizarre thought flashes, if I die, won't that be an interesting story the kids will have to tell the rest of their lives, "we lost our Mom in a hot air balloon accident."
But I was fine.  Here I am in my borrowed coat, walking back to the crowd and Paul, who snapped the picture.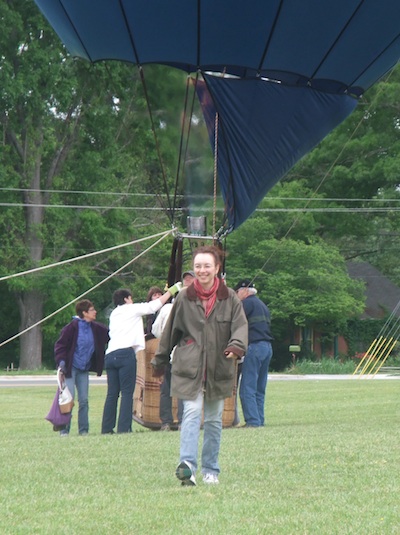 If you get a chance to go up in a balloon, I HIGHLY recommend it!
But, as if that wasn't enough of an adventure for one day, in the afternoon we went to a birthday party, very fun, loads of kids and, what a great idea: about twenty giant boxes to play in!  The kids all saw them and went mental.  There were box battles, box villages, rolling down the hill in a box, beat the box, hide in the box, etc, etc.  Very cool.
Then, our lovely hostess brought out this giant, super tall, round layer cake and I thought, hmm, I wonder what flavor, chocolate? Vanilla?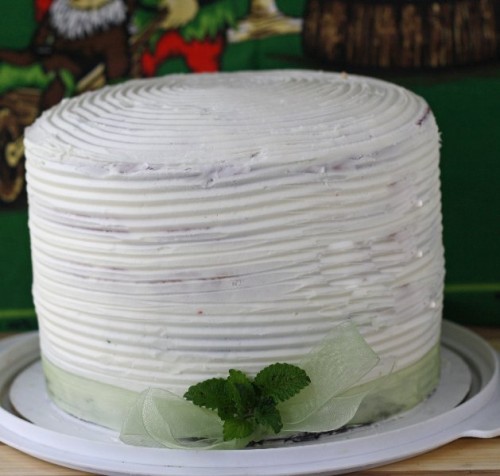 And then BAM, she cut it open and …..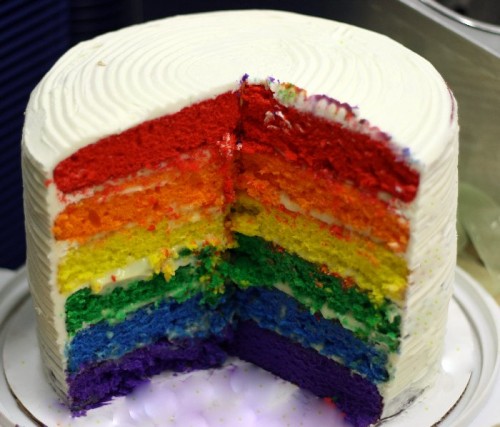 The most amazing cake you've ever seen!
I was TOTALLY impressed.  The whole crowd gasped.  One kid summed it all up by saying to the baker, "You could totally work at Honeydukes!"  I heartily agree.  The layers were different flavors, too!  I tasted rose, lemon, vanilla, almond….
So, our day was full of surprises, balloons, rainbows, and cake.  Probably a unicorn or two were also present, but I was too bowled over by the rest to notice.  I mean, by Indiana Jones standards, it was a tame day, but for me, it was thrill a minute.  I'm just a simple girl, really.
Buy my books!

Children of the Fallen, now available on Amazon.


The haunted and talented children of the glorious and terrifying...

Toby Streams the Universe at amazon.

A psychic in the big city, trying to stay sane....

The Violin Maker's Wife at amazon.

Enchanted violins can be deadly....

Conjuring Raine, now available on amazon, B&N, and at Smashwords.

A girl, her vampire, his demon...

You can also listen to the Conjuring Raine free podcast. Enjoy!

coming next: The Lucidity Effect

Lucidity is now with the editor, woo hoo!

upcoming book releases

"Dusi's Wings" April, 2003. . . . "One thing fantasy can do for us is to give shape to the mysterious in the world; another is to make emotional yearning concrete. The early sections of "Dusi's Wings" do just that...there was a strong grasping towards the spiritual in fantasy here that was very promising, and I look forward to reading more by Lassiter." --review, Tangent Online.