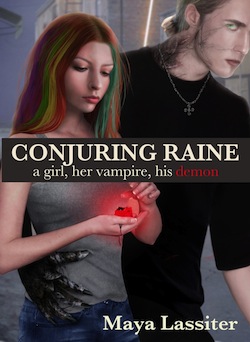 So yeah, if you haven't read Conjuring Raine, but think you might like to, next Tuesday and Wednesday, March 20 and 21—Spring Equinox! it's freaking 80 degrees today and the daffodils are going nuts!—are the days to download a FREE copy from Amazon, and did I mention that it will be FREEEEEE?????  Toby did so well, I decided to give Raine a similar chance. Conjure magic, human trafficking, vampire abolitionists, and family ties, plus romance, and a strange vampire religion…what's not to like?  Don't forget you don't have to have a Kindle device to read a Kindle book, just download the free app from amazon to the phone, tablet, or pc of your choice.   And there is always the free podcast of your humble author reading her work (check the sidebar for a link).
But now, for those of you following along at home, I announced yesterday my Crazy Plan to stay up all night last night (research for the work-in-progress) and you might be wondering how that went.  Well, I did it.  Until 8 this morning that is, when the kids came and got me out of the Noah house and pulled me into the yurt and everywhere there was a bed.  I mean, there were the usual number, but somehow, I couldn't fight the gravity of all the visible beds, beds everywhere I looked, and so I finally fell onto one and slept for about an hour this morning.  I've got back up around 9 after probably the most delicious hour of sleep I have ever had, bar none, and have been limping along all right since then.  It's surprising how much difference even an hour makes.  I'm not too grumpy yet, though there is plenty of cognitive dissonance, haha.  Basically I'm getting just the first hand experience I needed, so I'm calling the whole thing a win.
Sophie stayed up with me until about 4 (!) when she finally collapsed on the sofa, sweet little thing.  It was impossible to sit next to her gorgeous slumbering peace and not fall into it myself, so I had to leave.  It's so much easier to stay awake when you are out dancing in South Beach Miami clubs, then it is in a quiet, dimly lit yurt next to a sleeping child!  Today she has these little purple circles under her eyes (compared to my sagging black under-eye suitcases)  and has been reporting her experience of sleep deprivation as we go along, quite the curious scientist.  "Why do you want to do this?" I asked her last night (or was it this morning?) and she shrugged, "to see what it's like."  A version of "because it's there."  Got to respect that.
The pocket coffees are AMAZING.
I bet we'll be sleeping well tonight….