I've mentioned that at the thunderbolt pace of a sloth riding a glacier across a lake of molasses, we're building a bedroom.  Well, actually, Paul is building a bedroom.  I just, you know, take pictures.  Paul says I also stand with my hands on my hips and offer "design consultations."  He also says I nag.  What can I say, although I completely understand that my primary (and only) builder (Paul) also works a full time job and is a very hands-on father, sometimes the sloth-on-a-glacier pace gets to me.  Sorry for the nagging, sweetie.
But, hey, look, progress is being made because here is my lovely, hardworking husband hammering on the cedar timber frame component of the soon *cough* to be bedroom.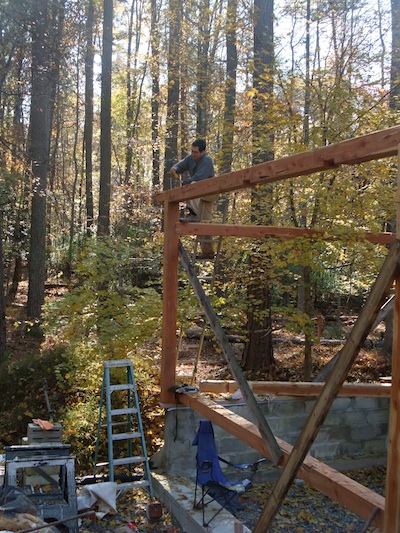 I love the fall leaves in that one!
And here is something more recent.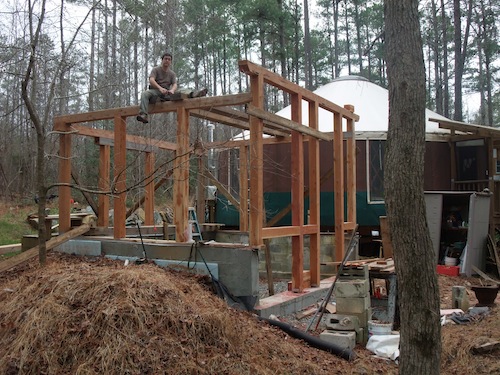 We broke ground last January, so this is one year in.  The foundation is done, block walls laid for the parts that are built into the hill, lots of drainage in place, and the timber frames up.  Here is the frame the other night….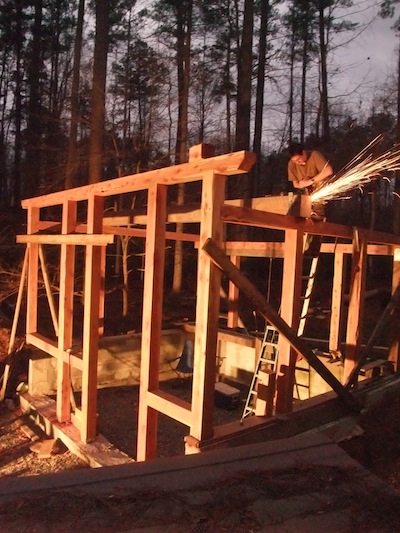 The sparks are where he is cutting off the end of a metal bolt thingy—looks cool doesn't it?  The timber is locally milled cedar from a guy Paul knows.  It is soooo pretty and it smells divine.  Here's a picture S0phie took of one of the beams.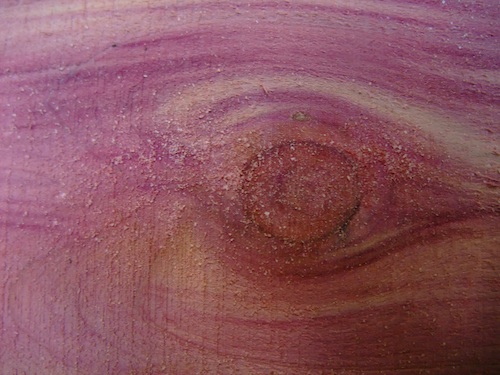 But, hang on, this blog post is not about the bedroom.  It's about these cool wood burning heating systems called rocket stoves that you can build yourself, use a fraction of the wood of a regular stove, and are super, super efficient.  Because one of the things you've got to figure out when building a house—and the bedroom is, in fact, a tiny house—is how you're going to heat it.
We've considered many options, of course. Propane  (expensive, fossil fuel, stinky), under the floor radiant heat (expensive to install, and you still have to solve how to heat the water), tiny wood stove (expensive to buy those tiny woodstoves, although they are terribly cute, but you have to build a fire every time, and then there is wood chopping, dirt and smoke), electric (expensive, nuclear power *shudder*), solar (passive isn't great when living in a forest, but we do design for as much solar gain as possible, active is too expensive), etc, etc.
We could also, of course, run more pipe from our current waterstove, put a radiator in the bedroom, or maybe some of that radiant floor tubing.  That last one has been Plan A.  But our waterstove is woefully inefficient which means that every year Paul spends a huge amount of time getting a huge amount of wood and, well, he's getting older.  Getting wood together isn't the fun exercise it once was.  Our waterstove, too, is also getting older.  We got it used to begin with and time is passing.  It won't last forever.  What will we heat the yurt with when it rusts out (or whatever it finally dies of)?  Who knows?  But maybe we shouldn't tie our whole-compound heating needs into an already decrepit system….
Enter the rocket stove, a home built (as low as $20, so they say, !!) wood burning system of various sizes that burns only a tiny amount of wood and puts out almost zero smoke.  The fire burns sideways!  How cool is that?  It's very exciting to run across something like this, a high-knowledge but low-tech/implementation solution to a building problem.  Here's a picture of one, but as a DYI item, every one looks different.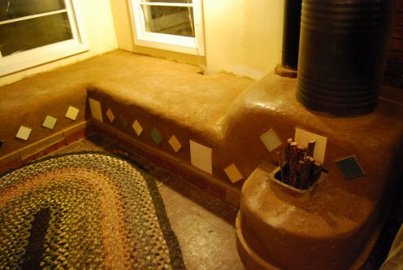 Cute, huh?
Here's a diagram of how they work: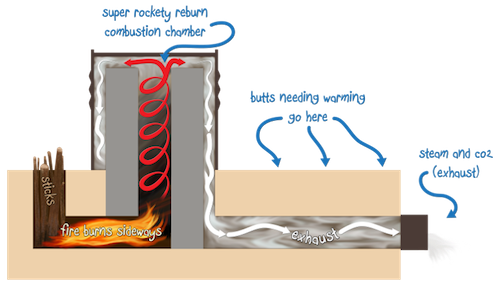 Here is the terrific page of Paul Wheaton's where I'm getting these images.  Lots of great videos on how it all works on that page, I highly recommend visiting if you're interested in such things.
I love the vibe of people building their own small spaces, figuring out new ways to solve old problems, jerry rigging and fine tuning and making it their own.  It's creative to build your own house with your own hands.  You have to reinvent the wheel a bunch of times.  Sometimes you totally fail and have to re-do.  Sometimes you come up with a whole new kind of wheel.  It's too early to know for sure if this is the heating system we'll put in the bedroom, but at the moment, I'm thinking, BINGO.